Bruce Springsteen Won't Even Give Superfan Chris Christie a Handsie
News
June 21, 2012 08:30 PM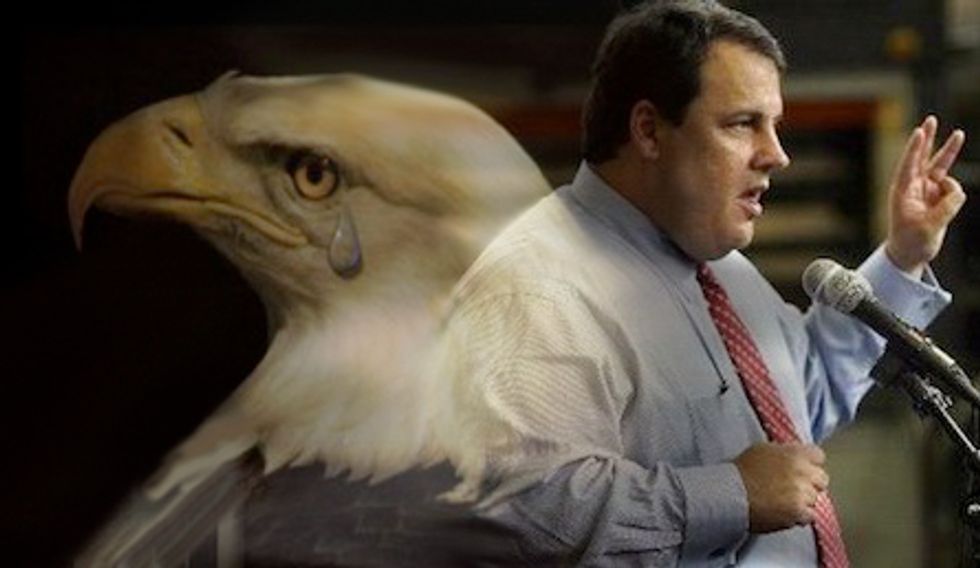 Chris Christie has been to 129 Bruce Springsteen shows, dancing, singing along, jiggling, right up there in the front, while theabsolute most overrated musician of all time "The Boss" sings his tunes about 9/11 and the farms and stuff. And over the course of these 129 concerts, how many times has Springsteen climbed down to Christie and rubbed him up? Zero times, because Bruce Springsteen is a liberal. Good lord, does this sadden Chris Christie.
---
The Atlantic's Jeffrey Goldberg recently took a break from starting wars to attend a Springsteen concert with the Good Governor Sandwiches, who vented about how the musician will only exchange pleasantries with him instead of being his puppet:
Despite heroic efforts by Christie, Springsteen, who is still a New Jersey resident, will not talk to him. They've met twice—once on an airplane in 1999, and then at the 2010 ceremony inducting Danny DeVito into the New Jersey Hall of Fame, where they exchanged only formal pleasantries. (Christie does say that Springsteen was very kind to his children.) At concerts, even concerts in club-size venues—the Stone Pony, in Asbury Park, most recently—Springsteen won't acknowledge the governor. When Christie leaves a Springsteen concert in a large arena, his state troopers move him to his motorcade through loading docks. He walks within feet of the stage, and of the dressing rooms. He's never been invited to say hello. On occasion, he'll make a public plea to Springsteen, as he did earlier this spring, when Christie asked him to play at a new casino in Atlantic City. "He says he's for the revitalization of the Jersey Shore, so this seems obvious," Christie told me. I asked him if he's received a response to his request. "No, we got nothing back from them," he said unhappily, "not even a 'Fuck you.'"
Imagine how hard Chris Christie would fap if Bruce Springsteen said "Fuck you" to him.
Goldberg, who is an unlikable person, seems to sympathize with Christie, in one of those "Maybe Springsteen doesn't like the way Christie takes a wrecking ball to organized labor, social spending, tax revenue, and other pillars that can make or break a society, but he said a nice thing about a Muslims once" centrist appeals to give conservatives standing ovations on each brief occasion when they stop going out of their way to be assholes:
He doesn't seem to care that Christie is the sort of Republican many Democrats find appealing, or that Christie breaks left on such issues as Islamophobia (he stood up for a Muslim judicial appointee under specious attack for attempting, his critics said, to turn New Jersey into a Sharia state—if you can imagine such a thing) and drug-law enforcement (he is campaigning for a new law that would divert nonviolent drug offenders away from prison and toward treatment). But Springsteen seems actively uninterested in engaging with Christie. When I asked to interview Springsteen about Christie, his people gave me the brush-off.
C'mon Springsteen, just pinch one of his tits and get it over with.