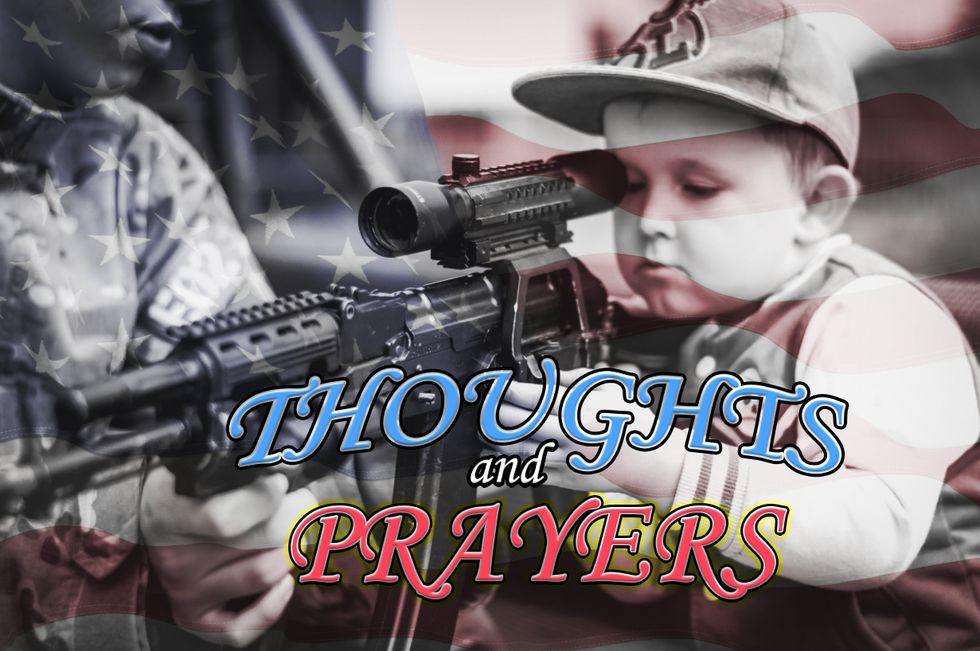 Morning Wonketariat! Here's some of the things we may be talking about today, but first, you'll need some lovely otters! But before lovely otters, you need a reminder that Wonkette is coming to VISIT tonight, if you are in Portland! It will be at the Lucky Labrador Beer Hall — this is the QUIMBY location, in Northwest! 1945 NW Quimby St, Portland, OR 97209. 6:30-8:30 p.m.! See you there!
---
Seventeen people are dead
after a
19-year-old
went on a shooting rampage in Florida. This marks the
18th school shooting this year.
Chuck Grassley is calling Jeff Sessions "ungrateful" for not supporting a criminal justice overhaul, with Grassley claiming he helped Sessions get into the DOJ and beat back Trump-Russia investigations. With friends like these...
Incensed over the charges that she is complicit in supporting race-baiting bigotry and neo-Nazis, Rebekah Mercer wrote an op-ed to proclaim her love of liberal stuff, and waved her expensive science degrees as evidence of her philanthropic crockpot of shit. Whatever. [Archive]
Some reporters at the NYTimes are fed up over editorials being written by garbage people (*cough*Bari Weiss*cough*) so they're leaking internal chat logs to say #NotAllNYTimes.
Senate debates over DACA will continue today with a series of procedural votes aimed at knocking down the hard-line Trump proposals before a final vote on the more "modest" and "bipartisan" proposals. A number of reports expect the votes to fail as there isn't any support in the House and Trump is throwing a tantrum, threatening to veto any bill that doesn't immediately build his stupid wall. [Infographic]
Since November, more than 130 Executive Office appointees have been working without permanent security clearance, including Sarah Huckabee Sanders, Jared and Ivanka, Trump lawyer Don McGahn, and key members of the National Security Council. At this point it would be easier to just ask who actually has a clearance.
Sarah Huckabee Sanders really doesn't want to poot her lips to reporters about all the people who don't have security clearances, and she's begging Trump to order John Kelly to fall on a sword.
Despite previously defending Rob Porter, and after one solid week of people asking, Trump stated that he doesn't like wife beaters. After all, if a woman has a broken arm, how can she cook his burnt ketchup steaks?
Joni Ernst is strapping on her bread bags and marching with John Kelly and several other congressional Republicans who are desperate to for Kelly to keep his job.
George David Banks, a National Economic Council official, was quit-fired after he was unable to acquire a permanent security clearance due to smoking weed in 2013. Bummer. (Also, that's ridiculous.)
Scott Pruitt is saying that he has to fly first class since all the filthy proles in coach are mean to him; now the EPA is saying that you'll need a FOIA if you want to see where in the world he's fucking off to in the future.
A new report has found that VA Secretary David Shulkin was having his own fancy plane trips to see tennis matches in London, courtesy of US taxpayers, and trying to hide everything as a business expense.
Mick Mulvaney says it was very important for Trump to take money from the poor and give it to the military industrial complex. How else are we supposed to defend all the starving homeless children dying in school shootings?
An audit of the Department of Energy has found that the Office of Fossil Energy was giving millions to a now-defunct clean coal company in Texas, but somebody conveniently lost all the receipts and submitted millions in bad invoices.
The Senate Education committee is mulling over a plan to let prisoners receive Pell Grants again after seeing the results of an Obama-era pilot program. Thanks, Obama!
Adam Schiff is complaining that the DOJ and the FBI are trying to black out the Democrats Trump-Russia memo, adding that the House Intel Committee already voted to #ReleaseTheMemo.
The House Intel Committee is getting fed up with Steve Bannon; now it's considering a vote to hold Bannon in contempt in order to "preserve congressional authority."
Republicans on the House Intel Committee are blocking the 2018 Worldwide Threat Assessment to the Senate Intel Committee because they're really worried it could affect the Trump-Russia investigations after FBI Director Chris Wray called Devin Nunes a goddamn liar.
Democrats want a $1 billion bill to protect election systems, but Mike Pence is saying that everything is fine, and Jesus will take care of everything.
With the Trump administration refusing to acknowledge previous and current Russian cyber attacks, the DOD just told Congress that we should start defending ourselves with harsh language.
During a meeting of the Senate Armed Services Committee, top military officials asked if they could use some 2018 cash in 2019. Honestly, it's not like they don't have enough...
The story of Trump's ALLEGED fart box flogging with Stormy Daniels is getting worse, with Daniels stating that Michael Cohen just broke their $130,000 NDA, leaving her free to talk to whomever she wants.
Stop asking about the immigration status of Melon Trump's parents, Trump's White House isn't commenting on their papers. Please.
Elizabeth Warren showed up to the National Congress of American Indians yesterday to talk about "Pocahontas," and give an impassioned speech about her Native American heritage, clarifying that she never sought or claimed tribal affiliation, or used her heritage to get a break.
Here's 4,000 words of Story Time about that time Reince Priebus served as Babysitter in Chief.
Now that he's facing "retirement," Trey Gowdy had the balls to say that he's leaving Congress because he prefers jobs where "facts" and "fairness" are important, adding "it's not just about winning and it's not just about reaching a result."
Mitt Romney WAS going to announce his run for the Senate yesterday, but he didn't want to be overshadowed by all the kids being murdered in Florida.
A number of women who came forward to talk about sexual harassment on the Hill continue to face backlash as legislation and press coverage begins to fall off the front pages.
Even though it's illegal, Blue Cross of Idaho has announced that it is working with Republican Gov. Butch Otter (actual name) to lower Obamacare premiums by offering insurance plans that charge for pre-existing conditions.
The Trump administration wants to greenlight a summit with six Arab nations later this year. This makes it easier for Trump to personally thank Qatar for buying more US guns and weapons systems.
Italian politics are being upended by a far-right nationalist politician, Giorgia Meloni, just like the good old days.
The UK publicly blamed Russia for the NotPetya cyber attacks last summer, with one top government official stating Russia was "ripping up the rule book."
The Russian government is demanding that Youtube and Instagram censor posts from Putin critic Alexei Navalny that claim wide-ranging Russian corruption, and connect some of the dots between pee hookers, Russian oligarchs and Paul Manafort.
Nominees have been selected for the 2018 World Press Photo Contest. Some of them are benign, some are sad, and some are silly, but they all help tell a part of our story.
And here's your morning Nice Time! FIVE MINUTES OF FIONA!
We're 100% ad-free and reader supported, give us money so it stays that way!
Follow Dominic on Twitter where one like is equal one thought/prayer.
Dominic Gwinn
Dominic is a broke journalist in Chicago. You can find him in a dirty bar talking to weirdos, or in a gutter taking photos.