Bunch Of Republicans Who Love Donald Like Crazy To Stage Trumptervention
Elections
August 03, 2016 01:06 PM
Following Donald Trump's frightening 48-hour verbal garbage binge, several of Donald Trump's allies are reportedly staging an intervention for him, in hopes of getting his campaign "back on track." According to NBC, Reince Priebus, Rudy Giuliani and Newt Gingrich are even hoping to enlist Trump's children to talk to him about the way his behavior has been affecting them, his candidacy and the future of the Republican party.
---
Here is how we imagine it will go, probably!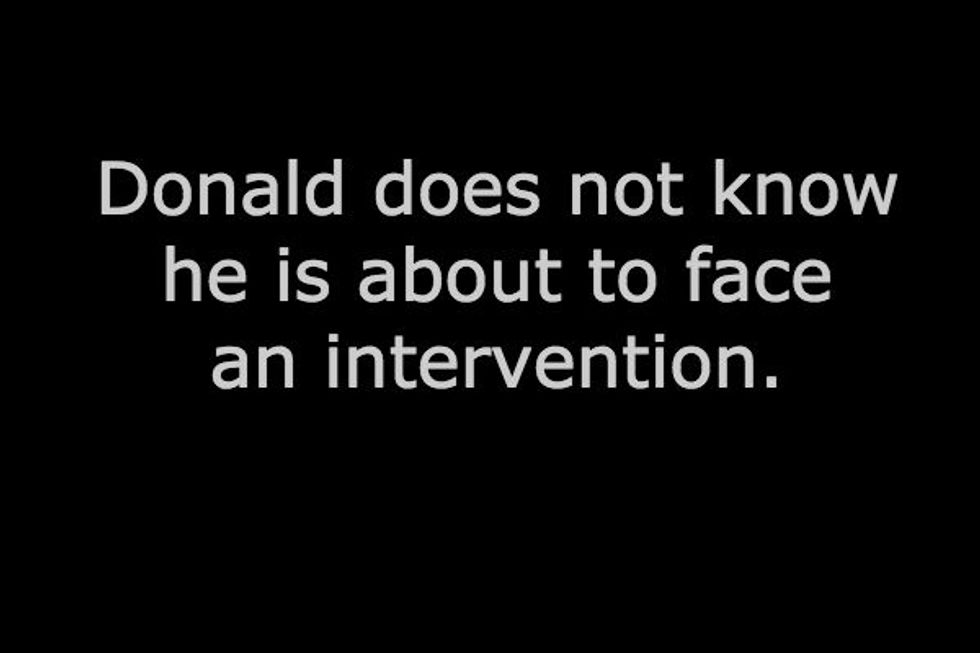 JEFF VAN VONDEREN
"Hi Donald. I'm Jeff. You can call me Jeff. You know, I see a bunch of people that love you like crazy and they feel like they are losing you. And they wanna fight to get you back. So they're gonna say what they're gonna say, then you're gonna say what you're gonna say and then we're done, ok? Reince, would you like to start?"
REINCE
Donald, your problem has affected my life in the following ways:
1) Everyone thinks you are a jerk, and that is bad publicity for our party.
2) The Republican Party prefers its evil on the stealthier side -- meaning that you don't go and YELL at women having babies in public. You kiss the babies. And then you cut funding for early childhood education, programs like Head Start, and oppose pretty much anything that is going to benefit the babies of poor people. BUT YOU STILL KISS THE BABIES OK? You don't pick fights with Gold Star parents, you just cut funding for the VA. Duh.
3) I am exhausted from having to constantly field calls in order to respond to whatever weird thing you've done in the last ten minutes! I have stuff to do!
DONALD
IT'S LIKE I'M WALKIN' ON SUNSHINE!
JEFF
Donald, you're on the side of death, and we're here to get you back on the side of life
ERIC
Dad, your behavior has affected me in the following ways.
1) KIDDING, I am basically OK with all of it because I am also a idiot.
NEWT
Donald, your behavior has affected me in the following ways.
1) You are clearly losing this election, and if you lose this election I WILL NEVER GET TO HAVE MY MARS COLONY BUILT BY CHILD JANITORS.
2) AGAIN, I WANT MY GODDAMNED MARS COLONY!
DONALD JUNIOR
Who am I? Where am I?
JEFF
You do a lousy job as a treatment center, Donald, Jr.
IVANKA
Dad, your behavior has affected me in the following ways:
1) I keep having to lie for you and pretend like you are gonna do stuff about the wage gap when that clearly is not the case.
2) Who is going to want to buy my hideous clothing line at Marshall's if you keep going around being a jerk?
3) I keep having to see that creepy GIF of you touching my hips. Like practically every day. It is weird and uncomfortable.
DONALD TRUMP
I HAVE ALWAYS BEEN A LADY OF LEISURE!
RUDY GIULIANI
I'M GONNA YELL TOO! WE ARE YELLING!
JEFF
What I need to know from you, now, Donald -- is are you willing to accept the help that is being offered to you today? Are you willing to join this fight?
DONALD
OH MY GOD, THIS SUNSHINE I AM WALKING ON IS SO GREAT! IT IS THE MOST TREMENDOUS SUNSHINE! I HAVE THE BEST SUNSHINE!
FIN
Then, you know, after many tears and hugs, Trump gets sent to a treatment center in Florida, and then immediately leaves and holds a press conference in front of an orphanage, and then sets that orphanage on fire. He then loses the election and the entire GOP implodes. Donald Trump only has the best, happiest endings.
[NBC]
Robyn Pennacchia
Robyn Pennacchia is a brilliant, fabulously talented and visually stunning angel of a human being, who shrugged off what she is pretty sure would have been a Tony Award-winning career in musical theater in order to write about stuff on the internet. Follow her on Twitter at @RobynElyse