Bundy Militia Dudes Meet With Sheriff, Will Continue War With Feds For Now
Guns
January 08, 2016 02:30 PM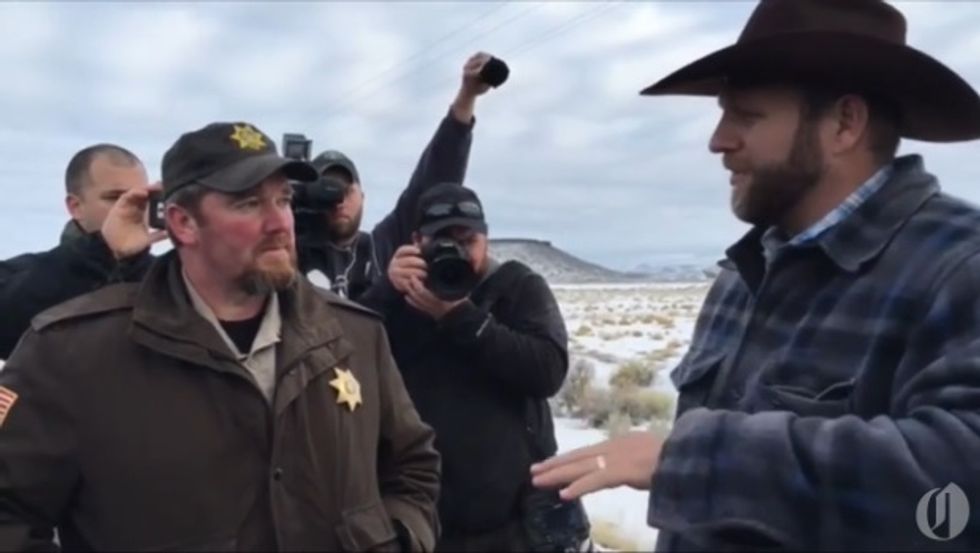 Sheriff Ricky Gervais will leave the standoff briefly to host the Golden Globes
---
[contextly_sidebar id="GaV4y5vyp2XblGJCa0WUbiDyJyIuioGf"]Here's a heck of a surprise: The Bundy Bunch Armed Resistance And Glee Club has decided that, despite the local sheriff's offer to escort them safely out of Oregon, they'd prefer to continue squatting at the federal wildlife refuge they broke into last weekend, at least until the federal government capitulates to their demands and turns over federally owned land to local ranchers and loggers. Faced with this display of manly, soy-fueled resolve, the feds are no doubt getting right on it.
Harney County Sheriff Dave Ward, who we are taking a right liking to, met with Head Moron Ammon Bundy Thursday on "neutral ground," at a rural intersection not far from the wildlife refuge, in an attempt to convince the 20 or so armed idiots to leave.
"I'm here to offer safe escort out," the sheriff told Bundy. "Go back and kick it around with your folks."
The sheriff had planned on a follow-up call to Bundy on Friday to see if the freedumb fighters had decided to take him up on the offer, but canceled that plan after Bundy explained to reporters his mission isn't yet accomplished, since the federal government hasn't made any move to turn all its property over to ranchers and loggers in accord with the Bundy family's strange version of the Constitution, which forbids federal ownership of land.
"Until we can see that there is a great momentum and the people can get doing that themselves, then we will remain," [Bundy] said. "That could be a week, that could be a year."
Or it could be until the Slim Jims and ramen noodles run out.
The meeting between Ward and Bundy followed a packed town meeting Wednesday in the nearby community of Burns, the county seat of Harney County, in which residents expressed some sympathy for area ranchers who disagree with federal land policy, but overwhelmingly called on the militants to leave. While many in the audience applauded speakers who said they sympathized with Dwight and Steven Hammond, two local ranchers recently imprisoned for arson on federal land adjoining their property, the crowd gave a standing ovation to Sheriff Ward, who said he could see the militants' arguments, but also told them to take their little revolution elsewhere: "You don't get to come here from elsewhere and tell us how to live our lives," he told the meeting.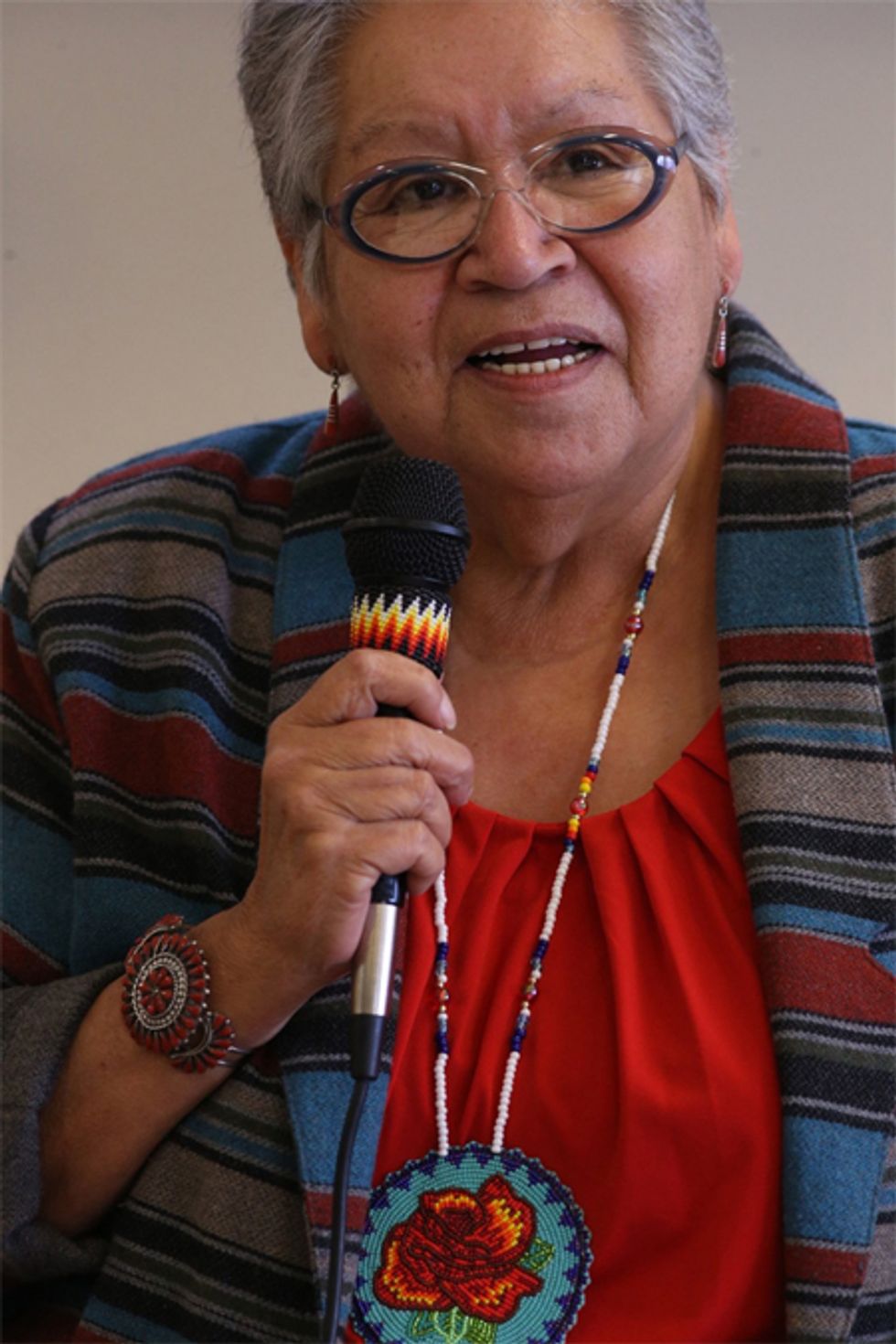 Also on Wednesday, members of the Burns Paiute Tribe held a press conference calling on the Bundy Bund to get lost, seeing as how the Paiute have never given up their claim to the land. Tribal chair Charlotte Rodrique, owner of the coolest microphone cover in North America, said the wildlife reserve had traditionally been the tribe's wintering ground before the tribe signed a treaty in 1868 granting care of the land to the federal government in exchange for federal protection of native people's safety and cultural heritage, including archaeological sites on the refuge. Rodrique said the tribe still regards itself as the rightful owners of the land:
"We as a tribe view that this is still our land no matter who's living on it," Rodrique said [...]

"We feel strongly because we have had a good working relationship with the Malheur National Wildlife Refuge," she said. "We view them as a protector of our cultural rights in that area."
Jarvis Kennedy, a member of the tribal council, was a bit more blunt about the Red Dawn Cosplayer Brigade:
They just need to get the hell out of here. They didn't ask anybody, we don't want them here...our little kids are sitting at home when they should be in school [...]

I wonder if it was bunch of natives that went out there and overtook that, or any federal land. Would they let us come into town and get supplies and re-up?
Good question, Councilman Kennedy! It's almost as if he already knew the answer to that one.
[contextly_sidebar id="hzQSupX1CayHfGmSlR3LIOyXyTpwfRYD"]And so the standoff in which only one side is actually standing around with guns continues; despite earlier press reports that electricity would soon be cut to the federal buildings occupied by the ragtag slag bags at the wildlife reserve, the power remains on for now, although electricity has been cut at a fire station on the reserve, about 40 miles away, to discourage the Bundy Brigade from taking it over as well. Come on, tyrannical federal jackboots! You're still letting these twits have access to the grid? It's almost as if you guys aren't serious about the whole Police State Thug thing after all.
Sheriff Ward wasn't especially surprised the militia twits declined his offer to show them to the state line:
"I want to give them every opportunity to leave peacefully," he said. He sensed Bundy and the others weren't interested.

"I don't feel like they think they're getting enough attention yet," Ward said.
Fine, class. Mr. Bundy wants attention. Let's all look at him. Are you happy now, Mr. Bundy, or are we going to have to send you to the principal's office? Where's a South Carolina school cop when you need one?
Not everything at the occupied wildlife HQ has been sunshine and AR-15s, either: Wednesday, a member of a three-guy "anti-violence patriot" group calling itself Veterans on Patrol got punched in the face by someone in the Bundy group. The peacenik patriots say they want to get women and children out of the compound, regardless of whether any children are actually there. The leader of the peacey guys, Lewis Arthur, has apparently been feuding with one of the Bundy bunch, Ryan "Slavery Never Happened" Payne since the 2014 Bundy Ranch standoff in Nevada. Arthur and the Bundyites have completely different stories about who instigated Wednesday's fracas, which sure sounds to us like a bunch of junior high drama. Omnipresent recluse Jon Ritzheimer said of the semi-fracas, "He did exactly what he wanted to do, which is get his couple seconds of fame." MEE-OW. Now the Paxil Patriots have set up a separate tent across the road from the Bundys, and are probably writing some incredibly mean things about the other militia in their Burn Book.
[Oregonian via TPM / Oregonian again / Oregonian once more / Oregonian a surprising fourth time / Oregonian as if you didn't see that coming]