Butthurt Donald Trump Still Butthurt About Russia Maybe Stealing Election For Him
News
January 06, 2017 04:19 PM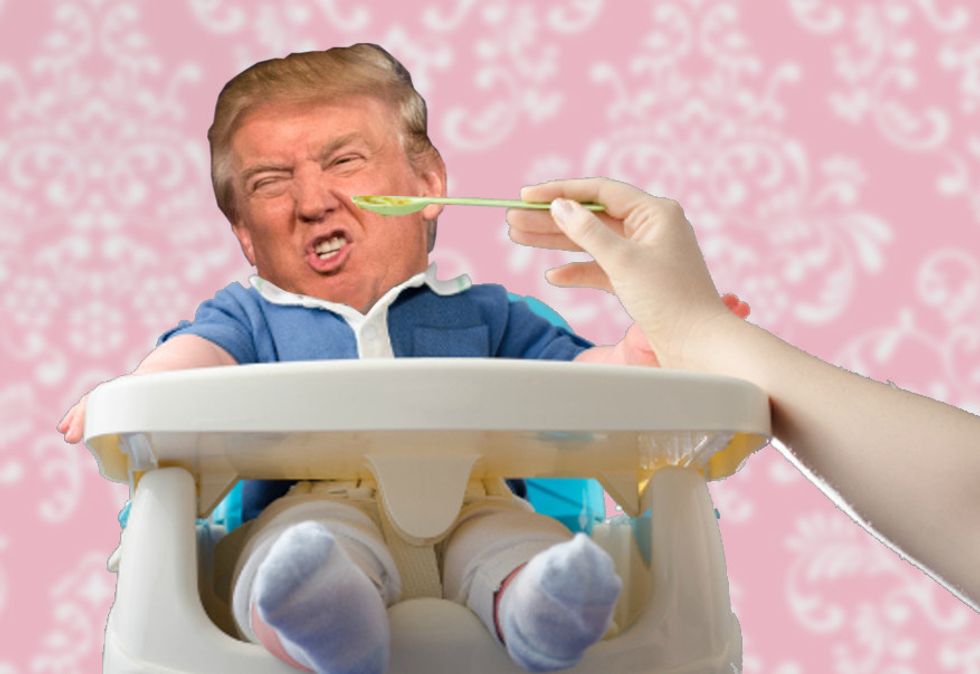 But he doesn't LIKE intelligence briefings, EW YUCK.
---
We got you up to speed earlier today on all the current ins 'n' outs of the Russian hacking scandal, or possibly it should be called the Trump Election Scandal. Now, Donald Trump is done getting his big exciting intelligence briefing, where he got to tell the CIA it's dumb and weak and failing, and then offer his own interpretation of Who's Doing The Hacking. (Barron Trump? Donald Trump says his son is very good at doing things, on computer. Just kidding, it was not Barron Trump, it was Russia.)
[wonkbar]<a href="http://wonkette.com/610164/donald-trump-cant-wait-to-ignore-todays-intelligence-briefing-on-russian-hacking"></a>[/wonkbar]Let's look at Trump's official statement after today's briefing, written by somebody who does words and grammar better than Trump. His takeaway isn't that Russia was behind all the hacking, but rather that no matter what, he is the BIGGEST MOST TREMENDOUS presidential winner of all time, and he did it All By Himself. In other words, ThinSkin McButthurt has a butthurt on his thin skin: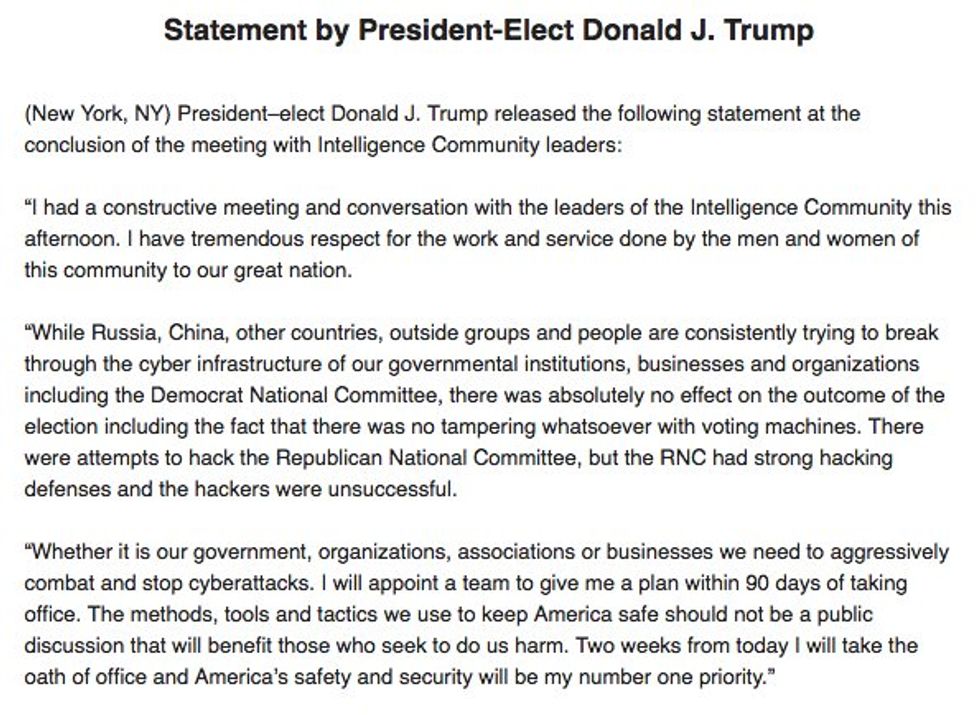 Here's a nice part!
I had a constructive meeting and conversation with the leaders of the Intelligence Community this afternoon. I have tremendous respect for the work and service done by the men and women of this community to our great nation.
No more Mr. Mean Guy, calling the intelligence community a buncha political witch-hunting hacks who don't know smart stuff good like Julian Assange and Wikileaks. That's refreshing!
Now the dumb parts:
While Russia, China, other countries, outside groups and people ...
WHICH COUNTRY DID IT, DONALD? SAY IT.
... are consistently trying to break through the cyber infrastructure of our governmental institutions, businesses and organizations, including the Democrat National Committee ...
Democratic.
... there was absolutely no effect on the outcome of the election including the fact that there was no tampering whatsoever with voting machines.
We get it, dude. It's very emasculating to think maybe you are just the puppet of another dude, one you admire very much and who probably has SOME SERIOUS BLACKMAIL SHIT on you, and maybe it's comforting to keep telling yourself that Russia's myriad election interference activities IN NO WAY FOR REAL helped you win the election by a record breaking minus three million votes.
We get it, really.
BUT FUCKING GROW UP, BECAUSE THAT IS NOT WHAT YOUR FUCKING INTELLIGENCE BRIEFERS TOLD YOU IN YOUR MEETING TODAY AND YOU GODDAMN KNOW IT.
SHITHEAD.
WONKETTE OUT.
[h/t Spencer Ackerman]
Evan Hurst
Evan Hurst is the managing editor of Wonkette, which means he is the boss of you, unless you are Rebecca, who is boss of him. His dog Lula is judging you right now.
Follow him on Twitter RIGHT HERE.