Charlie Crist Jumps At Opportunity To Promote Obama's Stimulus Package
News
February 09, 2009 03:14 PM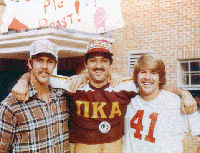 Orange Florida Governor Charlie Crist is still so mad at John McCain & The Republicans for making him getengaged, to a woman, and then denying him the vice presidential nomination, that he will host a town hall with Barack Obama tomorrow in Fort Myers, Florida, to discuss the stimulus package. It is the cattiest step Crist has taken to hurt his party since before the election, when he extended early voting hours so that the blacks could all finish ACORNing their savior to the presidency, and before that, when he stopped Big Money Business from completely demolishing the Everglades.
---
From a very gloating Obama press release:
GOVERNOR CRIST TO JOIN PRESIDENT AT FORT MYERS TOWN HALL MEETING TOMORROW

The White House announced today that Florida Governor Charlie Crist will introduce President Barack Obama at a town hall meeting in Fort Myers to discuss the urgent need for a plan to help American families cope with the severe economic downturn and lay the foundation for our long term recovery. Statements from the President and Gov. Crist about tomorrow's event are included below.
Granted, Crist says in the statement, "Any attempts at federal stimulus must prioritize job creation and targeted tax relief for small business owners," so he is probably trying to make the stimulus bill even more terrible. Anything to get out of the house though, right?
GOVERNOR CRIST TO JOIN PRESIDENT AT FORT MYERS TOWN HALL MEETING TOMORROW [The Page]