Christopher Steele Returns! Wonkagenda For Wed., March 8, 2017
News
March 08, 2017 09:22 AM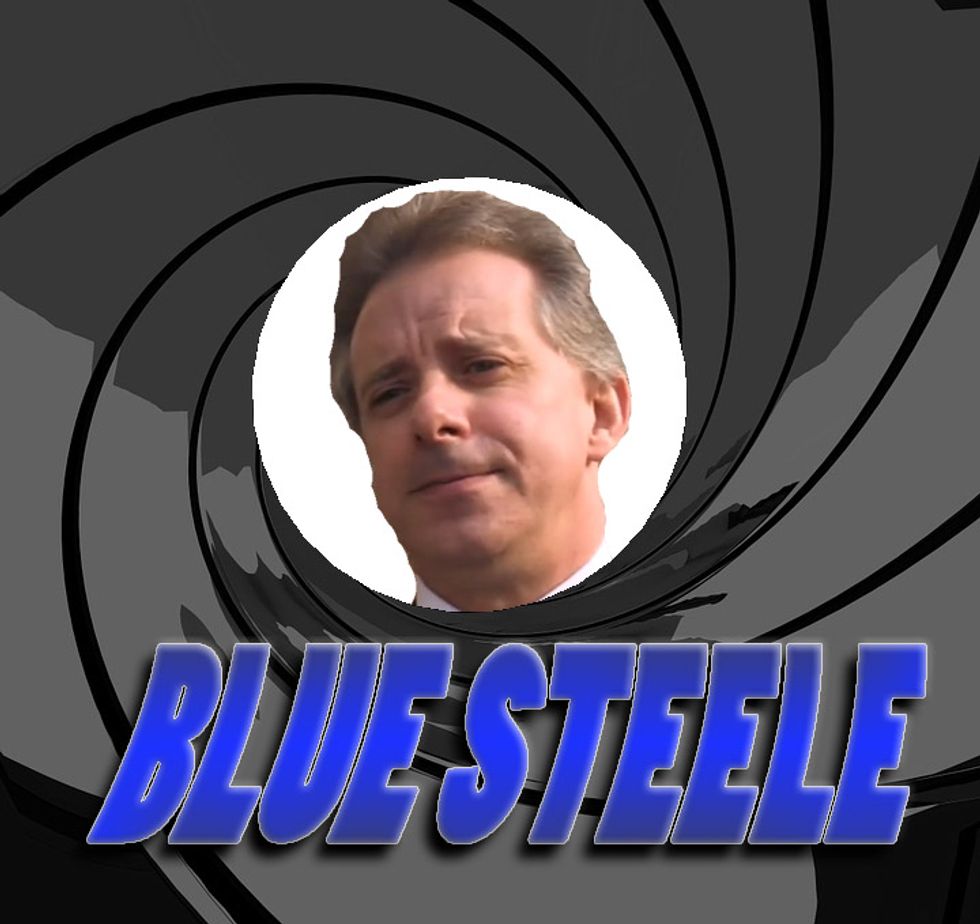 All he needs is one look...
---
Morning Wonketariat! Today is International Women's Day! So take a minute to think about all the women and baby women who kick ass at home, at work, and their home offices! Here's some of the things we may be talking about today.
Wikileaks dumped a slew of documents about CIA and MI5 hacking programs that can see into your phones, computers, and T.V., and penetrate consumer-grade encryption software, but which is especially creepy if you were part of the Trump campaign.
The loathing for RyanCare is spreading as people realize just how awful, no good, and terrible of a plan it is rip away healthcare for trumped up trickle down economics, but Trump is still threatening Republicans who oppose the plan.
HEEEEEY, Carter Page, what were you doing in Russia? Riding bears with Putin? Injecting flesh-eating drugs? Colluding with a foreign government? HMMM?
The author of THE DOSSIER that ALLEGED the Trump campaign's full knowledge and support of Russian intervention during the 2016 election, as well as his secret pee hooker problem, Christopher Steele, has suddenly surfaced only to quickly disappear again. [Morning Maddow!]
Rod Rosenstein NOPED his way out of answering questions about Russia during his confirmation hearing for deputy attorney general yesterday, prompting a pissed off Al Franken to very nicely tell Chuck Grassley to kindly fuck off. [Video]
Trump has renominated Ajit Pai to serve as the chair of the FCC, as it takes more than a few months for telecom companies to buy enough legislation that fucks up the open Internet.
The nation's biggest sugarcandy lobby has a sweet spot for Donald Trump so they're spending lots of money at Trump hotels in the hopes giving America cavities and diabeetus.
Steve Mnuchin is have a hell of a time trying to staff the Treasury Department because Trump's minions keep investigating twitter feeds of Mnuchin's people and finding criticisms of Donald Trump. HAHAHAHAHAHA
Major broadcast networks HATE loudmouthed Trump spox Boris Epshteyn because he he is a bigger liar than Kellyanne Conway AND a tremendous asshole.
Trump is prepping a potential $6.6 billion request to Congress for his border wall, as well as massive multi-billion dollar cuts to the Coast Guard, FEMA, and TSA, which sounds fine if don't care about the drug trade, human slavery, terrorism and natural disasters because you really hate Mexicans.
Airports are asking for $100 billion to modernize their sad, old infrastructure, and that's just silly since it's not like people immigrate illegally on planes.
People in Alabama are divided on impeaching Governor Robert Bentley after he was recorded having a sexxxy phone sex conversation with his Not Wife, and his fate may ultimately come down to the kind of wonky procedural mumbo-jumbo that only news nerds can enjoy.
Democrat Jon Ossoff might have a chance to "Make Trump Furious" by snatching Tom Price's old congressional seat, but Republican skulduggery and voter suppression efforts are not making things easy.
Hawaii is first in line to block Trump's new Muslim bantravel restrictions against ethnic minorities from Muslim majority countries since they're intended to file a suit later today.
Here's your Late Night Wrap-Up! Colbert got to thinking about the new TSA pat downs, and then talked to former CIA Director Michael Hayden;Trevor Noah wondered what the hell Ben Carson was thinking, and then Lewis Black yelled at Uber; Jimmy Kimmel had some job recommendations for B. Barry Bamz, and a chicken that plays "God Bless America".
And here's your morning Nice Time! DIK-DIKS!

Remember, you need to donate/subscribe so we can keep bringing you lovel dik-diks and splainers!
Dominic Gwinn
Dominic is a broke journalist in Chicago. You can find him in a dirty bar talking to weirdos, or in a gutter taking photos.