Classy Trash In Adams Morgan
News
July 07, 2009 11:52 AM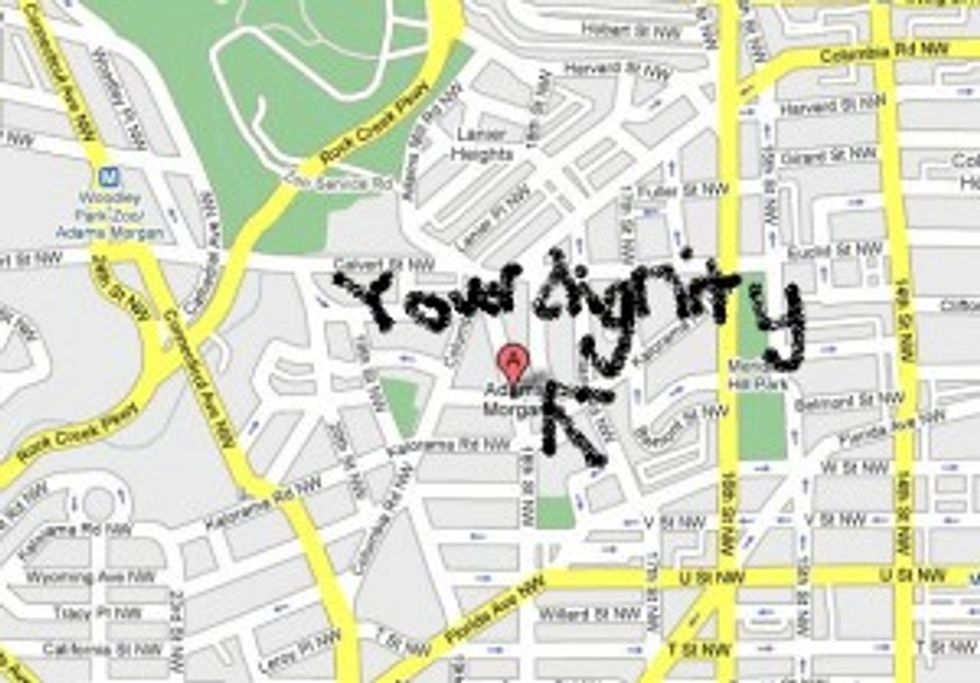 Adams Morgan is right behind theHerpes Triangle in terms of trashy, violence-prone STD-producing bars. It's the perfect destination if all you want to do is drink a lot, dance provocatively with random strangers and leave your dignity behind for an evening. But just because you're visiting one of the sleaziest destinations in the District, you still don't have to put up with crap. Some disgusting bars can in fact be rather enjoyable.
---
Here's our list of the best of the worst trashy bars in Adams Morgan:
18th and Red The bar is hot as hell, some people (maybe underage interns?), dance on the walls and on top of stools, and the DJ could very well work the Bar Mitzvah circuit. But, in spite of all this, you can have a very satisfying evening at this trashy bar. The drinks are cheap, the music is a good mix of today and 90's classics (oh, and Michael Jackson, obviously -- another pop singer really needs to die soon, just because we need variety in music again). And even though the upstairs is packed, the first floor often remains empty and is the perfect place to cool off and enjoy a drink.
Grand Central: Operating in the same vein as 18th and Red, Grand Central offers cheap drinks and good music. (Noticing a theme yet?) The bouncers aren't the nicest in town, but once you're in, you get three levels and three bars of pure debauchery.
The Reef: The Reef stands out as a great trashy spot because of its incredible rooftop, which offers great views of the Adams Morgan area.  Plus, in this city, dining or drinking on a roof automatically makes you cooler, so it's possible that the crowd on the roof at the Reef may actually be enjoyable.
Mille and Al's: Though the constant influx of bachelorette parties could easily lead one to a different conclusion, Millie and Al's can be a good spot to enjoy drinks with friends before heading to another Adams Morgan hot spot. Plus, they sell Jell-O shots and nothing says upscale trashy like Jell-O.
And the really trashy ones that you should avoid:
Spaghetti Gardens, Peyote, and Brass Monkey: Frequenting any or all of these three semi-connected bars will guarantee a flashback to a night you regretted in college, assuming you can remember said night.
Tom Tom's: Sure they might have great drink specials, but that's because the place is infested with baby-faced interns who can't afford anything else, and don't know anything better.
Town Tavern: When this bar opened in Adams Morgan, it proudly proclaimed that it was going to be an "upscale establishment." Well, it turns out that it's more cost effective to allow anyone in, provide a bunch of tables for beer pong and to cater to the Journey-loving DC crowd. And a trashy bar was born.
The Good and The Bad Trash in Adams Morgan: