Collapse of World's Governments Fuels Investor Concern
News
January 28, 2011 12:57 PM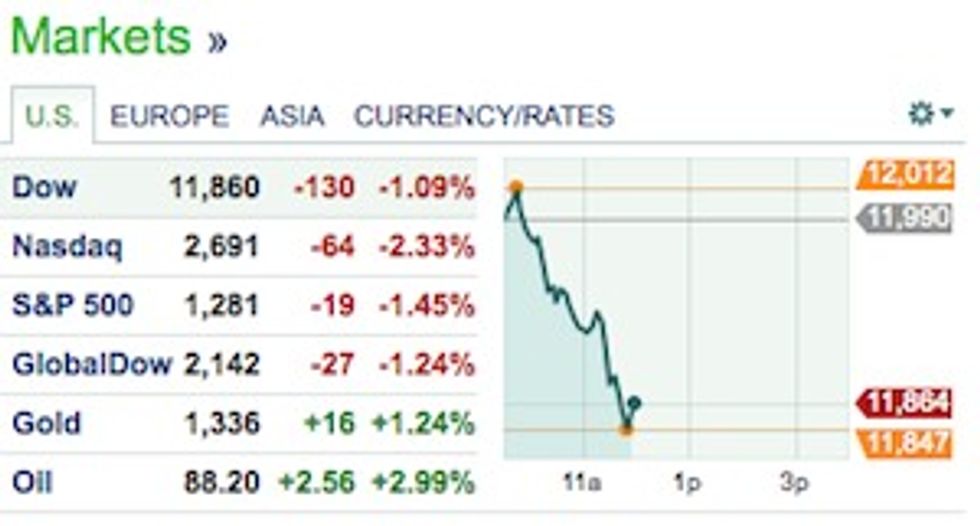 Ha ha, this is our attempt at a "business news" headline. (We were never very useful at the business desk.) But there does seem to be some investor concern, what with everything in free fall around the world and especially in the oil-y parts. Meanwhile, in sad-sack America, big companies from Amazon to something that starts with "Z" (Ford? Microsoft?) are revealing the desperate measures they must take, constantly, to stay afloat in this pathetic un-recovery. But at least things are good over in Asia, where America's owners live, right? Ha, no, "broad based sell offs" started last night. Uhh.
---
The Marketwatch bulletin says:
U.S. stocks deepened their slide Friday, with violent protests in Egypt in focus as well as domestic concerns about earnings after disappointments in quarterly updates from Ford Motor and Amazon.
Ford is down 14% for the day, on investor concerns that nobody actually buys Ford cars, and those who might want to wouldn't be able to afford it (get the financing) anyway.
Crude oil jumped, stocks fell around the world and the dollar gained against the euro after protests in Egypt intensified and President Hosni Mubarak imposed a curfew in Cairo, Suez and Alexandria. The Middle East nation's dollar bonds sank, pushing yields to a record high.
Ireland, Lebanon, Tunisia, Egypt, Yemen, who knows what other Arab countries (Syria? Jordan?!) ... everything's collapsing faster than a normal Italian government. Then again, the DJIA hit 12,000 for the first time since before the economic collapse officially began, so that's something!