Congratulations Texans, Come Get Your Racist License Plates!
News
July 15, 2014 03:11 PM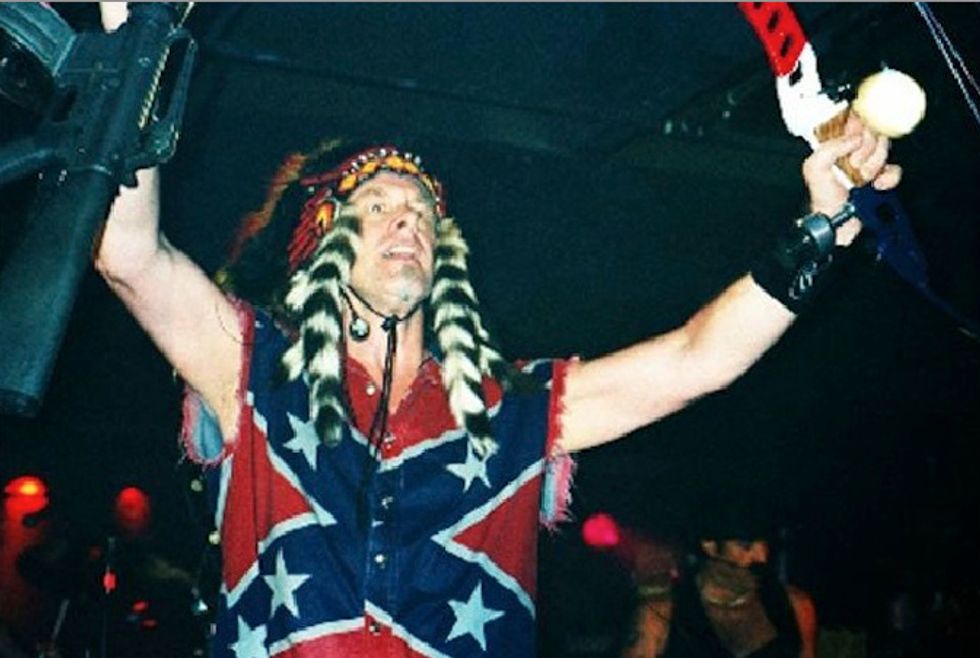 Guns Up, Hook 'Em Horns, Gig 'Em, Aggies, &c., the proud Americans of Texas now have the GOD-GIVEN RIGHT to put the flag of a racist, treasonous army from Virginia on their license plates! Please tell us about this victory for FREEDOM, Dallas Morning News.
---
A Southern heritage group defeated Texas on Monday, celebrating a court decision expected to force Texas to issue license plates adorned with the Confederate battle flag.

A federal appeals panel ruled 2-1 that the Department of Motor Vehicles had violated the Sons of Confederate Veterans' free speech rights and engaged in "viewpoint discrimination" when it rejected its specialty plate in 2011.
This is, without question, the greatest example of Texans fighting for personal liberty since those pro-slavery dudes got their asses kicked by Santa Anna, except this time the pro-slavery dudes won! This is, of course, about heritage not hate. We mean, just look at Texas's stated reasons for joining the Confederacy in the first place:
We hold as undeniable truths that the governments of the various States, and of the confederacy itself, were established exclusively by the white race, for themselves and their posterity; that the African race had no agency in their establishment; that they were rightfully held and regarded as an inferior and dependent race, and in that condition only could their existence in this country be rendered beneficial or tolerable.
Fine, we get it, the Confederacy was racist, JEEZ, get over it, would you? Lawsplain your reasoning at us, judges of the tyrannical federal gubmint:
"The government may not 'selectively … shield the public from some kinds of speech on the ground that they are more offensive than others,'" the federal appeals court ruled. "That is precisely what the Board did, however, when it rejected Texas SCV's plate. Accordingly, we hold that the Board impermissibly discriminated against Texas SCV's viewpoint when it denied the specialty license plate."
In so doing, the appellate court struck down a previous ruling by a federal judge in Austin who said that the state doesn't have to give its implicit imprimatur to groups or ideas it deems derogatory or inflammatory. Which seems reasonable! And the Texas DMV twice rejected the Sons of Confederate Veterans requests, because not everyone in Texas is a giant jerk.
Instead, the Sons of Confederate Veterans turned to the federal government for a ruling on the matter, which probably would have been just fine with actual Confederate veterans, don't you think? Here, watch as activist (read: LIBRUL) judges invent a test that American jurisprudence had yet to come up with, because that is the innovative spirit of America, goddammit.
Judges Edward Prado and Jennifer Elrod, who upheld the group's suit, said that under a "reasonable observer" test, others would see the plate as a statement of the driver and not of the state issuing it. Jerry Smith, the dissenting judge, said he found no precedent in the law to support such a test.
Judges Prado and Elrod are apparently incapable of distinguishing between license plates and bumper stickers. Same difference, are we right?
So let's take Justices Prado and Elrod at their written word. Let's take the Sons of Confederate Veterans' lawyer at his spoken word, when he said, "the government cannot step into an issue and silence one side while endorsing the viewpoint of the other side." The first commenter to petition the Texas DMV for a Peta Nocona license plate wins a prize. Bonus points if you do the same thing in Virginia with Nat Turner.
[Dallas Morning News/ Raw Story]
Follow Dan on Twitter.