Crime
At least it wasn't the neighbor's dog?
Back in October, several men, many of them militia members, were arrested for their parts in a plot to kidnap Michigan Governor Gretchen Whitmer, allegedly to put her on "trial" for doing tyranny to the state of Michigan by enacting restrictions meant to stop the spread of COVID-19.
One of those men was Barry Croft Jr.
Croft, a 45-year-old truck driver out of Bear, Delaware, was the official bombmaker of the group, and clearly felt very strongly about not allowing Whitmer to do anything to stop the spread of COVID-19, until he was imprisoned himself and really wanted to be let out for fear he would catch the virus in jail.
Via Detroit News:
Prosecutors portray Croft as a ringleader, writing "he was the prime mover behind the group's construction, testing and detonation of weapons of mass destruction," Kessler wrote. The prosecutor also cited evidence revealed during bond hearings in October.

"Evidence adduced at those hearings established that Croft conspired with the other defendants to kidnap the governor ... brought materials for an improvised explosive device to a training exercise ... participated in the nighttime surveillance of the governor's home ... stopped to inspect a bridge along the way that he planned to bomb ... and detonated a second test bomb with shrapnel for use in the plot," Kessler wrote.
Croft's worry now, reportedly, is not that he might be required to wear a face mask in the grocery store to prevent someone else from getting COVID-19, or even that he will contract it himself. Instead, he's moved on to worrying that people might find out that "God" actually gave him permission to violate the Ten Commandments to stop Whitmer from enacting common-sense safety measures. This information comes from some recorded rantings that the judge in his case was allowed to hear, and which led the judge to refuse to let him out on bond.
According to the government, here is some of what Croft does not want the public to hear:

"Croft expounds in an excited tone about his intent to commit acts of terrorism, and claims God has granted him permission to violate His (God's) commandments," prosecutors state in court records. "In one particular passage, Croft explicitly states his intent to kidnap Gov. Whitmer — the primary offense with which he is charged."
The media has been fighting for access to this recording, along with several other known recordings and images that Croft and his lawyers are hoping to keep sealed.
- Photographs of Croft with a "boogaloo" flag, and another with a shotgun.
- Audio recordings of Croft at a "militia" group meeting in Ohio.
- Video recording of Croft firing a semiautomatic rifle at a field training exercise in Wisconsin.
- Audio recording of Croft at a training exercise in Wisconsin.
- A photograph of a highway bridge near Whitmer's vacation home.
- A photograph of Croft's modified semiautomatic rifle.
You think they'd also want that picture of him, above, in the tricorn hat repressed, but that image, and the video interview in which he wore it, remain online for the world to see. But we should probably show you the Boogaloo flag, since we're here.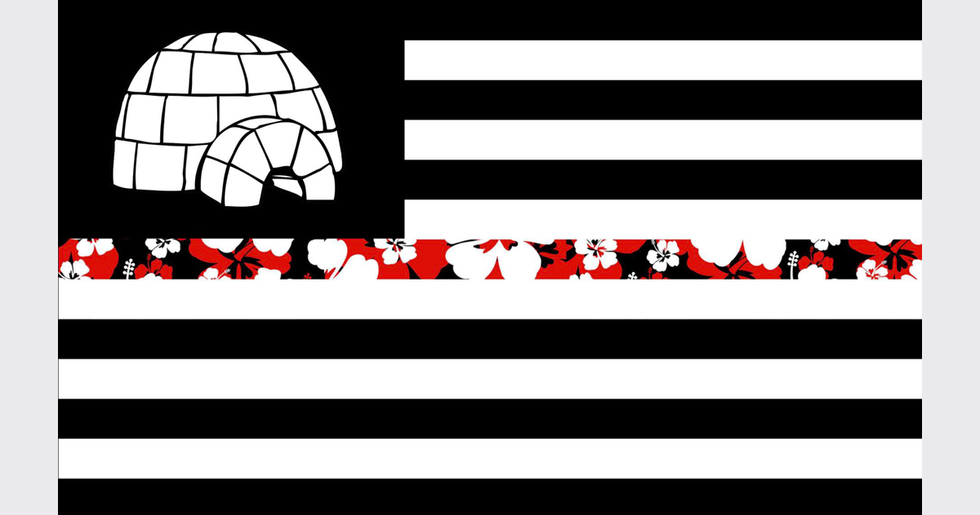 YEP. That is it!
Prosecutors argue that releasing this information would not poison the jury pool, "Because Croft's trial is not until October, and the jury will be drawn from the thirty-four counties ... such prejudice is unlikely here." Media outlets like Buzzfeed have argued that similar information about other defendants has been released and it's not clear why Croft's should be any different. It's not.
Not to come across as defending the guy, but I am actually not super clear on how drawing the jury from 34 counties would impact whether or not information made public by a national news outlet would poison a jury. These things just do not seem related.
That being said, absolutely none of these things are remotely unexpected, given who Croft is. Outside of the picture of Whitmer's vacation home and perhaps the recording about how "God" gave him the thumb's up on murder, they're all pretty much what one would assume about the kind of guy who joins militias and wears a tricorn hat.
The defense lawyers in this case are arguing that none of their clients were literally planning on kidnapping Gretchen Whitmer, and that it was all just a bunch of guys engaging in "tough talk." And sure, fine, that is a thing people do sometimes. We all come up with plans for things we're never actually get around to (though for normal people it's more "Oh my god we should totally start a band or a podcast or go play tennis sometime" and less "Let's kidnap the governor of Michigan!"). But generally speaking, once you actually go out and start doing bomb-testing, it goes from hypothetical "What if we did this?" scenario to actual "plotting to kidnap the governor of Michigan" scenario.
Frankly, one would think that "I got permission from God to kidnap Gretchen Whitmer" would be the exact kind of thing Croft and his lawyers would want to get out, as it might lead jurors to conclude that he was not all there and thus less culpable than he might be otherwise — but perhaps the whole tape is even more damning than that one clip.


Do your Amazon shopping through this link, because reasons.
Wonkette is independent and fully funded by readers like you. Click below to tip us!
Keep reading...
Show less
Crime
While they were busy saving democracy in Texas — or at least giving voting rights a stay of execution — by walking out of the state House Sunday night, Texas Democrats also put the kibosh on another top priority for Gov. Greg Abbott (R), a bill that would have made it much more difficult for people to bond out of jail without having the cash to pay for it. As the Texas Tribune explains,
After the Senate and House passed significantly different versions of House Bill 20, a group of mostly Republican lawmakers negotiated behind closed doors this weekend to arrive at a sweeping bill to change how and if people should be released from jail before their criminal cases are resolved.
Texas Republicans sure do love doing things in secret and then forcing a vote on 'em, huh? While putting the new version together, the Senate Rs removed a number of provisions from the House version that would have made getting bail slightly less onerous, because forget it, Jake, it's Texastown.
In recent years, when you hear about "bail reform," that refers to efforts to eliminate cash bail for most non-violent offenses, since bail can have terrible effects on low-income people. As Wonkette's Jamie Lynn Crofts noted recently when Illinois passed bail reform, cash bail is
a poor people's tax. It disproportionately hurts Black and Latino people and communities. It both criminalizes poverty and reinforces cycles of poverty. And it's not proven to make anyone safer.
That's not the kind of "reform" Texas Republicans had in mind. Instead, the final version of HB 20, which Abbott had declared an "emergency item" for legislative action, would have focused primarily on keeping people in jail for a wide range of offenses if they didn't have the money to post bond. The bill was pushed as a means of getting tough on violent offenders — or at least on violent offenders without ready access to cash.
HB 20 sought to clamp down on jail releases in several ways. It would have banned release from jail on personal bonds — in which cash is not required upfront — for people accused of violent or sexual crimes.
However, another major portion of the bill had nothing to do at all with violent crime. Instead, it was pure knee-jerk reaction to last summer's protests against police killings of Black people, and would have restricted the ability of nonprofit groups to bail people out if they were arrested during a protest. HB 20
would have prevented such groups from posting bond for people accused — or ever previously convicted — of a violent crime. Any group could still have posted bail for up to three people every six months, and religious organizations were exempt from the restriction.
The bill also added back in some provisions that the House had previously removed in response to justice reform advocates who had argued that they would hurt low-income folks without making anyone safer.
For example, some advocates worried that banning cashless release for those accused of low-level assault charges against police officers would target people in a mental health crisis, as they often resist being touched by officers and are then charged with assault. Requiring money bail in such cases, they argued, would keep even more people with mental illness stuck in county jails.
The Senate also added back a requirement that judges consider a defendant's citizenship status before granting bail, although immigration enforcement is a federal responsibility. Brownsville Democratic state Sen. Eddie Lucio Jr. pointed out when that provision was debated back in April that "Nothing in a person's citizenship status makes them more likely to be a flight risk," and he warned that the bill would encourage racial profiling, as if Texas law enforcement needed more encouragement.
The bill does at least reform some practices that federal courts have deemed unconstitutional. It would require that defendants get a court hearing within two days of arrest if they file a form claiming they're indigent. But even then, the Senate revisions added burdens that hadn't been in the House version:
The form would have required detailing a lengthy financial history, however, as opposed to the House's version of the bill which simply would have asked defendants to state how much cash they could get within 24 hours.
The bill was introduced to tighten up bail following a few high-profile crimes committed by people who had been out on bail, including the murder of a state trooper in 2017. But as the Texas Tribune notes,
[An] independent monitor of [Harris] county's federal court settlement over misdemeanor bail practices found that low-level defendants freed under a new system that let most people out without cash bail were not more likely to commit new crimes.

The settlement came after f

ederal courts found bail practices in Harris County unconstitutionally discriminatory based on wealth

. Federal judges ruled both Harris and Dallas counties

allowed defendants quickly to walk out of jail if they had cash while poor people accused of the same crime with the same criminal history were kept in jail for weeks and months

.
On the other hand, poor people don't give to campaign PACs, and they certainly don't vote in numbers comparable to scared suburbanites who are convinced crime is running rampant, so when Abbott calls a special session to take away voting rights, HB 20 will be included as a must-pass measure as well.
[Texas Tribune / Photo: Tom Hilton, Creative Commons License 2.0]

Yr Wonkette is funded entirely by reader donations. If you can, please give $5 or $10 a month so we can keep this little mommyblog on the streets, raising a ruckus.
Keep reading...
Show less
Right Wing Extremism
Good court filing, Roodles!
Certain things are starting to move that were put in motion after the January 6 domestic terrorist attack incited by Donald Trump. One of those is a lawsuit filed by Democratic Rep. Bennie Thompson and the NAACP against Trump, Rudy Giuliani, and the white boy militias, et al. They filed the lawsuit under the Ku Klux Klan Act of 1871, which hasn't hardly been used since Reconstruction. And if you click that last link, you can get a Wonk-splainer about it to refresh your memory.
Point is, Rudy Giuliani's lawyer filed a response, and therein lies some pretty funny logic, if you ask us, and we are Wonkette, so we know from funny. (We are sorry, Rudy Giuliani's lawyer. We know you probably didn't think you were auditioning for "Laugh-In" when you wrote this. But surprise, you got the part!)
Nobody would possibly think that when Rudy Giuliani said LET'S HAVE TRIAL BY COMBAT! during the hate incitement rally before the domestic terrorist attack committed by the people who attended the hate incitement rally that Rudy really meant LET'S HAVE TRIAL BY COMBAT!
We'll excerpt freely from the New York Daily News because you can't make us transcribe that ourselves:
"No reasonable (person) would perceive Giuliani's speech as an instruction to march to the Capitol, violently breach the perimeter and enter the Capitol building and then violently terrorize Congress into not engaging in the Election Certification, Giuliani's lawyers said in a new legal filing in federal court.
And yet they all somehow got that idea!
Giuliani's lawyers latched onto his use of the word "trial" to suggest that he was actually calling for Trump supporters to engage in some sort of quasi-legal process for overturning the election instead of storming the Capitol to hunt down perceived opponents.
"Trial by combat" was actually an old timey Germanic law way of settling a conflict. It's basically a legally sanctioned sword fight, and not the kind where two guys pull out their chrams and cross streams. We could write you a bunch of words on trials by combat, except for that would be stupid, because we doubt any of the overgrown hicks in Trump's crowd that day were really thinking of it in terms of historical context. (And yes, it's also a "Game of Thrones" reference. We grant that Trump's supporters might have been aware of that.) That said, the fact that the word "combat" is in the phrase "trial by combat" negates the lawyers' argument that Giuliani was talking about some "quasi-legal process," like in the courts or something.
Point is, what Giuliani was laying down seemed pretty violent in nature to the average listener.
His lawyer has an answer for that too, though, and it is that Rudy was doing a hyperbolic allegory! He's so allegorical, that Roodles:
"The statement was clearly hyperbolic and not literal," the filing said. "And even if it were to be perceived literally, Giuliani was clearly referring to an event in the future after evidence of election fraud is collected."
Hahahahahahaha OK.
This is the same argument Giuliani made in response to a lawsuit filed by Rep. Eric Swalwell accusing him and Trump of inciting the insurrection. (It's a copy/paste job, actually.) And if we'd seen it then, we'd have made fun of it then. We didn't see it then, though. So we're making fun of it now.
LET'S HAVE TRIAL BY COMBAT! AT A LATER DATE! WHEN IT'S MORE CONVENIENT! CERTAINLY NOT TODAY! HOO HA!
Gonna make that our Twitter bio, maybe.
The end.
Follow Evan Hurst on Twitter RIGHT HERE, DO IT RIGHT HERE!
Wonkette is only funded by YOU. Keep it coming, if you are able!
Keep reading...
Show less
Guns
Onion runs 'No Way To Prevent This, Says Only Nation Where This Regularly Happens' hed yet again.
America is once again going through the cycle of horror, anguish, and ultimately probably not doing anything following yet another mass shooting, this time in San Jose, California, where a public transit employee went on a shooting rampage at a rail yard where he worked, killing nine people and himself. Eight of the victims died at the scene, and a ninth died later.
The killer was identified as Samuel Cassidy. Like many, possibly all, of the victims, he was an employee of the Santa Clara Valley Transportation Authority (VTA), which provides bus and light rail service throughout the Bay Area community. The office of the Medical Examiner-Coroner released the names and ages of the nine dead on Wednesday:
Paul Delacruz Megia, 42; Taptejdeep Singh, 36; Adrian Balleza, 29; Jose Dejesus Hernandez III, 35; Timothy Michael Romo, 49; Michael Joseph Rudometkin 40; Abdolvahab Alaghmandan, 63; and Lars Kepler Lane, 63. Alex Ward Fritch, 49, was the ninth victim who died Wednesday evening.
Cassidy's former wife and a former girlfriend both said he had a history of ragey behavior and of taking his anger out on them. While it's too early to know what the shooter's motives were, we'll just note again that angry misogynists commit a large portion of mass shootings. Mind you, we couldn't just go treating every man who abuses women as a potential mass shooter, because Crom only knows what that would do to the economy? (Easy: We'd get lots of men into therapy and there'd be an expansion of social services, and who can even calculate the potential benefits of greater mental health in this godforsaken Republic?)
Santa Clara County Sheriff Laurie Smith, in a press briefing this morning, said the dead were found in two different buildings at the rail yard, suggesting that Cassidy "went from building to building." Smith said that Cassidy didn't exchange fire with police, but that he apparently shot himself when he became aware they were on the scene. More, from NBC News:
He had two semiautomatic handguns and 11 loaded magazines, according to the sheriff. Investigators are looking into whether Cassidy targeted specific co-workers, but they do know "he was very deliberate, very fast. He knew where employees would be," Smith said. [...]

The early morning attack came at a particularly busy time at the transit hub as overnight workers overlap with, and passed off their duties to, colleagues checking in for early-morning shifts.
Smith praised officers for their quick arrival and action, saying that when deputies and San Jose police ran into buildings at the transit complex, they "saved many lives."
Smith said that possible bomb-making materials were found in a locker believed to be Cassidy's.
In addition to the shootings, Cassidy apparently set fire to his home about 10 miles away. When fire crews arrived, the home was "engulfed in flames."
Authorities believe there was ammunition inside the home and firefighters smelled an accelerant when they arrived, sources said.

Investigators are working on a theory that Cassidy planted an explosive in the home to go off around the same time as the shooting, Smith said Wednesday.
At least no one was hurt in the fire.
A woman who dated the gunman for about six months in 2008 told NBC News she believes he was "not mentally stable." She said that when she told him she didn't want to marry him, he "was so angry, yelling and screaming [...] And then he started making trouble for me."
One day not long after the breakup, she said he stole her brand new car out of her driveway — a 2008 Toyota Camry, which he had the key for. She said she reported it to police, but nothing happened. He returned the car a month later, with a broken bumper and other damage.

In March 2009, he filed a restraining order against her, online court records show. The ex-girlfriend said he made up the claims. She went on to file a restraining order against him.
CNN reports that, in court documents, the woman said Cassidy had violent mood swings that got worse when he was drinking, and that he played "mind games" with her. She also said "Several times during the relationship he became intoxicated, enraged and forced himself on me sexually."
The shooter's former wife told the San Jose Mercury News that Cassidy "had two sides ... When he was in a good mood, he was a great guy. When he was mad, he was mad." They had been married about a decade before they divorced in 2005, and she said she hadn't seen him in roughly 13 years.
He would frequently come home angry from work, and get angrier as he talked about how badly he felt he was treated at work, and he would sometimes turn his anger on her, his ex-wife said.
When Cassidy was at the VTA during their marriage, he resented what he saw as unfair work assignments, she said, and would rant about his job when he got home. [...]

"He just thought that some people got more easy-going things at work, and he'd get the harder jobs," she said.
Following the shootings yesterday, California Gov. Gavin Newsom sounded a hell of a lot like Barack Obama following the umpteenth mass shooting during his presidency, when Obama lamented,

Somehow this has become routine. The reporting is routine. My response here at this podium ends up being routine. The conversation in the aftermath of it. We've become numb to this.
Newsom told reporters near the scene of yesterday's shooting,
There's a numbness ... there's a sameness to this. [...] Anywhere, USA. It feels like this happens over and over and over again. Rinse and repeat, rinse and repeat.
In a statement released by the White House before the ninth victim's death had been announced, President Joe Biden called again for Congress to take action on guns, as if even the easiest, most broadly-supported measures to curb firearms violence might be achievable this time. He noted that many details remain to be seen, but that some things are certain.
There are at least eight families who will never be whole again. There are children, parents, and spouses who are waiting to hear whether someone they love is ever going to come home. There are union brothers and sisters – good, honest, hardworking people – who are mourning their own.
Biden too noted how common these horrors have become:
I have the solemn duty of yet again of ordering the flag to be lowered at half-staff, just weeks after doing so following the mass shootings at spas in and around Atlanta; in a grocery store in Boulder, Colorado; at a home in Rock Hill, South Carolina; and at a FedEx facility in Indianapolis, Indiana.

Enough. [...]

Every life that is taken by a bullet pierces the soul of our nation. We can, and we must, do more.
And now it's on to the next stages of the national ritual: the thoughts and prayers, the grief, the profiles of the victims, the gun humpers showing up to carefully explain that anyone saying "automatic" instead of "semi-automatic" isn't allowed to have an opinion, and the reflection that if the massacres at Sandy Hook Elementary and at Marjorie Stoneman Douglass High didn't lead to action, we'll all go through this again, forever and amen.
Jesus fucking Christ, we need to end this.
[NBC News / CNN / San Jose Mercury News / White House / Mother Jones]
Yr Wonkette is funded entirely by reader donations. If you can, please give $5 or $10 a month, and we'll help each other get through these hell times.
Keep reading...
Show less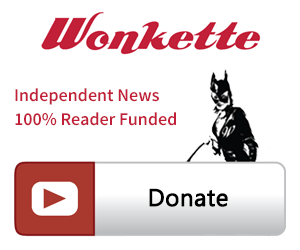 ©2018 by Commie Girl Industries, Inc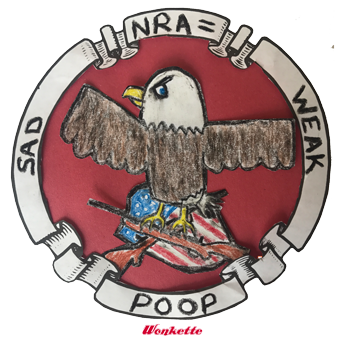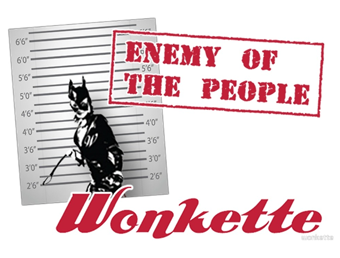 This Is Not An Ad
Privacy