Cyber Weasels Try To Shut Down Scott Walker Recall Website
News
November 15, 2011 12:20 PM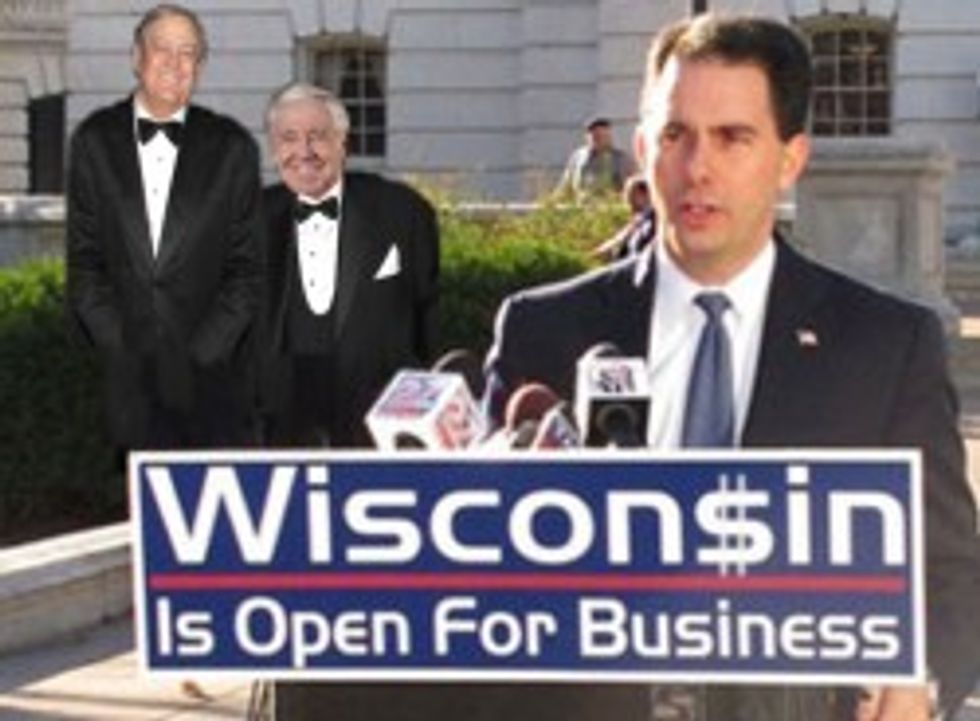 Hooray, today Wisconsinitesbegin their campaign to Restore Decency and kick demon prince Scott Walker off his throne! This will Not Be Easy: the Kochsucker King is legally allowed to raise infinite campaign monies to defend himself against the recall, and organizers also have a massive task in collecting the required half million signatures in just sixty days. But Walker and his perverse thugs are still terrified about the possibility of defeat, so a "mysterious" cabal of cyber criminals launched an attack to shut down the website of recall organizer United Wisconsin the day before the start of the petition drive. Subtle!
---
Here's the statement from United Wisconsin, via Daily Kos:
Early this afternoon, United Wisconsin's website www.unitedwisconsin.com, was the victim of a cyber attack. It appears this attack may be ongoing. Our web team reports that this attack was coordinated and deliberate.

The attack, which is known as a Distributed Denial of Service Attack, flooded our servers at approximately 2:00pm. At this time the source of this attack is not fully known. However, we are reporting this to the FBI and Wisconsin Attorney General, and taking all the steps we can to ensure this does not happen again.
But Evil Loses, this time, and the website is now back up. Meanwhile, the cheese people gathered in their ritual houses of Monday Night Football worship to double the fun for the midnight recall kick-off:
The crowd at Hawk's Bar and Grill in downtown Madison was decent for a Monday night football game viewing. The Green Bay Packers had just cinched a win over the Minnesota Vikings and a small cheer went up from a clutch of people gathered at the end of the bar where a large projection screen had been showing the game.

As the minutes ticked by and midnight approached, however, the number of people who packed into the building doubled, tripled, and more - eventually filling the space in a wall-to-wall scrum of cheering, energized Wisconsinites.
Ha ha, Scott Walker will now try to outlaw football gatherings of more than two people at a time without a state-issued license. Good luck, doomed idiot! [Daily Kos/NPR/Dane101.com]