'Dead Osama' Merchandise Makes End Of America Official
News
May 03, 2011 10:48 PM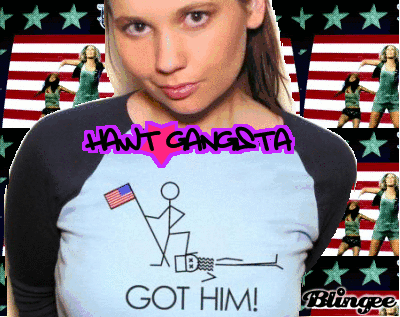 Uh, what's that famous & misattributed Sinclair Lewis quote? "When fascism comes to America, it will be wearing a sexy WE GOT HIM ladies-tee, and it will have an iPhone squeezed between its voluptuous titties, so that the government will alwaysknow where it is." Anyway! Now all you war-mongering yuppie mongrels can purchase "Osama's Dead" t-shirts for your dogs, so that they can have something fancy to wear at the "dog park" whilst you pleasure each other with freedom-dome in the bushes, or wherever. If Joe Goebbels were alive, he would be masturbating so furiously right now that his dick would catch fire from all the violent friction.
---
Here's a sample of the Freedom Schwag currently available. (Have your Visa or MasterCard ready!):
•T-shirts. Already, there are hundreds of designs. The website Tshirthell.com, has sold hundreds of $20 T-shirts that show a stick figure version of a victorious, flag-carrying American standing over the dead stick figure (complete with scraggly beard) of bin Laden. "We made a batch of them and already need to make a bunch more," says Mika Larson, executive director.

A $21.35 T-shirt on Zazzle.com simply says: "Obama killed Osama."

•Buttons. In making a marketable joke of bin Laden's burial at sea, a $5 button sold on CafePress.com shows a photo of bin Laden under the line "Fish Food."

•Coffee mugs. A coffee mug shows bin Laden in a gun sight under these words: Death by U.S. Navy Seals, May 1, 2011. It sells for $15 at CafePress.com.

•Caps. A $15 cap on CafePress.com treats the event like the collegiate basketball tournament that Obama likes to follow by listing the final two brackets as "Obama" and "Osama;" then showing the final bracket winner as "Obama."

•Bumper stickers. A $3.95 bumper sticker at Zazzle.com shows pictures of bin Laden and Saddam Hussein with the question: Who's Next?

•Neckties. It shows bin Laden in a gun sight under the line, "Justice: May 1, 2011" goes for $31.75 on Zazzle.com

•Phone case. At $51.40, an iPhone case shows a photo of bin Laden with these words stamped across his face: "Mission Accomplished." It's sold at Zazzle.com

•Dog T-shirts. For $18, even your dog can wear a T-shirt that commemorates the day. The shirt, which says "Osama's Dead," is Facebook friendly with the familiar thumbs-up "Like" logo.
(By The Way: Questioning state-sponsored violence is a sign of weakness and intense homosexuality.)
Meanwhile, Obama refuses to "cut and run" in Afghanistan, because he is a true patriot. Endless War forever!
Your life is now a Tiësto music video. Pump your fists in celebration without really knowing why. Let the weird lights shine in your eyes. Everything is great:
Goodbye. [USA Today]