Have a Cool Italian Ice Cream To Celebrate Muggy/Mugging Season!
News
April 22, 2010 02:38 PM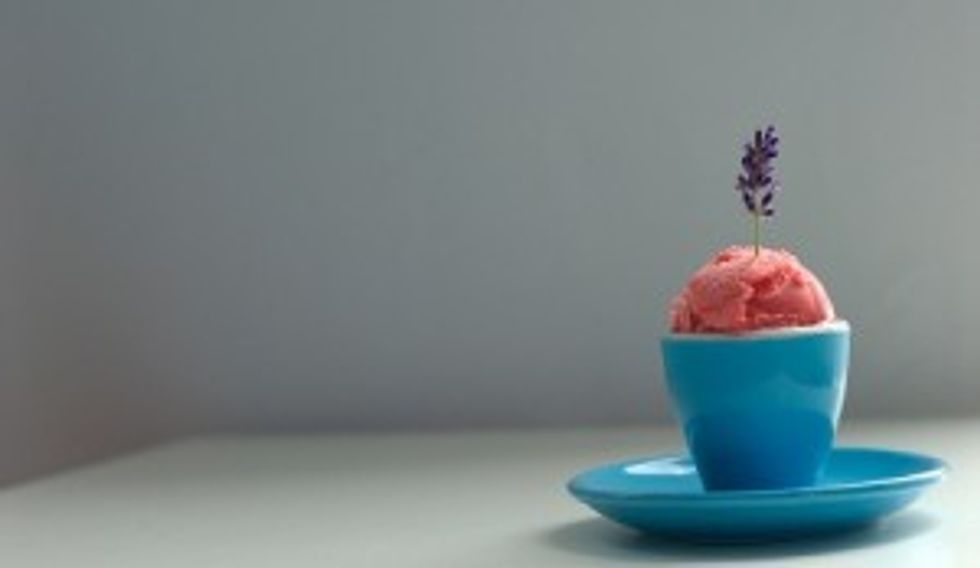 The sun is out in DC and this can only mean two things: Muggings are about to begin again in full force and everyone's going to want cool, refreshing food. As for the former, well done Kal Penn, you've officially initiated mugging season! And as for the refreshing treats, Dolcezza, a gelateria, is opening up a third location on Friday in Dupont Circle and on Sunday it will be serving FREE PORK (and gelato).
---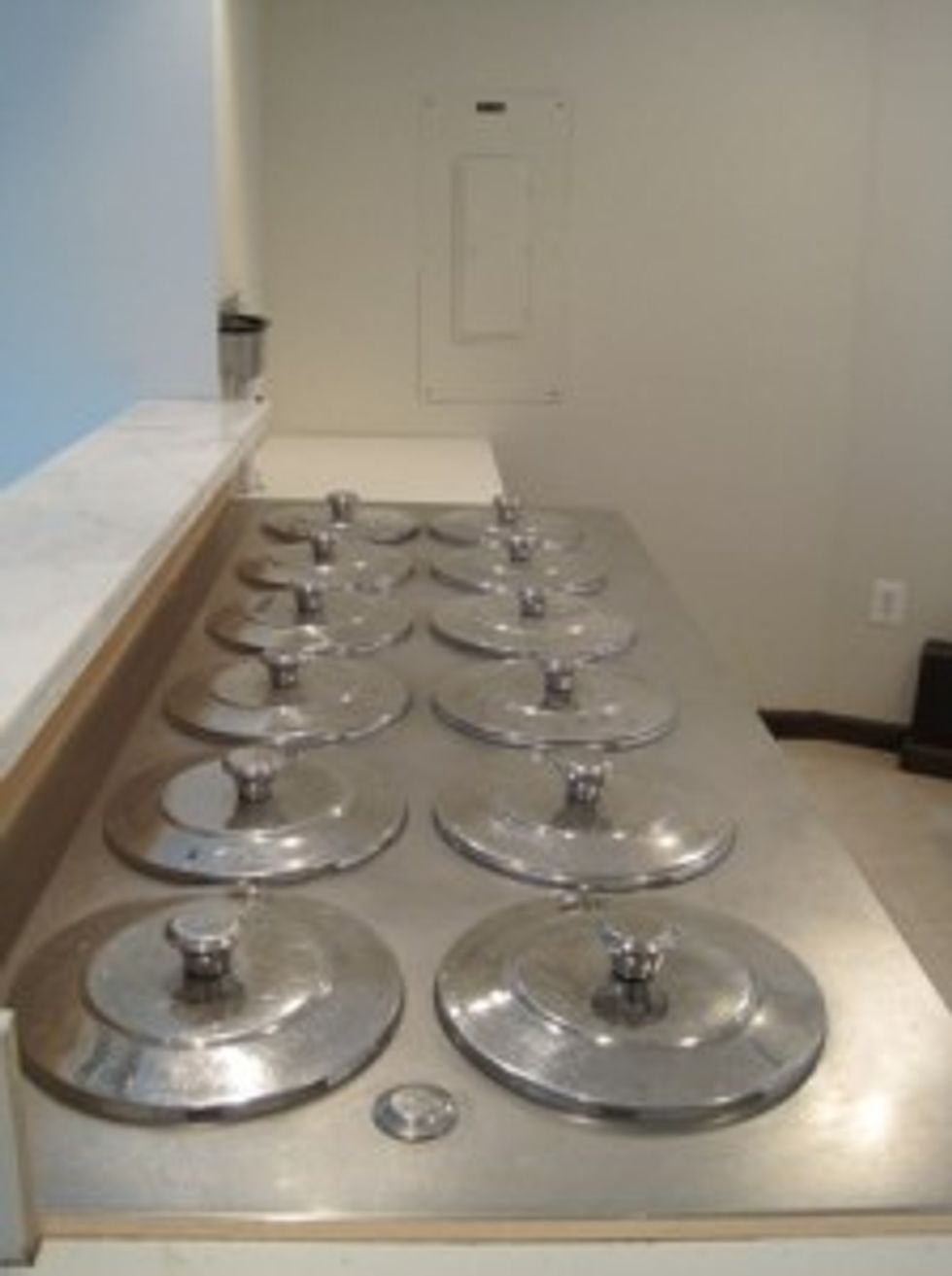 In these tubes sits delicious hand-spun gelato made from locally grown, environmentally friendly ingredients. This means that these gelato varieties, which come in flavors like mango, pineapple honey lime, rhubarb, and avocado honey orange, are made from fruits from 'round these parts and milk that comes from grass-eating cows in Pennsylvania. It also means that by eating the gelato you make the world a better place, which we believe makes your purchase tax deductible. [THIS IS ANOTHER LIE. -- Ed.]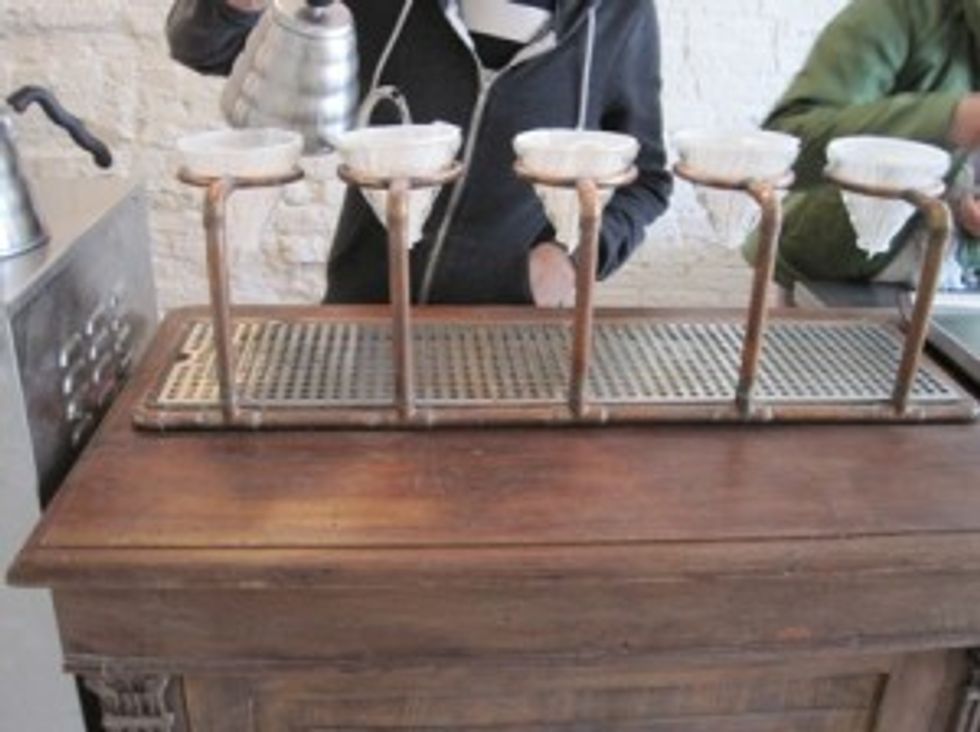 This fancy contraption is a V60 coffee bar. It's latest in pour-over technology-- pour-over being the only way to brew coffee, as the Dupont Circle crowd doesn't do plain drip. The V60, you see, makes the coffee brewing experience more personal, and it works as such: You choose coffee beans from your favorite country (right now there are beans from Ethiopia, El Salvador, Kenya and Columbia), they grind them, pour them into the thing, add water in 30 second intervals, and viola, a cup of coffee brewed just for YOU!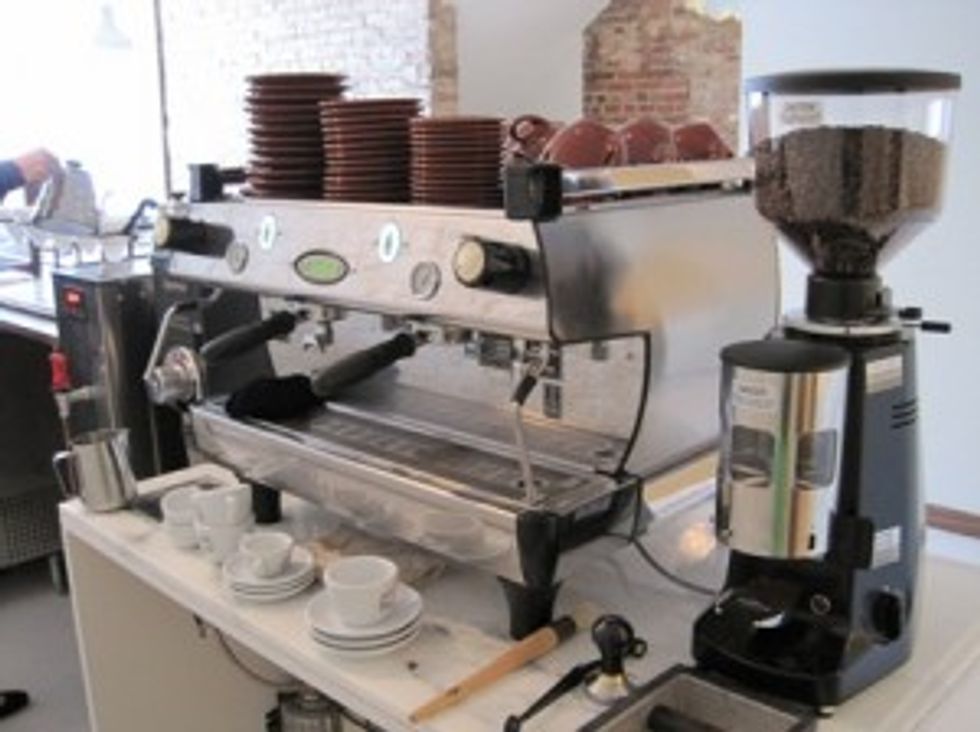 Or, fine just have an espresso, latte or cappuccino if pour-over coffee isn't grand enough for you.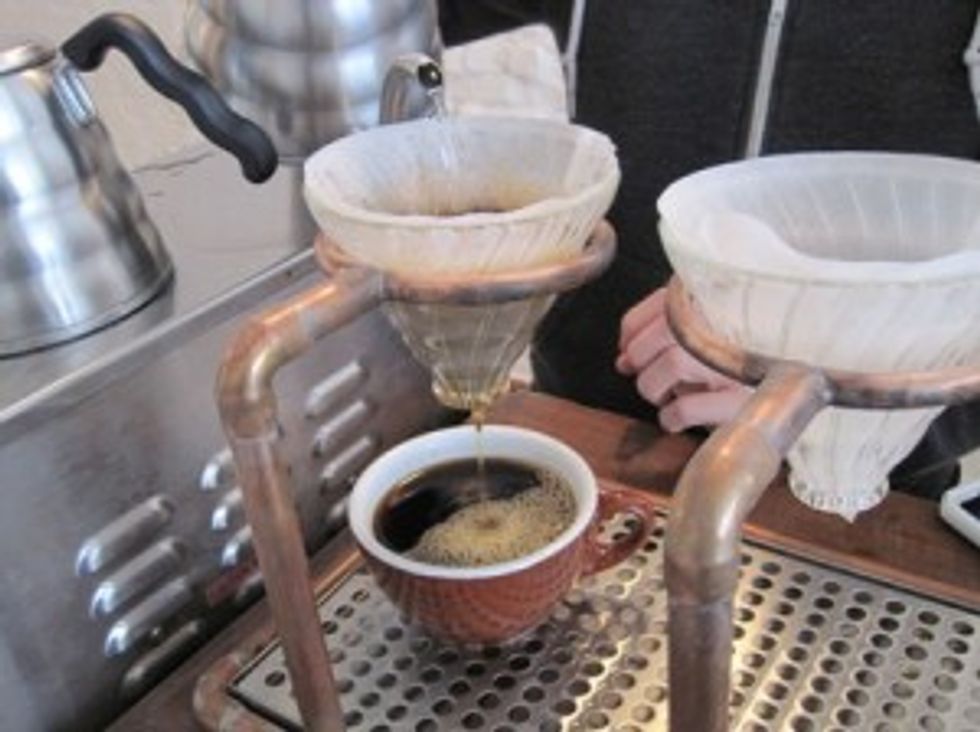 And, because no one wants gelato at 7AM, which is when this place opens, you can pair your elaborate Cup o' Joe with a pastry from Bonaparte Breads, sold here to appease the morning crowd.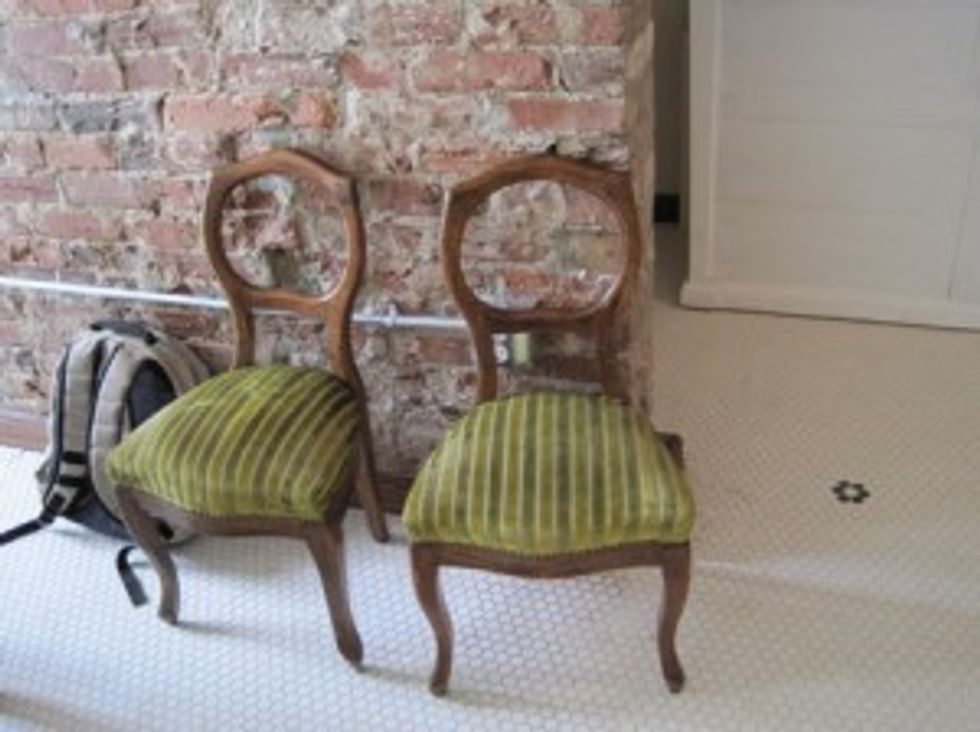 These aren't just chairs. These chairs are relics from AR-GEN-TI-NA. Fact: The store's light fixtures, cabinets, coffee bar and even its trash bin are all Argentine antiques.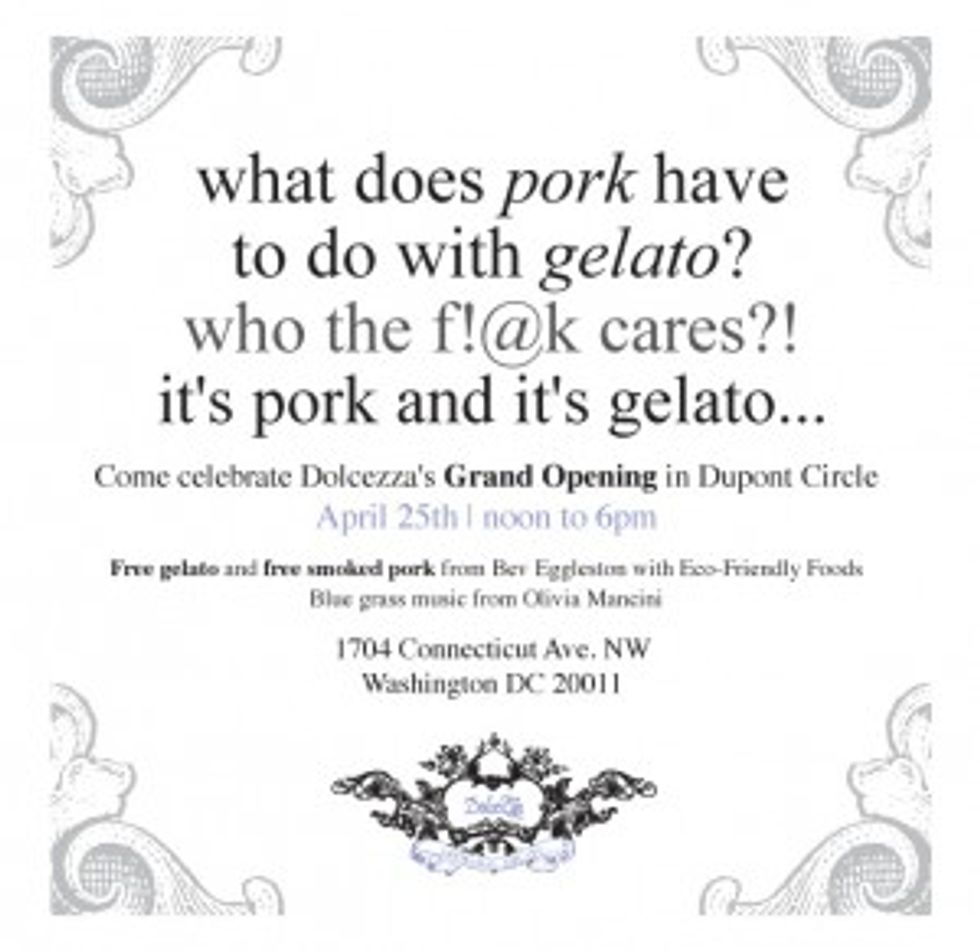 There is no relationship between gelato and pork other than the fact that everyone out there who supports locally grown whatever is also obsessed with eating pig. Well, as eating pig is simply the newest Yuppie endeavor, at the Sunday grand opening Dolcezza will be serving meat from a 350 pound pig, courtesy of EcoFriendly Farms, that will have been roasting for 24 glorious hours. Oh yes, the gelato, that too will be free at the opening, which will also feature live bluegrass music.
Dolcezza, 1704 Connecticut Ave, NW Washington, DC 20009.