Democratic Convention Steals Republicans' Toys, Makes Them Cry
Elections
July 29, 2016 02:40 PM
The theme of Thursday night's Democratic Convention, we are told, was "Stronger Together." But let us be real here. That was totally not the whole theme. The convention's finale was a night of straight up ball busting ("shade" would perhaps be more accurate, but I'm a white lady and not gonna Columbus that), and it was BEAUTIFUL.
---
As you will see in the main picture, Rep. Joyce Beatty of Ohio went ahead and plagiarized Melania Trump's dress. Has anything, ever, been more perfect? I confess I was hoping Michelle Obama would deliver her entire speech in a Slovenian accent with a totally straight face, but this was way, way better than that. JOYCE BEATTY FOR PRESIDENT OF MY HEART.
But that was not the only moment! We had some Republicans up there, former Reagan spokesman Doug Elmets, and Jennifer Pierotti Lim, the director of health policy at the U.S. Chamber of Commerce and founder of the group Republicans For Hillary.
Now, I was personally not so enamored with all the Reagan Praise. When Elmets did the whole "And you, sir, are no Ronald Reagan!" thing about Donald Trump... my first instinct was to think it actually sounded like a compliment. It felt weird to hear the audience cheering for that, when I hope we can all agree that Reagan was the worst. Fine, we can debate George W.
But, I am not so un...namored by the idea of taking everything they love away from them. And HOO BOY do they love Reagan!
Oh! Hey! Republicans! You like cops? WE GOT COPS. We got Texas cops, even -- Lupe Valdez, Dallas Sheriff, bitches!
Oh man! You hear that? It's almost like we don't actually hate cops so much as we hate bad cops who kill unarmed black people! SO WEIRD.
HMMMM. What else do they like? Military people! OH LOOK, WE'VE GOT GENERAL JOHN ALLEN.
LOLOLOLOLOLOLOL
In the Sekrit ChatCave, Major Major Major Major was ready to ship Donald Trump to Parris Island:
PRIVATE TRUMP, WHAT IS YOUR MAJOR MALFUNCTION? YOU WILL LOSE BY THE NUMBERS, HILLARY CLINTON WILL TEACH YOU! NOW UNFUCK YOURSELF OR I WILL PERSONALLY UNSCREW YOUR HEAD AND SHIT DOWN YOUR NECK!
OH. You know, not only do they love the military, and love patriotism... they also really hate Muslims and immigrants! What could possibly break their minds the most? HMMM? How about MUSLIM IMMIGRANTS Khizr and Ghazala Khan, whose son Army Captain Humayun S.M. Khan died in Iraq protecting his fellow US soldiers. They were so super awesome that we have already written about them and their how super great they were!
Then there was this other military fella, Captain Florent Groberg, who probably said some good stuff, but TBH I spent the whole time when he was on talking with Evan about how dishy he is.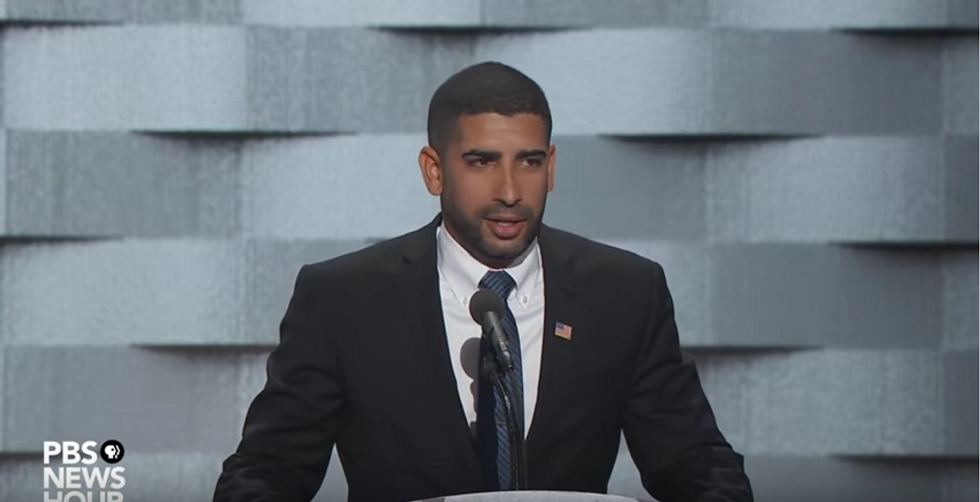 In our defense, he is a very handsome man and we are deeply shallow!
OH. Also, last night, the Democrats stoled all the Jesus!
Is it weird that I am an atheist and still kinda wanna go to Reverend William Barber's church? Seriously he seems like so much fun. I would at least like to hang out.
But you wanna know what the biggest ball bust of them all was? The fact that it was a happy, cheerful, hopeful convention. It wasn't brought down by the negativity of Donald Trump. And look! Even Conservatives have to agree!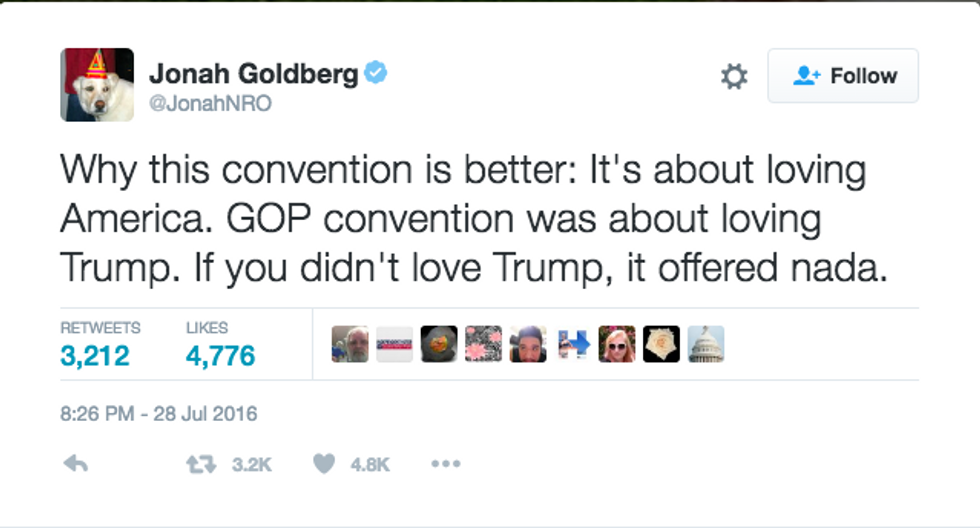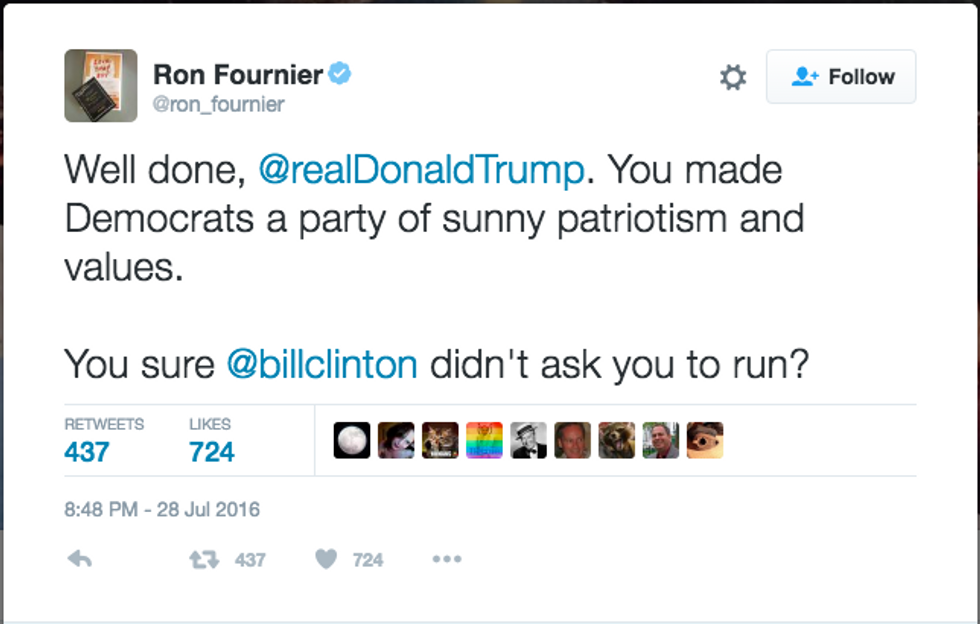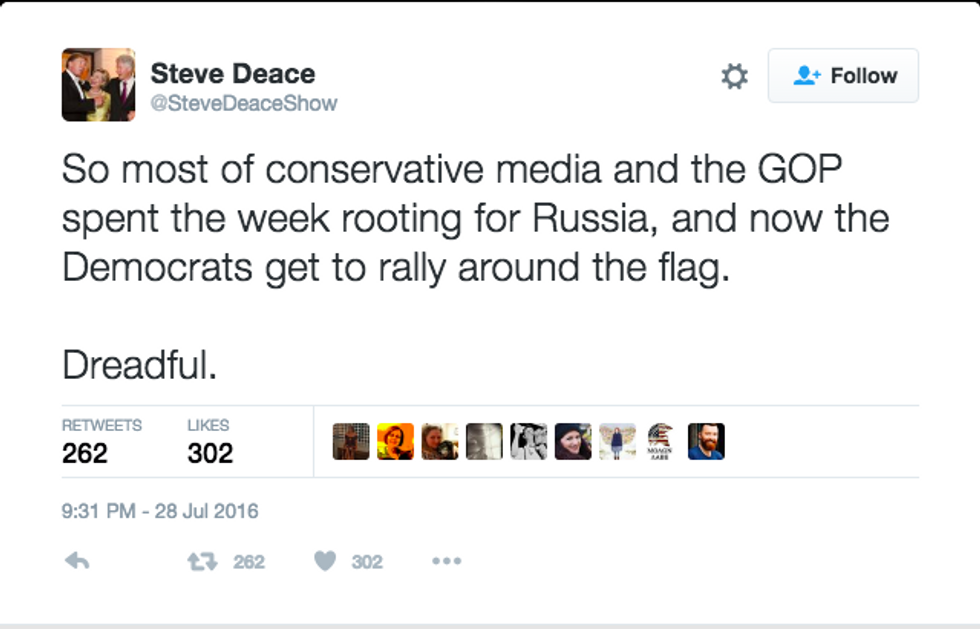 I may not be super into the whole Jesus thing, or the Reagan praising, or the military stuff... but that stuff wasn't about me and my wants and needs. It was about reeling other voters in. And if that happens, then I think we're all cool with that. Get shit done, I say. Besides, we care enough about them to not want them to have to live through a Trump presidency either!
Robyn Pennacchia
Robyn Pennacchia is a brilliant, fabulously talented and visually stunning angel of a human being, who shrugged off what she is pretty sure would have been a Tony Award-winning career in musical theater in order to write about stuff on the internet. Follow her on Twitter at @RobynElyse