Derp Roundup: Your Weekly Aggregation Of Aggravation
News
October 19, 2013 03:38 PM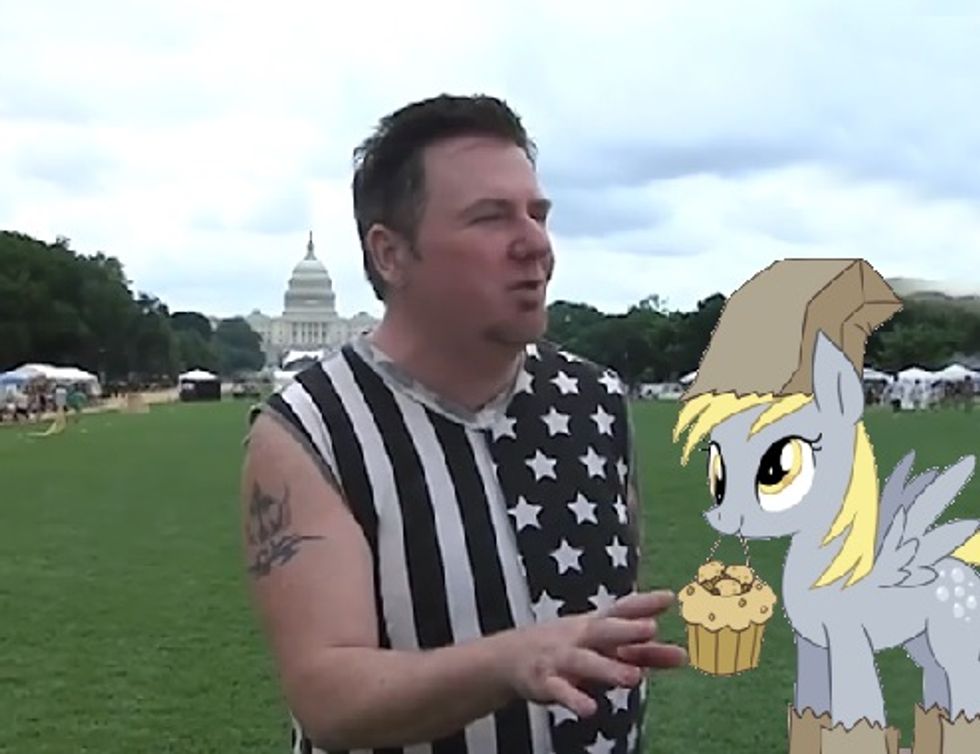 Welcome, one and all, to another edition of Derp Roundup, where we smoosh up a bunch of stuff that fell to the floor of the Wonket Sekrit Chatcave that was too stoopid to ignore altogether, but that didn't quite rise to the level of full-length Wonkenpost. This being the traditional feast month of Cocktober, we feel compelled to lead off with this inspiring story of Trace McNutt, the winner of the "Courage Award" from Voice of the Voiceless, that brave band of"ex-gay" activists whose big Ex-Gay Pride rally in Washington drew almost a dozen proud demonstrators. Mr. McNutt is a former "Satanic Drag Queen" and drug abuser who is now hooked on Jesus and being an ex-gay activist, and Now he is a happily straight person, except for the part where he's still attracted to men, what with falling in love with the bassist in his Christian rock band. In an interview with Christianist podcaster Janet Parshall Monday, McNutt acknowledged that he's not quite as ex-gay as he'd like to be:
---
"We know God heals some and others he doesn't," he told Parshall. "For me, the thorn remains…. Not all homosexuals get delivered of the same-sex attraction."
Of the many things that have gone badly in Mr. McNutt's life -- drug addiction, a messy family life, sex addiction, Christian Rock -- we have a feeling that the "being gay" part is the least of them. Wouldn't it be nice if he'd found a counselor who didn't ascribe all of his problems to that?
[RightWingWatch via TruthWinsOut / Bilerico Project / Gawker / NBC Miami / NBC Miami again! / TruthRevolt / Last Days Watchman / Patriot Action Network / American Everyman]