Despite Risk Of Raging Libido, GOP Picks a LADY To Deliver State Of The Union Response
News
January 24, 2014 11:50 AM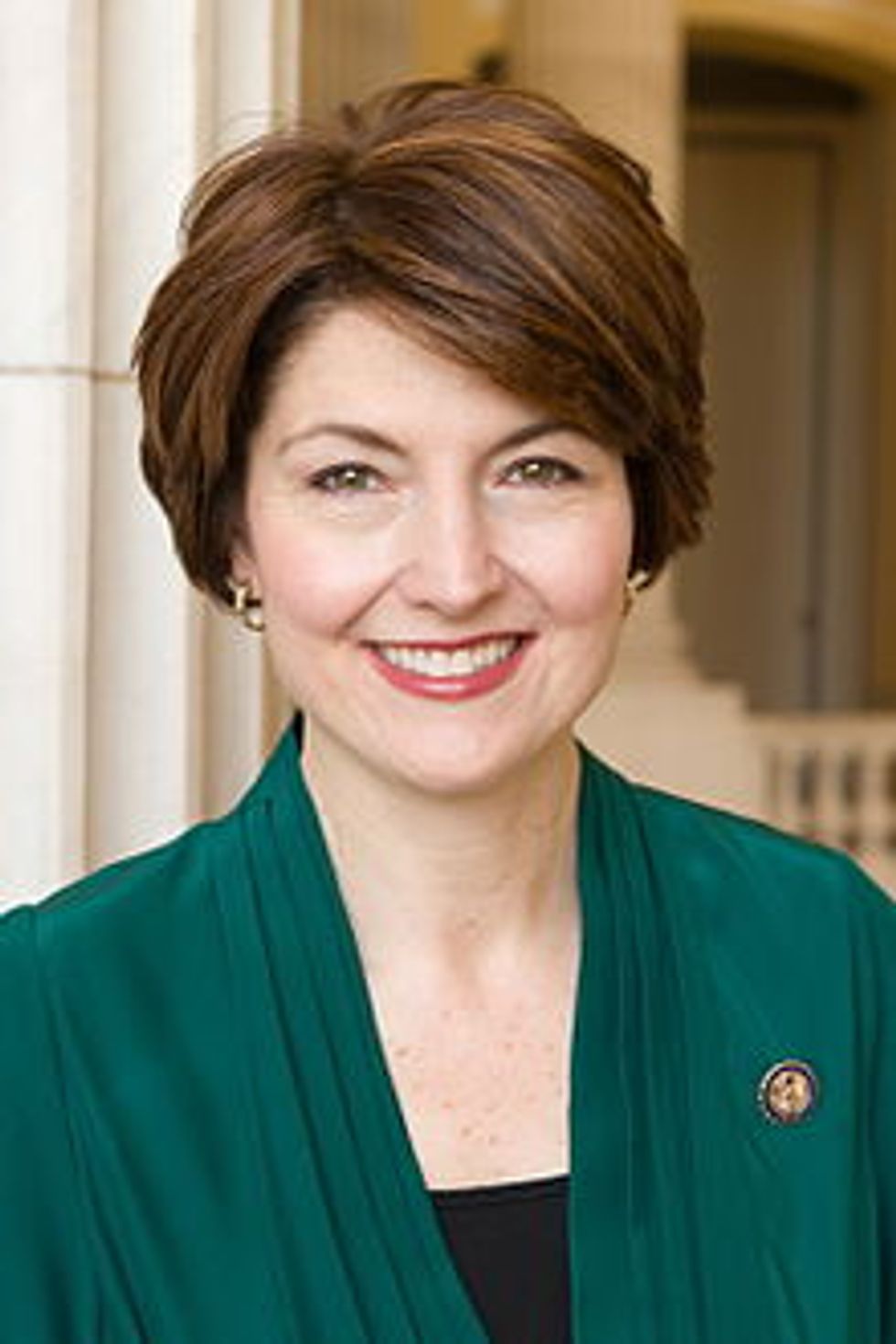 Oh ladies. If the GOP isn'tinsulting your intellectual capacity, demanding you be submissive, or trying to keep your libido in check (because you are all raging fuckmonsters), then they are desperately wooing you for your votes. Their latest attempt to distract from their 1930-era policies is to scrounge around and find a GEN-YOU-INE lady to deliver the Republican response to the State of the Union. Rep. Cathy McMorris Rodgers (R-WA) will deliver the response immediately following the President's address on Tuesday night. Who is this lady what speaks for the GOP? Let's wonksplore.
---
Rodgers is the highest-ranking Republican woman in the House of Representatives, listed as the Republican Conference Chairman despite the fact of being a woman. And how are we so sure that she is a woman? Why, the GOP was good enough to make a little video introducing us to her, since we are guessing that 93.5% of U.S. Americans have never heard of her. Boy, we can't wait to learn all about the policies that she supports, and how she will woo all the ladies to vote for the GOP. Let's watch:
Did you catch the policies in there? We didn't either, because there were none. But I know am thoroughly convinced that she is, in fact, a mom. And knows the ins and outs of fruit stand management, which is WAAAYYYY more valuable than stupid community organizing which only commies do. We wondered why there was no policy discussion, since picking Rodgers seems like a blatant attempt to appeal to womens. Let's have a look at her voting record, shall we?
Voted AGAINST the Lily Ledbetter Fair Pay Act of 2009
Voted to PROHIBIT funding to Planned Parenthood
Voted AGAINST a 2007 Equal Pay bill
Voted FOR the Violence Against Women Act
Well, there you have it, ladies. She doesn't want you to get fair pay for your work, nor cancer screenings for your boobies, but she is against you being violenced, which is a giant step up from the rest of the GOP! Vote Republican, because even at their best, they are with you 25% of the time! Due to her poor voting record and inability to stand up for women, we must once again say to a GOP lady: Vagina Revoked. You are no longer allowed to speak out as a woman, because you are officially ousted from the sisterhood.
However, the GOP knows better than to put all their eggs in one ovary. Because we all know how this society is being totally feminized and we are all thinking with our vaginas or pussified manginas, the GOP is also sending out not one but TWO manly men to put Prezzy Obummer in his place.
First up will be Utah's Sen. Mike Lee. He will give the official Tea Party response, which is a thing now because some evil god somewhere has decided that we won't be drunk enough after the SOTU and an official GOP response. You might remember Lee as the "American" part of the Canadian-American duo that pushed to shut down the government last fall. He is super-tight with Texi-canadian Ted Cruz, and they worked together to accomplish zero policy goals and cost the government tens of billions of dollars through a government shutdown/tantrum over poors getting health care. We look forward to his remarks about how to successfully push a policy agenda while being fiscally responsible.
And because his ambition is only dwarfed by his ego, Sen. Rand Paul will give his own SOTU response, just because he wants to and it will get his name in print and remind people that he is most definitely running for President in 2016, 2020, 2024, and until Libertarians literally drag around his corpse in the reality show Campaigning with Bernie Rand. One million shots of straight Kentucky Bourbon if he addresses President Obama as, "boy."
[Roll Call / YouTube / Project Vote Smart / Politico / Politico