Did Donald Trump Stiff Greatest Ever Super-Lawyer Michael Cohen For Porn Star Payoff?
Elections
March 06, 2018 11:06 AM
SAYS WHO
---
What kind of bag man wanders around telling people he got stiffed by the boss? If you're going to insist that you paid that porn star off with your own cash out of the goodness of your heart, then you should probably keep your mouth shut about how slow Trump has been to reimburse you the $130,000. Are you new at this, Michael Cohen?
Clifford was owed the money in return for signing an agreement that bars her from discussing an alleged sexual encounter with Trump in 2006, people familiar with the matter said.

After Trump's victory, Cohen complained to friends that he had yet to be reimbursed for the payment to Clifford, the people said.
Sucks when you bust your ass to make an illegal campaign contribution for a client and they spend six months like, "CHECK'S IN THE MAIL!!!" right?
Yesterday the Wall Street Journal reported that the payoff to Stephanie Clifford, aka Stormy Daniels, almost didn't happen. Cohen spent much of October trying to reach Trump to get the go-ahead for the deal.
Mr. Cohen said he missed two deadlines earlier that month to make the $130,000 payment to Ms. Clifford because he couldn't reach Mr. Trump in the hectic final days of the presidential campaign, the person said.
So did he finally get in touch with President Horndog or one of the Hornspawn to okay the payout 12 days before the election?
Neither the Trump Organization nor the Trump campaign was a party to the transaction with Ms. Clifford, and neither reimbursed me for the payment, either directly or indirectly.
Let the record reflect the witness is unresponsive as to whether he received payment in cash or otherwise for funds advanced on his client's behalf. But he does seem to be admitting a violation of New York's code of legal ethics.
I am Mr. Trump's longtime special counsel and I have proudly served in that role for more than a decade. In a private transaction in 2016, I used my own personal funds to facilitate a payment of $130,000 to Ms. Stephanie Clifford.
You facilitated it, did you? Okay, Boychik. Have fun explaining that to the New York State Bar! It sounds like you fronted the cash, and they didn't pay you back right away. The best case scenario is if you never got paid back at all. In which case you might be on the hook for an undisclosed campaign contribution, but you're not part of a conspiracy with the campaign to cover it up.
But if those weird payments from the campaign to the Trump Org made their way into your pocket, well, you're going to have some splaining to do.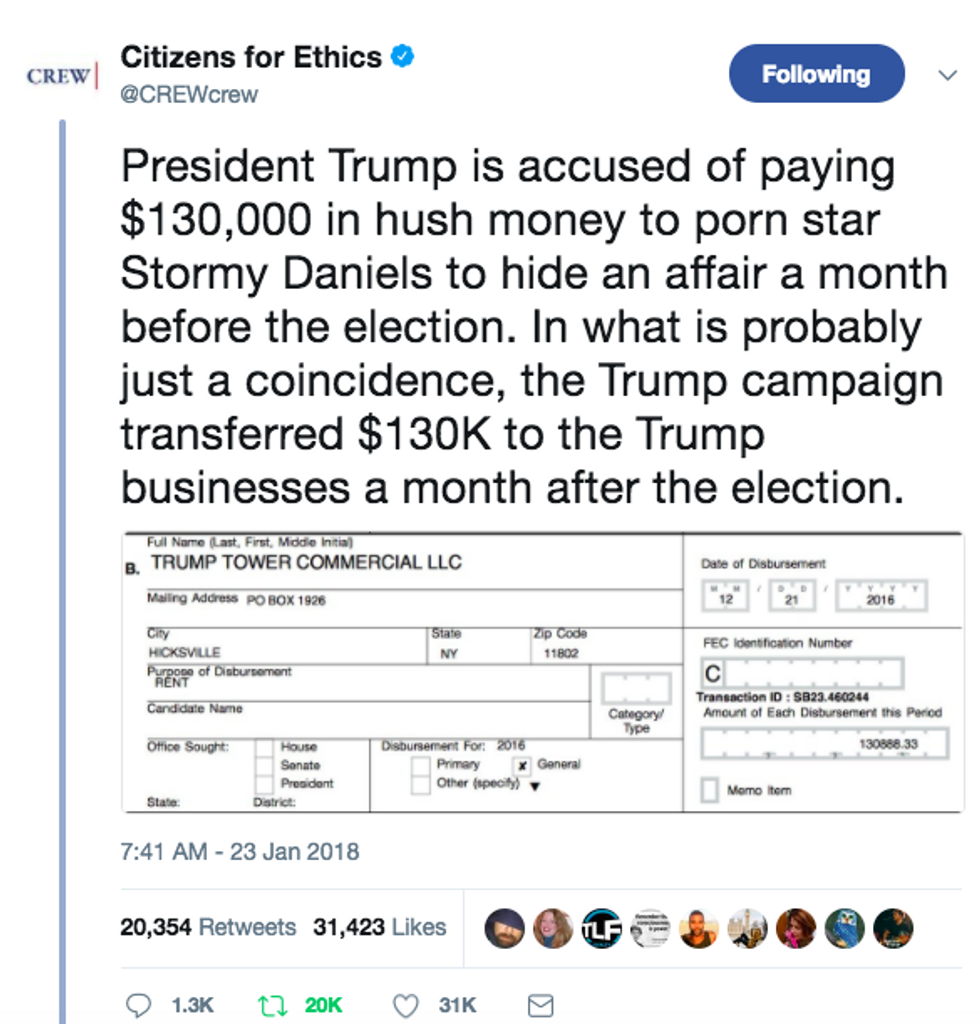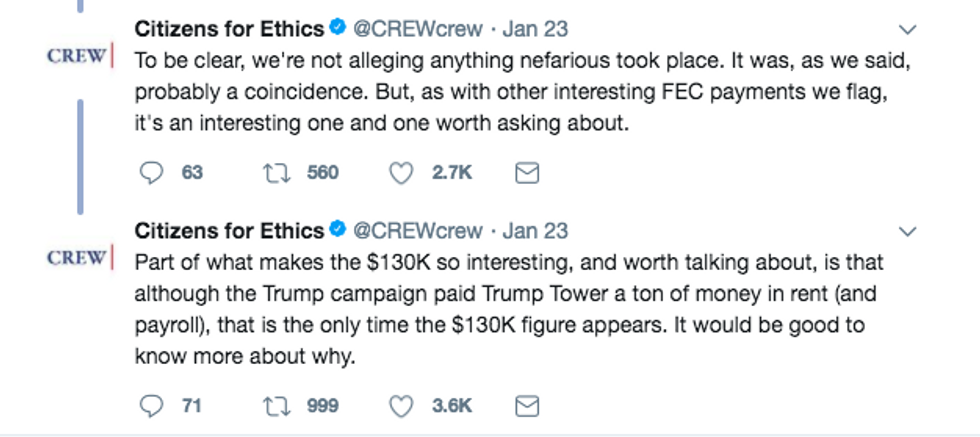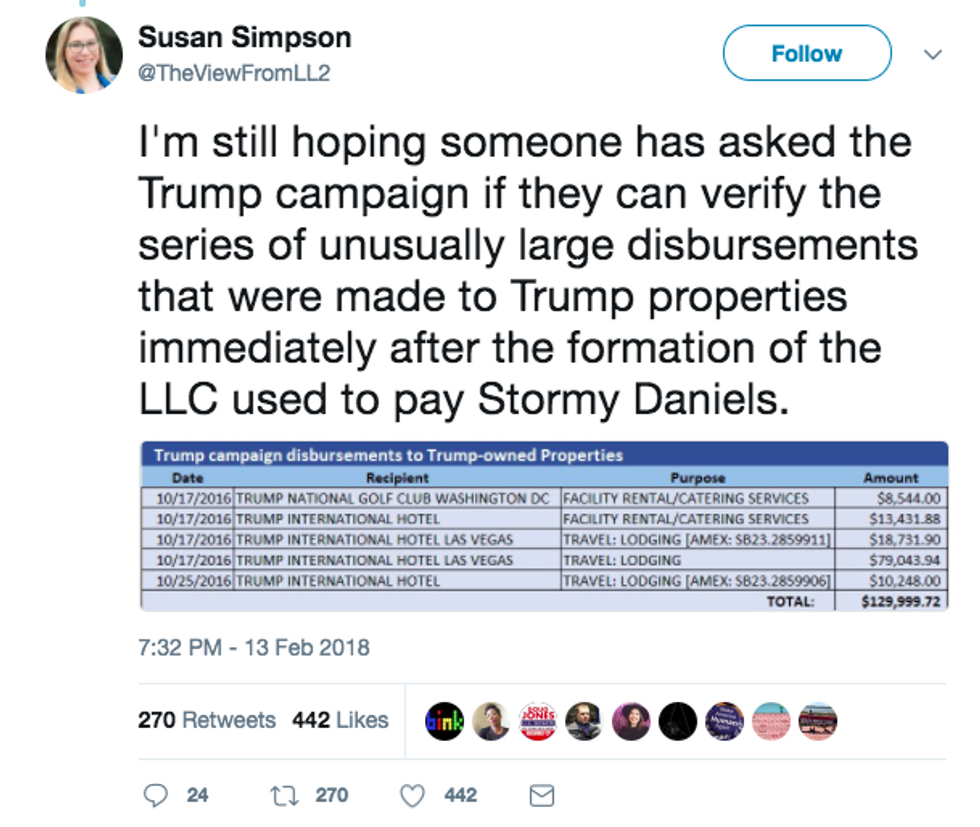 And what's this? First Republic Bank flagged the $130,000 wire into Clifford's account as suspicious and reported it to the Treasury Department a full year after the transaction went through? LOL! We're going to guess this was NOT the result of a routine internal audit. More likely someone with a badge came knocking at First Republic Bank's door, before heading over to your bank and looking for a corresponding $130,000 deposit in your account.
Well, you're a lawyer from the esteemed Thomas Cooley School of Law, so I'm sure you'll know how to handle that Mueller guy. Just keep shouting, "SAYS WHO?" in response to every question, and things will work out fine.
Follow your FDF on Twitter!
Please click here to support your Wonkette! If we have to pay off a pornstar, YOU'LL BE THE FIRST TO KNOW!
[WSJ
Liz Dye
Liz Dye lives in Baltimore with her wonderful husband and a houseful of teenagers. When she isn't being mad about a thing on the internet, she's hiding in plain sight in the carpool line. She's the one wearing yoga pants glaring at her phone.