Donald Trump Deigns To Not Fucking Shut Down Government In Today's Manic Frenzy
News
March 23, 2018 02:15 PM
"My highest duty is to keep America safe, nothing more important," Pres. Trump says. "The omnibus bill reverses this dangerous defense," he continues, referring to his dissatisfaction with previous DoD budget cuts https://t.co/5GwRepDIzr pic.twitter.com/8tTzSCTbuL

---

— CBS News (@CBSNews) March 23, 2018
President Dipshit decided not to shut down the government today and signed an omnibus spending bill that will keep the government open through the end of the fiscal year. Trump said he was only signing the budget bill because he absolutely had to for our wonderful troops, our beautiful military, and despite his threat this morning to veto the whole thing because it didn't pay for his big beautiful border wall. Here's his early morning tantrum: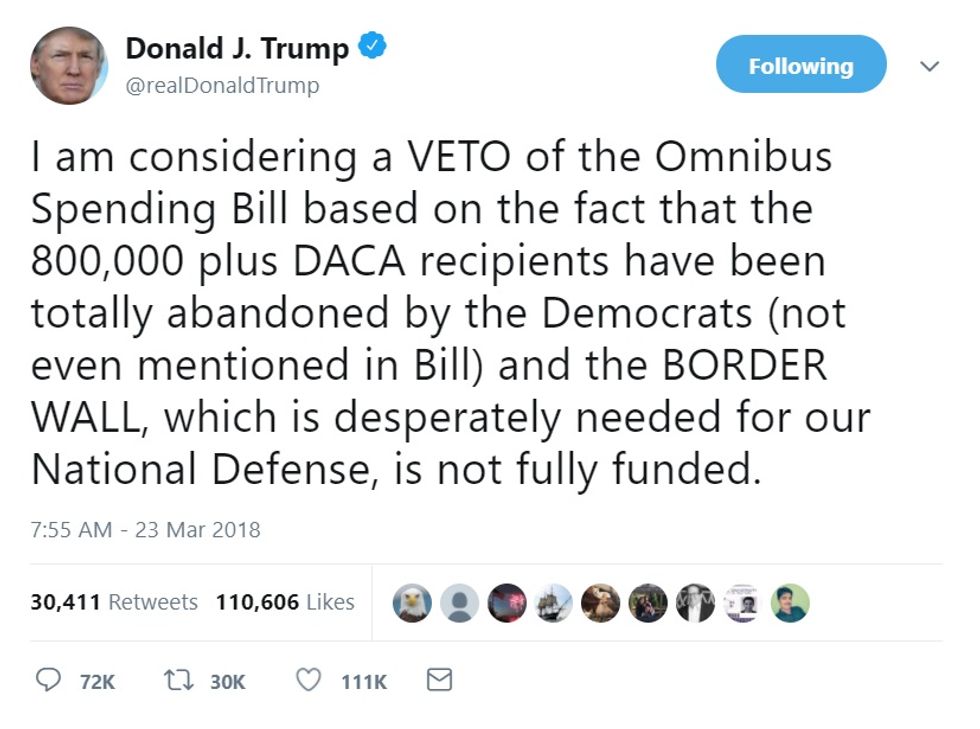 Yes, that's Donald Trump saying he'd veto the spending bill because Democrats didn't lift a finger to help DACA recipients or build the Wall, but especially the beautiful Wall. Senator Tim Kaine of Virginia
reminded him
that, if you want to get all technical about it, Dems actually HAD joined Republicans in proposing a DACA fix that included funding for the goddamn wall, but Trump deep-sixed that in another
tantrum about shithole countries.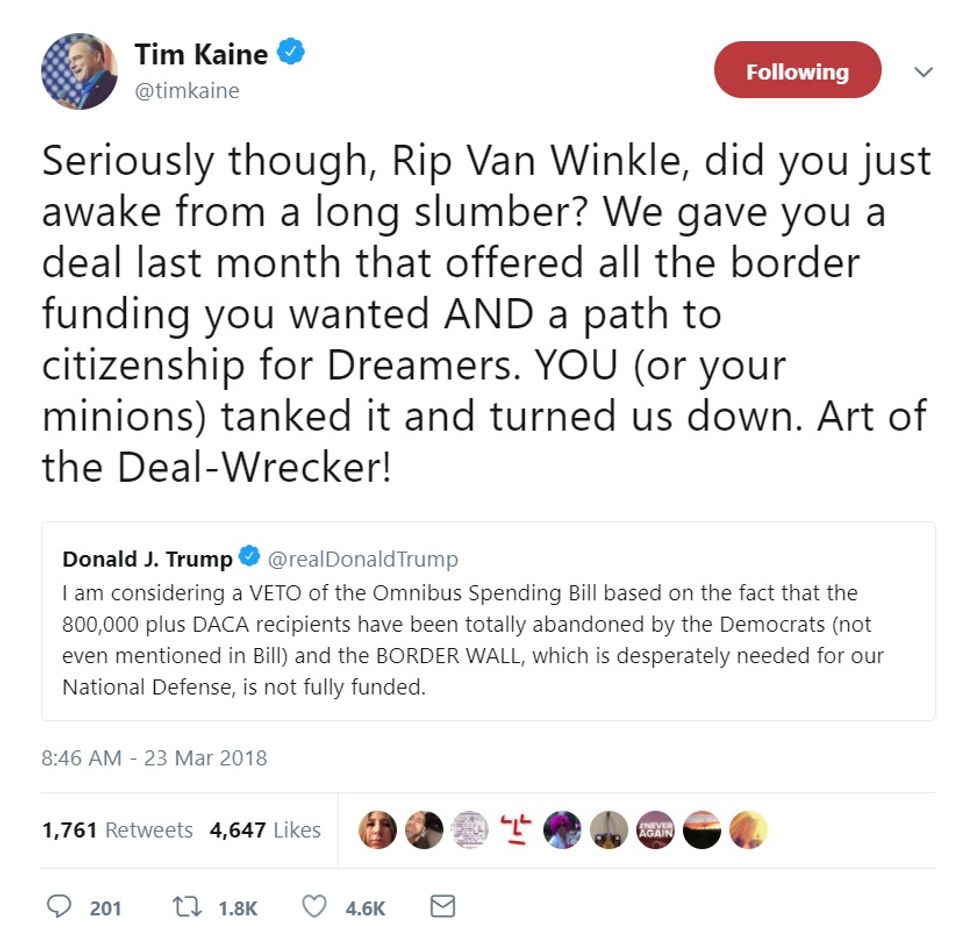 Thank goodness there was lots of money for ships and planes and tanks in the bill, so Trump somehow brought himself to sign it, but only under duress. In a 20-minute "I hate all of you" speech, Trump promised, "I will never sign another bill like this again." So that's it, definitely no more getting most of what he wants while having to take some stuff he doesn't. Then he read a list of all the neat toys the Pentagon would get, and if he had any idea what half the named weapons systems were, he certainly didn't let on. He also told a few more lies about how Democrats had almost killed off the defense spending because they hate America (never happened; Dems instead demanded equal spending for domestic programs) and how Dems don't love the DACA recipients like Republicans do. It's true -- do Democrats ever come to see immigrants in the hospital and then arrest them?
Also, big surprise, the veto threat reportedly
caught many in the West Wing and on Capitol Hill by surprise, sending them scrambling to determine how serious he is about vetoing the bill, while White House press secretary Sarah Huckabee Sanders added a Friday afternoon briefing. Illustrating the degree to which Trump had upended his own staff once again, one West Wing official said on Friday morning that the likelihood of a shutdown is "extremely high."
Except then all of a sudden it wasn't again. So Donald Trump had his tantrum, proved that he doesn't have to do anything he doesn't want to, then signed the bill in time to head down to Florida for another weekend of golfing.
A government shutdown when a few hundred thousand -- a million? -- teens and their supporters descended on Washington for the March For Our Lives might not have been a great idea -- would there have been anyone around to keep the young troublemakers from just plain taking over? We would never wish to suggest fomenting rebellion would be a good thing, but we have to say it might have been interesting, at least, to have seen CNN reporting, "Emma Gonzalez is sitting at the Resolute Desk and Cameron Kasky is standing on top of Stephen Miller and calling him a pussy. Is this a crisis?"
Ah well, they probably have better things to do anyway.
Yr Wonkette is supported by reader donations. Please click here to help us fill our own omnibus for the trip back from DC next week.