Donald Trump's Presidency Is Making His Bank Account Great Again, Reports Confirm
POTUS
June 17, 2017 01:31 PM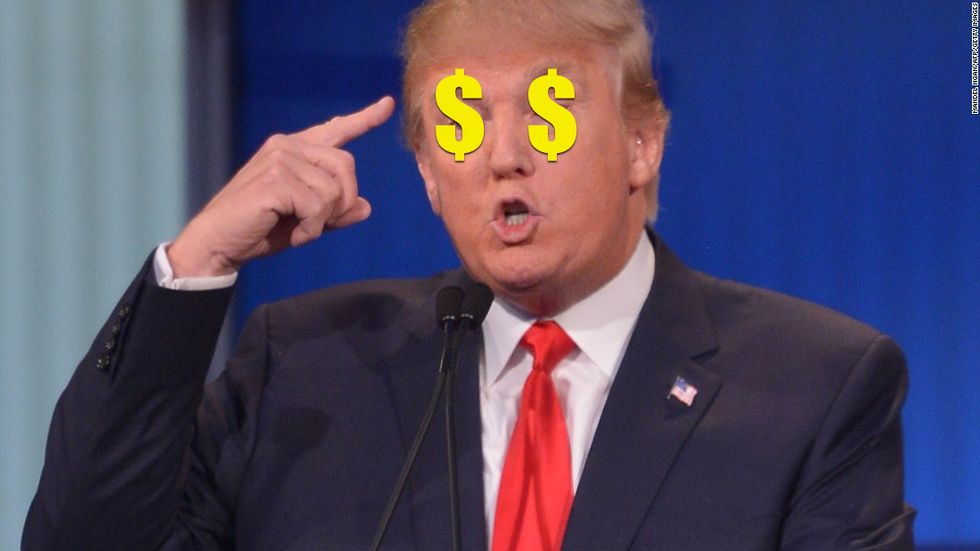 ---
Yesterday, at 5:01pm, the Office of Government Ethics Friday News Dumped Donald Trump's Personal Financial Disclosure. Trump's favorite lawyer Sheri "Manilla Folders" Dillon had requested that the OGE accept an unsigned accounting of Trump's assets, but OGE director Walter "Badass" Shaub was not having it. So now we know that Trump's net worth is somewhere north of $1.4 billion, and his liabilities are probably about $500 million. Donald Trump repeatedly claimed to be worth $10 billion, but he also claimed to have a plan to fix Iraq and to know more than the generals, so make of that what you will.
Maybe a forensic accountant will do a deep dive and find a smoking gun in the 98-page document. Perhaps the most interesting information is that Trump netted about $600 million between and January 2016 and April 2017. As reported in The Atlantic, Donald Trump is clearly profiting off his position as president.
Properties that Trump frequently visited as president saw the largest boost in income. Trump claimed more than $37 million in income from Mar-a-Lago, the Palm Beach County resort in Florida he described as his "Winter White House," as well as $20 million in income from the nearby golf club he owns in Jupiter, Florida. His claimed Mar-a-Lago income rose rapidly since his last two financial disclosures with the FEC: Trump reported more than $15 million in income from the resort in the 2015 report, followed by $29 million in the 2016 version.
Donald Trump spends almost every weekend at one of his own commercial properties. Trump businesses are cashing in on the president's security detail - the Secret Service had racked up $35,000 on golf cart rental fees alone by April. But the main reason Mar-A-Lago doubled its income since 2015 is that people are willing to pay more for access to the president. The Florida golf club doubled its initiation fee to $200,000 in 2017. NOT A COINCIDENCE.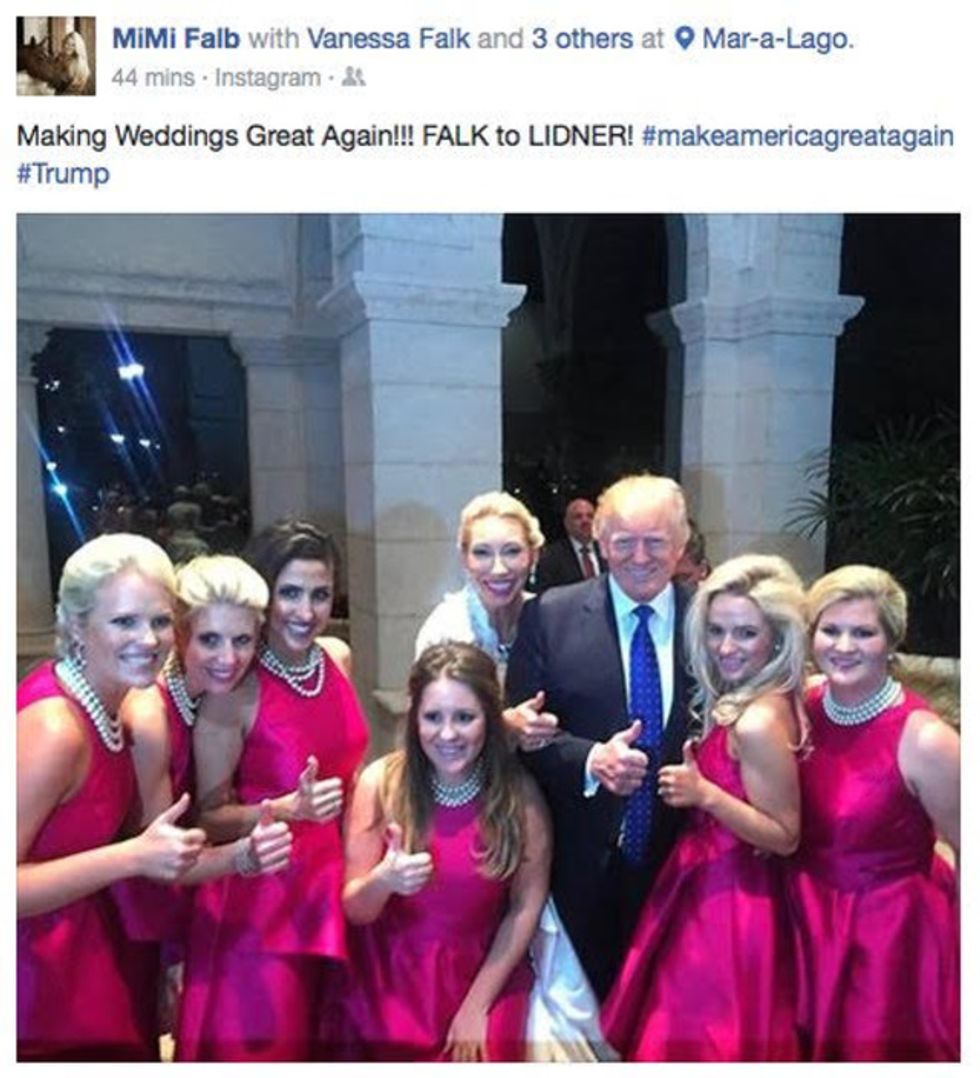 As the NYPost pointed out, Trump's New Jersey club even used the Wedding Crasher in Chief in its marketing materials before someone told them that non-Jerseyans like their corruption a smidge less blatant.
Trump's joining nuptial ceremonies is so routine, in fact, that a now-discontinued brochure from the Trump National Golf Club in Bedminster once touted that his likely appearance was a added feature of booking a wedding there.

​"​If [Trump] is on-site for your big day, he will likely stop in & congratulate the happy couple. He may take some photos with you but we ask you and your guests to be respectful of his time & privacy​," the brochure said.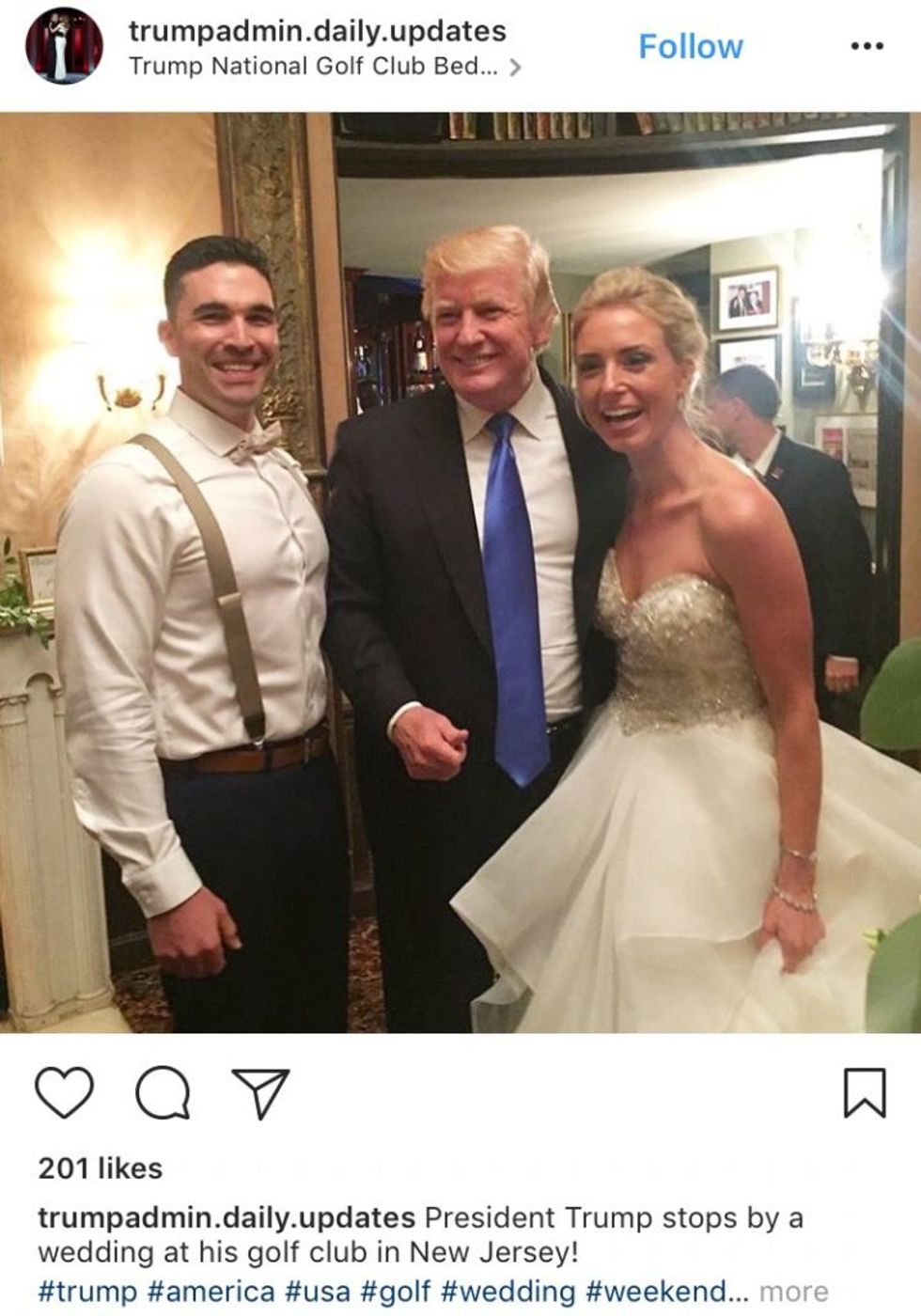 And this is all hilarious, in a Har Har We're Descending into Banana Republic Dictator Territory kind of way. But since the president's money grab is going to be fodder for the three pending emoluments suits against him, let's have a quick Lawsplainer on who is suing our Fearless Leader and how they might find the OGE data very interesting.
CREW Lawsuit
Immediately after Trump was sworn in, Citizens for Responsiblity and Ethics in Washington (CREW) filed a lawsuit alleging that Trump was violating the Emoluments Clause of the Constitution by taking payments from foreign governments at his hotels and restaurants.
[N]o Person holding any Office of Profit or Trust under them, shall, without the Consent of the Congress, accept of any present, Emolument, Office, or Title, of any kind whatever, from any King, Prince, or foreign State.
CREW initially filed as a citizen watchdog concerned that Trump's ongoing business dealings blatantly violate the Constitution. The group was later joined by two additional plaintiffs, an association of restaurant workers and the banquet booker for two competing hotels, who are losing money as clients take their business to Trump properties in attempt to suck up to the president. At the opening reception for the DC outlet of the Trump International Hotel in November, one Middle Eastern diplomat told the Washington Post, "Believe me, all the delegations will go there." An Asian representative was similarly blunt.
"Why wouldn't I stay at his hotel blocks from the White House, so I can tell the new president, 'I love your new hotel!' Isn't it rude to come to his city and say, 'I am staying at your competitor?' " said one Asian diplomat.
Indeed, the Kuwaiti Embassy had already sent out Save the Date cards for its annual holiday party at the Four Seasons Hotel. A few days after the publicity gala at the Trump International, the Kuwaitis moved their party to the president's hotel. Weird!
The Trump International Hotel is the most egregious example, because Trump rents the hotel from the United States Government under a lease which specifies that no person in government may profit from it.
"No … elected official of the Government of the United States ... shall be admitted to any share or part of this Lease, or to any benefit that may arise therefrom..."
But since Donald Trump theoretically put his interests in a trust held by his sons, the GSA says his ownership stake is kosher enough. Trump still owns 75% of the hotel and can draw money on it or even revoke the trust at any time, but this is all fine.  Did we mention that they bumped the room rates by hundreds of dollars after Trump won in November?
DC and Maryland Suits
On June 12, Attorneys General for DC and Maryland filed suit against the President alleging that his vast business interests make it unclear whose interests he is representing.
"Constituents must know that a president who orders our sons and daughters into harm's way is not acting out of concern for his own business," Frosh said. "They must know that we will not enter into a treaty with another nation because our president owns a golf course there."
Maryland and DC make the same arguments as CREW: DC taxpayers own the Walter E. Washington Convention Center and Maryland subsidizes nearby National Harbor, both of which compete with the Trump Hotel for bookings. The OGE disclosure says that Trump earned $19.6 million from the Trump International Hotel over the past 15 months, some of which would undoubtedly have gone to other hotels if Hillary Clinton were president.
The Georgian Ambassador knows how this game is played.
Trump International Hotel Washington DC @TrumpDC - great #hotel and so far the best service I've seen in United States! Keep it up! #travelpic.twitter.com/krLXwVNutS

— Kaha Imnadze (@kahaimnadze) April 6, 2017
Liz Dye
Liz Dye lives in Baltimore with her wonderful husband and a houseful of teenagers. When she isn't being mad about a thing on the internet, she's hiding in plain sight in the carpool line. She's the one wearing yoga pants glaring at her phone.