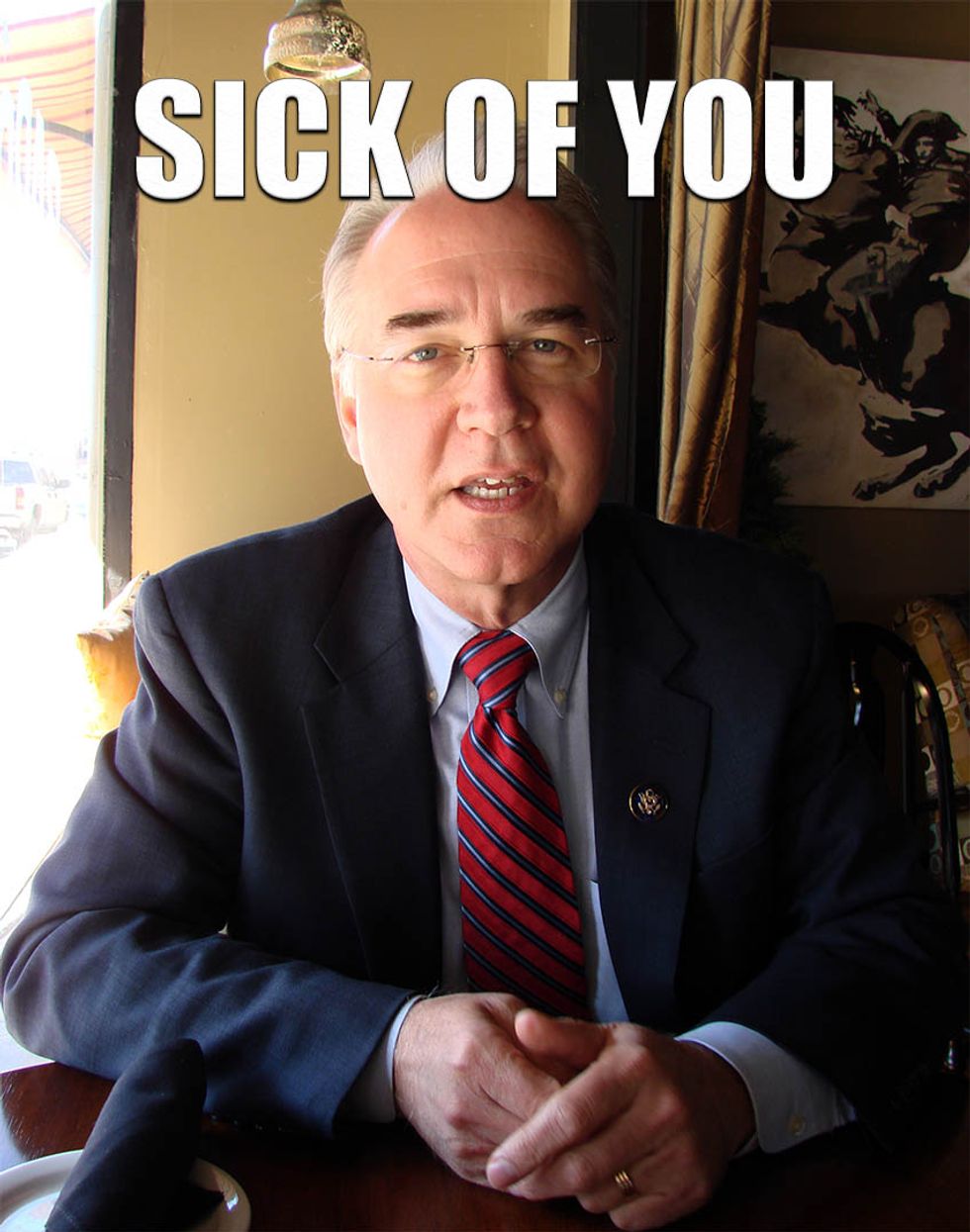 Morning Wonkers! Here's some of the stories we might be splainering about today while you go sign up for Obamacare!
---
The useless waste of legislative space whose only claim to fame is constantly trying to repeal Obamacare, Georgia Rep. Tom Price will head the Department of Health and Human Services.
Mike Pence's personal Obamacare horcrux, Seema Verma, has been tapped to head the Centers for Medicare and Medicaid Services. She was one of those people who went around to states threatening to pull out of government health programs and convinced them that they could take Obamacare grants and still simultaneously screw sick, poor people.
A $6.3 billion health care bill being pushed by Obama and Biden is aiming to increase funding for cures of numerous diseases and cancers, as well as curb opioid abuse and increase mental health treatment and awareness. However, it's being criticized for provisions that would benefit drug and medical companies while also rewriting the rules for doctors to disclose certain payments from pharmaceutical companies. Thanks, Obama?
Jill Stein is now suing for a hand count of ballots in Wisconsin since the Wisconsin Elections Commission denied her one, not because it's more environmentally friendly.
In Pennsylvania recount efforts are hitting a wall as there must be evidence of fraud in each county, which is a more than a huge pain in the ass as Pennsylvania does not have paper-backed audits.
It looks like Darrell Issa barely won reelection by 2,300 votes, so expect his unique brand of conservative skullfucking to continue.
Trump's appointees probably seem familiar to you because they're all teevee talking heads which raises an interesting question: who will talk on Fox News if they all get real jobs?
The governor of North Dakota ordered an evacuation of #DAPL protesters ahead of an oncoming winter storm, but the Army Corps of Engineers has no plans to forcibly remove anyone because they're engineers, not cops (they carry protractors, not pepper spray).
Hey nerds! The AP has issued new rules when writing about the "alt-right" since a bunch of different news organizations can't agree on the definition of "alt-right" seeing as how it might hurt the fee-fees of some very fragile and very white snowflakes.
Here's your morning Nice Time: Wallabies! They're like kangaroos, but more fun size!
Dominic Gwinn
Dominic is a broke journalist in Chicago. You can find him in a dirty bar talking to weirdos, or in a gutter taking photos.