economy
Nonfarm payrolls up by 223,000 in December, better than predicted.
January 06, 2023 01:27 PM
Another first Friday of the month, and another jobs report from the Labor Department's Bureau of Labor Statistics (BLS). In the final monthly jobs report of 2022, the economy added 223,000 nonfarm jobs in December, making 24 straight months of jobs gains. The unemployment rate also dropped two tenths of a percent, to 3.5 percent, the lowest point it had reached prior to the pandemic.
As part of its special 43-page year-end assloads of data and methodology report (the monthly reports are usually just two or three pages), the BLS even led off with a couple of charts showing unemployment going way up in spring 2020 and then declining, and monthly job gains going the other way: Off a cliff, then finally, by summer of 2022, back to pre-pandemic levels, and since then, a little higher.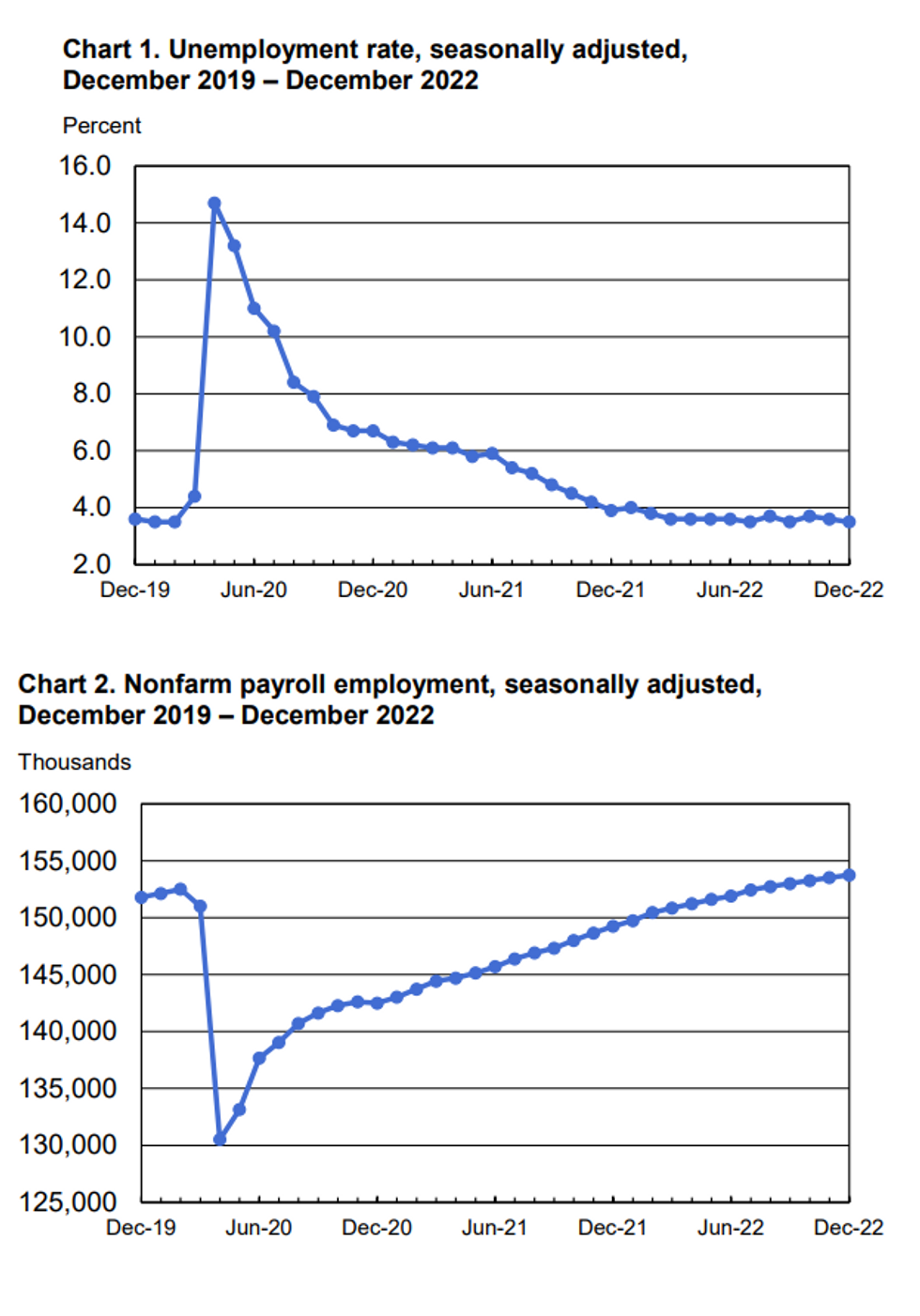 December's 223,000 new jobs were a skosh better than the 200,000 predicted by Dow Jones economists, and the unemployment rate was also a bit better than the prediction, which had unemployment holding at the November rate of 3.7 percent. The report also revised November jobs gains downward by 7,000, from 263,000 to 256,000, which is not a big change.
The overall trend in recent months has been slowing growth in new jobs, which seems to reflect the Federal Reserve's interest rate increases aimed at curbing inflation. That was also reflected in wage growth, which cooled a bit, up just .3 percent for December, a 4.6 percent increase over December 2021.
CNBC explains that the report pleased the stock market, which sometimes is not pleased by strong jobs numbers, but can be fickle, like a toddler spitting out food that a week ago made her smile.
Stock market futures rallied following the release as investors look for signs that the jobs picture is cooling and taking inflation lower as well.
Somehow, November's better than predicted jobs report resulted in a 200-point drop in the Dow that day because the Fed was likely to raise interest rates. This month, not so much. The stock market, we'll remind you, is not the economy.
Ready for the confident analysis by an economist? Sure you are! Drew Matus, a strategist with MetLife Investment Management, told CNBC,
From the market's perspective, the main thing they're responding to is the softer average hourly earnings number. [...] People are turning this into a one-trick pony, and that one trick is whether this is inflationary or not inflationary. The unemployment rate doesn't matter much if average hourly earnings continue to soften.
Ah, so that's the difference. We feel so much more informed now! Also, here is a pony who also likes science, but only if it is not the dismal one. (By friend of Wonkette "PixelKitties")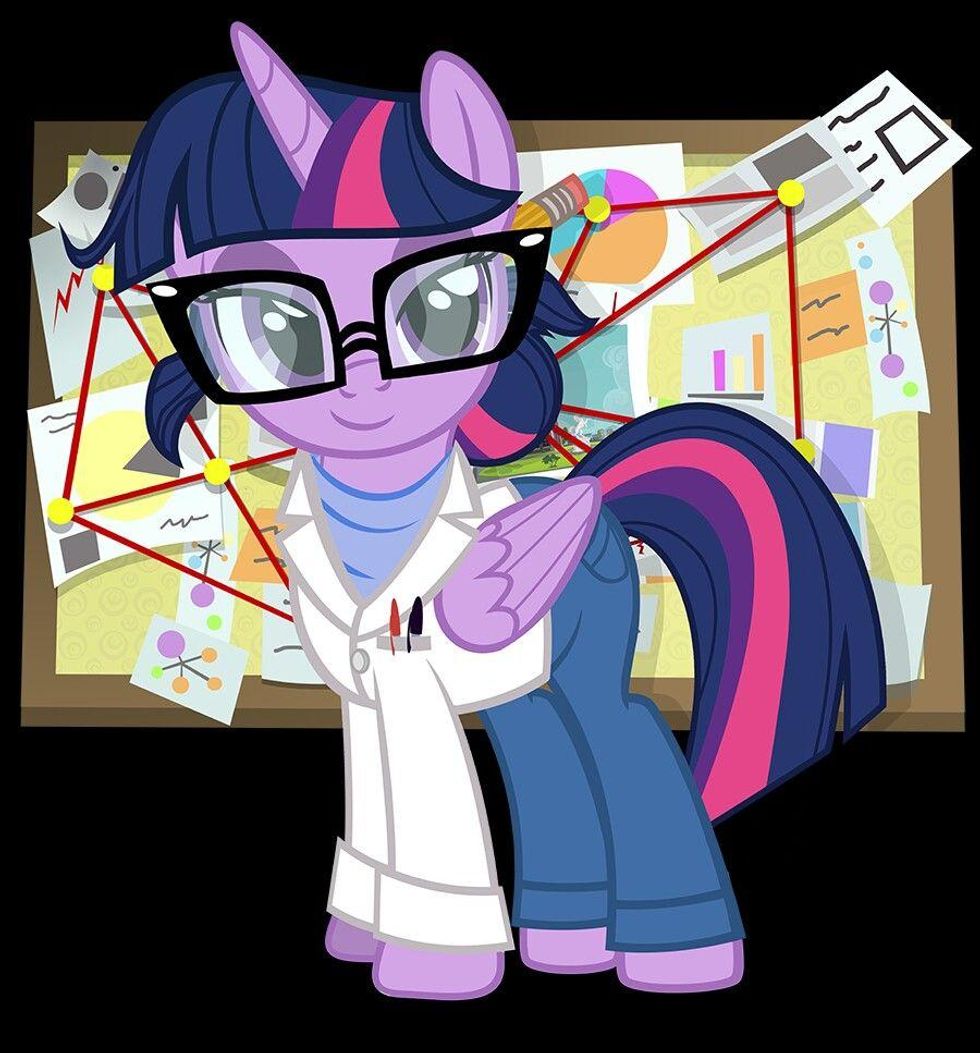 In conclusion, if Dok's getting distracted and posting My Little Pony pics, it's probably time to stop talking about the economy before he decides a "soft landing" for the economy would have something to do with Fluttershy, Rainbow Dash, and a bedroom made of clouds, the end.
Yr Wonkette is funded by reader donations. If you can, please give $5 or $10 to help us keep you informed about all the latest economic trends that you can't clop to either.
Crime
If white guys take down the power grid, that makes them white power terrorists, right?
January 05, 2023 09:40 AM
Two men from Puyallup, Washington (it's pronounced "pew-AL-up," you're welcome), were arrested Saturday night for alleged attacks on four electrical substations in Washington's Pierce County, knocking out electricity to more than 17,000 people on Christmas and causing more than $3 million in damage. Two of the substations may take as long as three years to repair, requiring the utility company to use mobile transformers until the work is finished.
Matthew Greenwood, 32, and Jeremy Crahan, 40, were charged in federal court Tuesday with conspiracy to damage energy facilities, and Greenwood also caught charges of possessing unregistered firearms. When Greenwood was arrested, he was found with an illegally modified short-barreled rifle with a homemade silencer, as well as a short-barreled shotgun, neither registered as required by law.
In the Justice Department press release announcing the charges, US Attorney Nick Brown noted,
We have seen attacks such as these increase in Western Washington and throughout the country and must treat each incident seriously. The outages on Christmas left thousands in the dark and cold and put some who need power for medical devices at extreme risk.
In North Carolina, you'll recall, three power substations were shot up on December 2, leaving some 40,000 homes without power. There's been speculation those attacks may have been related to protests against a drag show, but while bigots were delighted the show was cancelled, no conclusive proof of a connection. (There have been many more recent substation attacks, but that's the one we've covered so far.) Nobody's been arrested in that case, because apparently the attackers were at least marginally smarter than Greenwood and Crahan, who were identified by cell phone data. Don't take your cell phone along while committing federal crimes, kids. Or rather, please do.
We're at least fairly certain that no drag queen story hours were planned in Pierce County for Christmas morning, so there's that.
An FBI agent's affidavit in the criminal complaint notes that cell data identified two phones, belonging to the suspects, that were in the vicinity of all four substations at the time of the attacks early in the morning of December 25. No, that does not vindicate Dinesh D'Souza's fake voter fraud movie; the FBI affidavit notes that since the substations are "spread out over dozens of miles," and the phones were near them at the times of the attacks, it's "unlikely that an individual would simply happen to be at or near all four locations at around the times they were each vandalized."
Video surveillance cameras at the substations also provided images of the attackers and a pickup truck; when search warrants were served on New Year's Eve, clothing matching the clothes seen in the video was found at each idiot's residence, and the Dodge pickup seen in the video looks like one owned by Crahan.
According to the complaint, after his arrest, Greenwood told law enforcement that he and Crahan had committed the substation attacks to cover up a burglary they had planned, which sounds all kinds of logical to us. Greenwood said he had used bolt cutters to cut through the chain-link fences at all four substations and then mucked around with switches and breakers to knock out the power. He said Crahan was the driver; after the power was out, the men went to a local business, drilled out a lock, and stole money from the cash register.
The federal conspiracy to attack energy facilities charges can result in up to 20 years in prison, and the illegal firearms charges are worth another 10, so that seems like some really smart planning for a burglary. We haven't seen any media reports on whether the burglary has yet resulted in any state charges, but we'd imagine those will be on the way. First-degree burglary in Washington can be punished by up to life in prison and a fine of up to $50,000, so maybe these dipshits figured they liked the odds of committing a federal crime instead, or maybe they're just A) not that smart, (2) wannabe terrorists lying about their motives (III) some combination of all the above.
Also too, we'll close with the charming thought we saw on Twitter: Wouldn't it be hilarious to find out these guys avoided the COVID vaccine because they didn't want to be injected with Bill Gates's tracking chips by the New World Order?
[Department of Justice / NYT / ABC News / DOJ criminal complaint / KING-TV / Image: Screenshot, NBC News on YouTube]
Yr Wonkette is funded entirely by reader donations. If you can, pleased give $5 or $10 a month so we can continue bringing you all the news and appropriate speculation you've come to expect from this little mommyblog.
New Years Eve
Stupid old humanity may build itself a chance.
December 31, 2022 10:00 PM
Climate and energy stories are always about numbers, so let's start this review of 2022 with a fairly small one that should give you hope: Nine. That's nine percent, and according to polling by the Yale Program on Climate Change Communication, it's the percentage of Americans who are "dismissive" of the reality of climate change: They "believe global warming is not happening, human-caused, or a threat, and most endorse conspiracy theories (e.g., 'global warming is a hoax')." Just nine percent. That's roughly the percentage of Americans who think Elvis is still alive or that the Holocaust never happened. But because they make so much noise, spreading their denialism at every opportunity, most people would assume the number is a lot higher.
The poll also identified another 10 percent as "doubtful" of climate realities; these folks may say it's happening, but "do not think global warming is happening or they believe it is just a natural cycle. They do not think much about the issue or consider it a serious risk." I think that probably describes most Republicans apart from the all-out cranks, and it's very bad news that many members of those two groups are in positions of political or economic power, of course. But here are the other good numbers from the poll: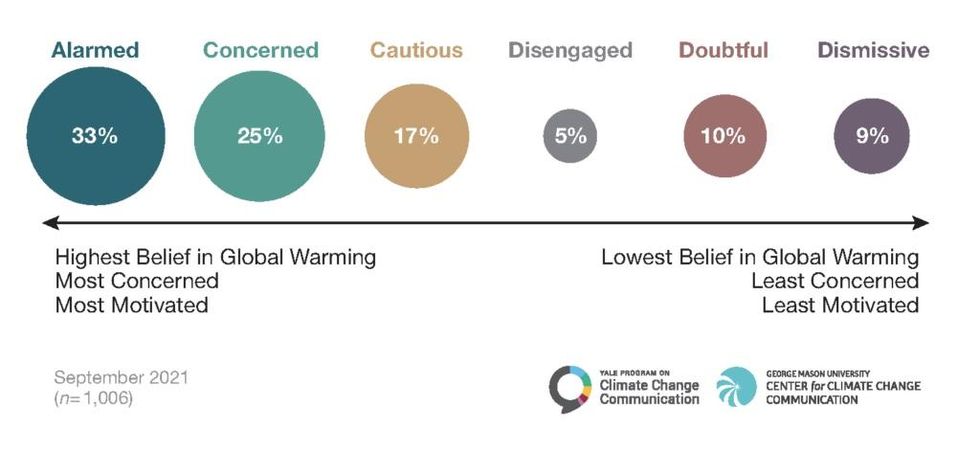 Most Americans are either "concerned" or "alarmed" about global warming and its effects on climate, and as those effects become all too visible in our lives, those numbers are only going to increase. We're finally demanding changes. And those changes are happening — 30 or 40 years later than needed to have headed off the significant worldwide damage that's now locked in, and we still need to dramatically cut greenhouse gas emissions much more quickly to avoid the worst possible effects of warming.
The Paris goal of limiting total warming since the Industrial Revolution to 1.5 degrees C (2.7 degrees F) remains theoretically possible, but unlikely without dramatic changes in how we create and use energy. That's the bad news. But every tenth of a degree C of warming we prevent will also prevent progressively worse and worse outcomes. There's good reason to think we're finally heading in the right direction. The International Panel on Climate Change reports are going to continue to be grim, but it's no time to throw our hands in the air and say we're screwed — I worry that climate despair may be as bad a disincentive to pursue change as denial — and as unrealistic.
For a sobering but grimly optimistic look at where we are now, see this important David Wallace-Wells essay in the New York Times (gift link) published in October. Wallace-Wells explains that, thanks to changes in energy production that are already happening, the hands of the climate doomsday clock have slowed compared to estimates of just a few years ago. The "business as usual" estimates, which assumed no slowing in the rate of greenhouse emissions, pegged the likely increase in global temperatures at four or even five degrees by the end of the century. That would be
a change disruptive enough to call forth not only predictions of food crises and heat stress, state conflict and economic strife, but, from some corners, warnings of civilizational collapse and even a sort of human endgame. (Perhaps you've had nightmares about each of these and seen premonitions of them in your newsfeed.)

Now, with the world already 1.2 degrees hotter, scientists believe that warming this century will most likely fall between two or three degrees. [...] A little lower is possible, with much more concerted action; a little higher, too, with slower action and bad climate luck. Those numbers may sound abstract, but what they suggest is this: Thanks to astonishing declines in the price of renewables, a truly global political mobilization, a clearer picture of the energy future and serious policy focus from world leaders, we have cut expected warming almost in half in just five years.
Needless to say, that doesn't mean we can pat ourselves on the backs and throw another endangered species on the barbeque. But the range of outcomes has changed, as Wallace-Wells notes. The nightmare scenarios have been "made improbable by decarbonization," although the most hopeful options have been "practically foreclosed by tragic delay."
The window of possible climate futures is narrowing, and as a result, we are getting a clearer sense of what's to come: a new world, full of disruption but also billions of people, well past climate normal and yet mercifully short of true climate apocalypse.
Go read/listen to the whole thing. It's a holiday weekend, and you have a gift linky right there.
Part of the reason I'm feeling cautiously optimistic is that people who know climate and energy policy are generally very pleased with this year's climate bill, aka the Inflation Reduction Act. Independent energy reporter David Roberts has discussed it extensively with energy and climate experts, and while it has some dumb shit in it that was the price of getting Joe Manchin's support, they say the bill really deserves the praise it's received.
There's a perfectly good reason the climate provisions in this bill are so good. They're taken more or less directly from Washington Gov. Jay Inslee's "gold standard" climate plan from the 2020 presidential campaign, which itself reflected the work of a whole bunch of climate policy wonks. The dollar amounts are smaller, but the effects are going to be significant.
What's more, Roberts points out, the "green bank" and other research and development provisions in the bill will provide billions of dollars in seed money for new clean energy enterprises, which are likely to lead to even more reductions in emissions over the next decade — but because those companies and technologies don't exist yet, they can't be included in any models. That means the total US emissions reductions resulting from the bill are likely to be more than the 40 percent already estimated. Roberts believes this law has the potential to remake large parts of the US economy.
Another reason for optimism came in the form of a peer-reviewed study published in September by Oxford University's Institute for New Economic Thinking. The researchers explain that a rapid transition to renewable energy will actually cost far less than going slowly, because greater deployment of renewables will drive down the price of electricity enough to save the world $12 trillion, compared to continuing to use fossil fuels. It's simply not true that the clean energy transition would be too costly to pursue: If anything, not transitioning quickly will cost far more. And damn right you should go give a listen to this Dave Roberts interview with Dr. Doyne Farmer, one of the study's co-authors. I am just plain turning into a mouthpiece for Roberts is what's happening.
Want a book to help you be a climate activist and help make change? That would be The Big Fix: 7 Practical Steps to Save Our Planet, by Hal Harvey and Justin Gillis. It's a handy guide to policies that will move us closer to a survivable climate situation, and how you can be an Active Citizen, like finding or starting a local climate group and, say, showing up at those mandatory public meetings on utility policies that are normally only attended by business reps and utility spokespeople. Well sure, there's also a Dave Roberts interview with the authors.
One more book: I'm currently reading Kim Stanley Robinson's excellent near-future science fiction novelThe Ministry for the Future, which manages to make discussions of climate science, sustainability policy, international tensions, and UN agencies an exciting read. It may help that there's a subplot involving a terrorist group that's out to assassinate the hundred people most responsible for continued fossil fuel use, which of course you should not advocate in the comments, but ups the ante and tensions in the novel. Some reader reviews found it preachy, if it is, I must be in the choir.
Happy new year. Consume less. Keep up the pressure for change.
[Yale Project on Climate Change Communication / Volts / NYT gift link / Scientific AmericanOxford University / Ministry for the Future (Wonkette revenue-sharing link) / The Big Fix (Wonkette link too) / Image generated using DALL-E 2 AI]
Yr Wonkette is funded entirely by reader donations. If you can, help us keep pointing to the horizon with a $5 or $10 donation. We can get there together.
Class War
Will no one weep for Elon? Like, other than his weird Twitter sycophants?
December 29, 2022 08:55 AM
The world's billionaires, who mostly got even richer during the pandemic while other people struggled, are having a rough year in 2022, according to a story in Forbes. Globally, billionaires have lost nearly $2 trillion, leaving them having to order slightly fewer options on their Maybachs and Bentleys, or perhaps shortening their annual peasant-hunting vacations on their private islands. Forbes says the criminally rich have been "rocked by 12 months of shaky stock markets, war in Europe and rampant inflation." Darn right inflation affects the very wealthy. Superyacht fuel has gone way up. And Russia's invasion of Ukraine has been bad for billionaires. This is indeed tragic.
As a group, the planet's billionaires have lost $1.9 trillion in 2022, according to Forbes' estimates, with their collective wealth dropping from $13.8 trillion on New Year's Day to $11.9 trillion on December 9. The number of billionaires has fallen too, from 2,671 to 2,523, per Forbes' real-time tracker, as high-profile moguls like Sam Bankman-Fried, Kanye West and Rivian founder RJ Scaringe have dropped from the ranks.
Oh. We would find that Jerry Seinfeld eating popcorn and saying "That's a shame" GIF, but apparently it's out of our price range.
In America, our very own beloved billionaires have lost some $660 billion in wealth, the biggest hit to any country's billionaires according to Forbes, mostly due to wobbly tech stocks. The biggest loser in America is Elon Musk, and he's also out a lot of money, too. Forbes said his net worth is down $115 billion, meaning he's no longer the richest asshole in the world, even if he runs a Twitter poll asking his strange adoring fans who they think is the richest in friendship. (The title — for money at least — now belongs to Bernard Arnault, SEO of French luxury goods conglomerate LVMH. Could be completely fictional names for all I know.) Musk is still the richest person in America, struggling by on a paltry net worth of just $139 billion.
Other American robber barons have lost a bunch of money too, like Jeff Bezos (lost $80 billion, net worth about $106.9 billion), Mark Zuckerberg (lost $78 billion, net worth $42.7 billion), Google CEO Larry Page (lost $40 billion, net worth $76.8 billion), and Rebecca Schoenkopf, who we've been told has a net worth of $4 million, mostly due to some commenter who says they have the goods. (No we aren't done laughing at Yr Editrix's nonexistent millions, because only by mockery can we cover up the ugly truth that she could destroy any of us with a single order.)
OK, but this is kind of nice: Microsoft stock has dropped 27 percent this year, but Forbes notes the real reason cofounder Bill Gates is $20 billion less rich is that he gave that amount to the Bill & Melinda Gates Foundation, which is doing such a great job fighting disease and poverty while also freaking out paranoid anti-vaxxers. Come the revolution, we'll eat him near the last.
Also too, lest anyone lose hope because billionaires are struggling so, Forbes points out that a lot of rich people are still getting richer, so don't give up on the American dream just yet, suckers.
[CNBC / Forbes / Image generated by Stable Diffusion AI]

Yr Wonkette is funded entirely by reader donations. If you can, please give $5 or $10 monthly so we can keep promoting class struggle against rapacious oligarchs like, apparently, us.
©2018 by Commie Girl Industries, Inc
This Is Not An Ad
Privacy