Education
The hit sitcom's second season sticks up for public education.
Last week, charter school cheerleader Jeanne Allen tried to catch ABC's "Abbott Elementary" creator Quinta Brunson in a "gotcha." The most recent episode featured the Abbott teachers fighting an attempt to turn their school into a charter, and in snarky response, Allen tweeted. "I'll share it again. The creator, lead writer and co-producer of @AbbottElemABC @quintabrunson is from West Philly and attended charter schools her entire education. She reportedly loved it at the time, heaped praise on it. Once upon a time. Guess money talks."
Oh, yes, all that money in the banana stand public school PR business. This is classic conservative projection, as the charter school lobby has spent crap tons of money to influence elections and ballot measures across the country in recent years.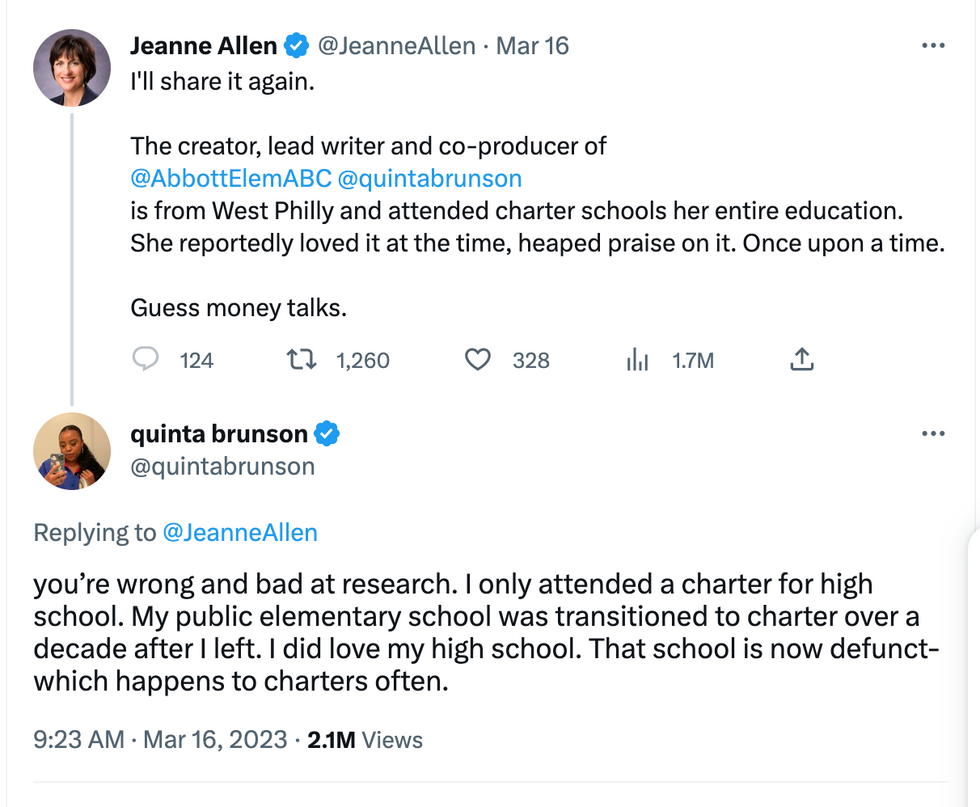 Twitter
Brunson clapped back with style: "You're wrong and bad at research. I only attended a charter for high school. My public elementary school was transitioned to charter over a decade after I left. I did love my high school. That school is now defunct — which happens to charters often. Loving something doesn't mean it can't be critiqued. Thanks for watching the show :)"
"Abbott Elementary" is impressive for a number of reasons. It's a black woman-led series with actual Black writers. It's smart, quirky, and buzz-worthy while operating within the confines of commercial, broadcast TV. A hot streaming series might release 10 episodes every couple years, but "Abbott Elementary" has produced 32 episodes in a little over a year and won multiple awards, including a well-deserved Emmy for Sheryl Lee Ralph, who plays veteran kindergarten teacher Barbara Howard.
"Abbott Elementary" unquestionably supports schoolteachers and public education. Brunson, whose mother was an elementary school teacher, was adamant that the series wouldn't treat the teachers at an underfunded Philadelphia school as the punchline. They aren't bitter, cynical, or comically incompetent. They are all good at what they do, and while Brunson's Janine Teagues is often naively optimistic, the show treats her faith in the school and its community as an overall positive. Even the unconventional Principal Ava Coleman is more than just a two-dimensional Frank Burns antagonist. She's shown surprising depth underneath her shallow exterior.
The series has taken a firm stance against charter schools, which is a sharp contrast from the 2004 "West Wing" episode where Black characters preached the virtues of a pilot school vouchers program. Those Washington DC public schools are so violent and "good" kids need an opportunity to thrive. There's no real consideration about the students (and teachers) left behind at the "failing" schools.
Legacy Charter is the looming villain in this season's "Abbott Elementary." Its superficially benign front man is Draemond Winding (Leslie Odom Jr), a former student at Abbott. Although he fondly recalls his time with Barbara, he has no love for Abbott as an institution. He would raze it to the ground and rebuild it as a charter, ostensibly in Barbara's honor, but she has no interest in such tribute.

Charters exacerbate inequality under the pretense of meritocracy. It is objectively easier for charters to deliver "results" when they can reject the entire premise of public education. Although charters are technically required to serve all students, most have an application and selection process that just skates the line of outright discrimination. They aren't committed to providing a quality, accessible education to struggling students or those with special needs. The rate of racial segregation in charters compared to public schools is also "extraordinarily high."
While application difficulties are the norm in restricting certain applicants, some schools have resorted to much more creative strategies, including not providing subsidized lunches to discourage low-income applicants, mandate parents of students do unpaid volunteer work for the school, and, in one extreme example, invest in the company that built the school.

But even in the rare case that these policies fail to discourage lower-tier applicants, charter schools show little hesitation to handpick the students they deem easiest, aka cheapest, to educate. This means that "charter schools handpick students with higher test scores and academic records." And if the school picks the wrong candidate, they resort to "counseling out" or expelling low-performing students to inflate the school's test averages.
Brunson is right that charter schools often go defunct. Studies have shown that they have a high closure rate, and the US Department of Education reports that $176 million has gone to charter schools that later went belly up. That money could've been used for a least a few school supplies.
And regarding the so-called "lottery system" charter schools use for applicants, Janine's ex Tariq put it best: "I play the lottery every single day, and I never win. This man is playing the Powerball with our kids!" Tariq should run for Congress.
Follow Stephen Robinson on Twitter if it still exists.

Did you know SER has his own YouTube Channel? Well, now you do, so go subscribe right now!
Subscribe to the Wonkette YouTube Channel for nifty video content!
Click the widget to keep your Wonkette ad-free and feisty.
Education
But ... but ... that means the woke will keep woking!
Wokeness and critical race theory and Marxist indoctrination can continue to run rampant in Florida colleges and universities after a federal court ruled Thursday to keep in place an injunction against enforcing the "Stop WOKE" Act. The 11th US Circuit Court of Appeals denied a request by Gov. Ron DeSantis's administration to please let it stop some woke, even just a little, while the case is being decided.
In November, US District Judge Mark Walker determined the law, which would restrict how colleges and universities can teach about race and gender, was unconstitutional as all fuck, because what part of free speech don't you understand? In a remarkably fun decision to read, Walker called the law "positively dystopian" and cited George Orwell in his order, adding that the bill's formal name, the "Individual Freedom Act," was a dandy example of doublespeak.
As we said at the time, it's awfully refreshing to see an invocation of Orwell by someone who has actually read and understood the dear old lifelong socialist who thought basic human decency might yet have a chance against totalizing ideologies.
In yesterday's 26-word order, a three-judge panel of the appeals court turned down the state's request to stay the injunction Walker issued in November. It also directed the court clerk to "treat any motion for reconsideration of this order as a non-emergency matter," just in case Florida decided to get shirty. In an act of judicial decorum, the appeals panel did not add "Neener-neener, you fascists."
The 2022 law, Florida HB 7 (22R), is yet another of those copy-pasted bills against teaching "divisive concepts" in public schools, but tweaked to apply to higher education and to businesses that offer training on implicit bias and the like. (A separate lawsuit already put on hold the bill's restrictions against private businesses.)
As Politico 'splains, the law expanded Florida's existing anti-discrimination law to protect the sensitive feelings of anyone who might have conniptions when told that other people have been discriminated against, how dare you. The bill prohibits institutions of higher education from ever causing students to feel sad in lessons about race or sex.
Inspired by DeSantis, it takes aim at lessons over issues like "white privilege" by creating new protections for students and workers, including that a person should not be instructed to "feel guilt, anguish, or any other form of psychological distress" due to their race, color, sex or national origin.
As we always point out, OF COURSE no one would ever teach that white children are guilty for things like slavery or Jim Crow, but the problem with these "divisive concepts" laws is that they're written so vaguely that any teaching about racism or sexism could potentially get an instructor or school sued and penalized.
The law was challenged last year in a lawsuit brought by Dr. Adriana Novoa, a history prof at the University of South Florida, and by student Sam Recheck, who are represented by the Foundation for Individual Rights and Expression (FIRE), a national campus free speech nonprofit. Supporting briefs have been filed by the usual woke suspects like the ACLU and groups supporting academic freedom, even for people who will never ever vote for Ron DeSantis, and how is that even fair?
FIRE issued a statement yesterday saying
"Professors must be able to discuss subjects like race and gender without hesitation or fear of state reprisal. Any law that limits the free exchange of ideas in university classrooms should lose in both the court of law and the court of public opinion."
DeSantis spokesdork Bryan Griffin said the administration will win for sure, and look at how those dopey judges only decided the actual matter before them instead of something else:
"The Court did not rule on the merits of our appeal. The appeal is ongoing, and we remain confident that the law is constitutional."
Gov. DeSantis himself hasn't yet said anything about the decision, probably because he's still scooping gobs of pudding into his mouth with his gross fingers. Does he wash first? Or after? Who even knows? ¯\_(ツ)_/¯
[Politico / WFLA / Law & Crime / Photo: Gage Skidmore, Creative Commons License 2.0]

Yr Wonkette is funded entirely by reader donations. If you can, please give $5 or $10 monthly so we can keep you up to date on all the crazy. Or at least all we can stomach.
Education
She probably should've taken an Uber.
Now that Ron DeSantis has scrubbed all the woke out of Florida math textbooks, it's time for the state's social studies textbooks to be winnowed, so that no traces of critical race theory remains, and so no children feel guilty or sad about history. The New York Times reports (gift link) that as part of the periodic review of textbooks this year,
a small army of state experts, teachers, parents and political activists have combed thousands of pages of text — not only evaluating academic content, but also flagging anything that could hint, for instance, at critical race theory.
Remember, of course, that while in academia, critical race theory is a graduate-level topic of study, on the right, CRT means anything that makes white people fretting about The Blacks uncomfortable.
One group involved in the effort, the Florida Citizens Alliance, determined that 29 of the 38 textbooks its volunteers examined were simply inappropriate for use in Florida, and urged the Florida Department of Education to reject them. The Times notes that the group's co-founders helped out with education policy during DeSantis's transition (to governor, not in a trans kind of way, heavens!), and that it has "helped lead a sweeping effort to remove school library books deemed as inappropriate, including many with L.G.B.T.Q. characters."
We bet the books they rejected were just full of critical racecars and critical footraces! Just how bad were these awful textbooks?
In a summary of its findings submitted to the state last month, the group complained that a McGraw Hill fifth-grade textbook, for example, mentioned slavery 189 times within a few chapters alone. Another objection: An eighth-grade book gave outsize attention to the "negative side" of the treatment of Native Americans, while failing to give a fuller account of their own acts of violence, such as the Jamestown Massacre of 1622, in which Powhatan warriors killed more than 300 English colonists.
Good call, because while Native Americans may have been genocided by disease — and later by US federal policy — some fought back, and that evens everything out.
Hilariously, the Times also notes that that the White Citizens Council Florida Citizens Alliance is "pushing the state to add curriculum from Hillsdale College, a small Christian school in Michigan that is active in conservative politics." There's just one little problem, though, because what Hillsdale offers for K-12 history and civics isn't in any sense a "textbook," but instead a set of guidelines for teachers, with recommended primary readings like the Declaration of Independence, the Constitution, and probably Rush Limbaugh's awful children's books (we're guessing on that one). But it's from Hillsdale so that's what the kids need.
The Times simply notes that "The curriculum was not included in Florida's official review, and the state did not comment on the group's recommendations."
Moar Here!
Rush Limbaugh's Crappy Books Will Save Kids From A.P. History
Biden Just Deleted The Stupid Ahistorical Bullsh*ts Of T---p's '1776 Commission Report'
Florida Takes Its Turn On 'Please Don't Make White People Uncomfortable' Bandwagon
Ask The Gay Penguins How 'Limited' Florida's 'Don't Say Gay' Law Is. YOU CAN'T THEY'RE BANNED
Florida's Education Department actually does require that schools teach Black history, although how exactly that's supposed to be done in a way that won't upset any hypervigilant rightwing parents isn't entirely clear. The Times says the department

emphasized that the requirements were recently expanded, including to ensure students understood "the ramifications of prejudice, racism and stereotyping on individual freedoms."
As we all know, slavery and Jim Crow were bad because they were regrettable departures from America's founding ideas of freedom and equality, which were always the norm except in certain unfortunate moments (from 1619 through 1965 and elsewhere).
In a very sad attempt to win favor with Florida, an outfit called "Studies Weekly," a minor-league publisher of weekly social-studies pamphlets mostly for early elementary grades, attempted to completely remove race from its first-grade lessons on Rosa Parks and the Montgomery Bus Boycott. That took some doing!
The absolutely essential progressive parent group the Florida Freedom to Read Project provided the Times with three different versions of Studies Weekly's very brief lessons on Parks. The first is currently used in Florida schools, and is pretty accurate:

"In 1955, Rosa Parks broke the law. In her city, the law said African Americans had to give up their seats on the bus if a white person wanted to sit down. She would not give up her seat. The police came and took her to jail."
There were also two versions created for the new textbook review; the Times points out it's not clear which one the company submitted, and as it turns out, Studies Weekly was rejected because it messed up its paperwork, so we'll never know what the Florida Department of Education thought of the Rosa Parks lessons.
One version mentions race only indirectly: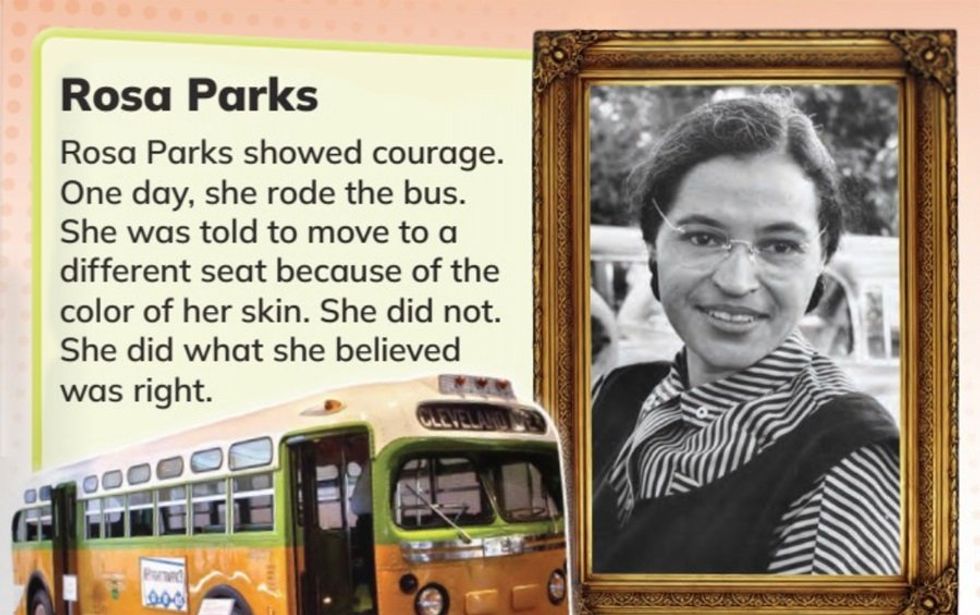 "Rosa Parks showed courage. One day, she rode the bus. She was told to move to a different seat because of the color of her skin. She did not. She did what she believed was right."
Another version eliminates race altogether, making it really unclear whether Parks was a hero or just kind of a jerk.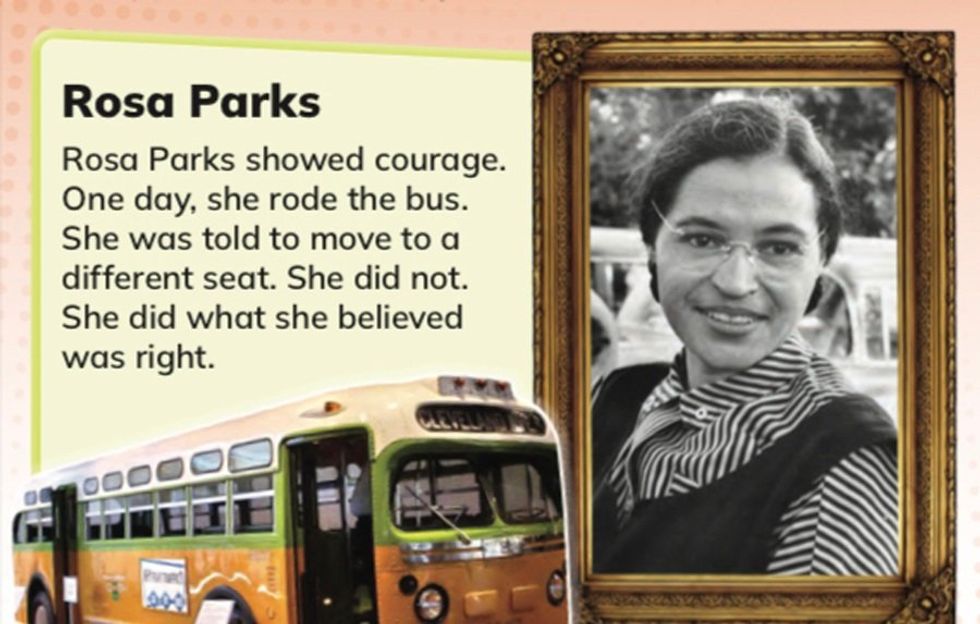 "Rosa Parks showed courage. One day, she rode the bus. She was told to move to a different seat. She did not. She did what she believed was right."
It's really something of a wonder that there wasn't a third revision that simply said "Rosa Parks showed courage. She rode a bus. Good for her! Buses are big and scary!"
A fourth-grade lesson about discrimination following the Civil War and Reconstruction had similarly bizarre edits. In the initial version, the lesson explained that even after the war, many people in former Confederate states "believed African-Americans should be enslaved" and that they were "not equal to anyone in their community." (Yes, that's already problematic since it suggests white is the norm, but oh my, it gets very much worse.)
That got revised to the far weirder observation that "many communities in the South held on to former belief systems that some people should have more rights than others in their community."
And where the initial discussion of Southern "Black Codes" made very clear that African Americans were regularly denied their basic rights, the second version still uses the term "Black Codes," but says only that it became "a crime for men of certain groups to be unemployed" and that "certain groups of people" were prevented from serving on juries. Sounds like members of those certain groups were treated like they were particular individuals.
For the little it's worth, the Times also adds that
The Florida Department of Education suggested that Studies Weekly had overreached. Any publisher that "avoids the topic of race when teaching the Civil Rights movement, slavery, segregation, etc. would not be adhering to Florida law," the department said in a statement.
The story also notes that it's not clear yet whether other publishers attempted similar decolorization; to find out, we may have to wait until Florida announces the textbooks that passed muster.
Until then, we'll just have to hope none of the textbooks explain that the Voting Rights Act was passed after John Lewis and a certain group of his friends took a leisurely Sunday stroll across a bridge.
[NYT (gift link)]

Yr Wonkette is funded is entirely by our woke readers. If you can, please give five or ten Wokedollars a wokemonth so we can woke you all the woke woke and fart wokes!
Class War
We do not deserve his patience.
All the cool states these days are implementing universal free lunch. California did it first, then Colorado and Maine, and now Minnesota and Connecticut are following suit — after realizing that they all really liked it when all kids ate free during the height of the pandemic.
But not everyone is very happy about it. Minnesota state Sen. Steve Drazkowski, for one, who doesn't know a single hungry person in all of Minnesota and is just outraged by this whole thing. Then there is Ben Shapiro, who cannot believe he has to explain to us that feeding children is not the answer to child hunger.
"If government can protect kids from the sick, radical Left, shouldn't they also protect kids from hunger? Wouldn't it make sense to strengthen food stamps and have school lunch be free since some kids are in school lunch debt?" asked a viewer who was clearly messing with him, since people who use terms like "the sick, radical left" largely do not care about feeding children who are not their own children.
BEFORE! Minnesota Republican Unable To Stop Communist Governor From Giving Kids Food
"School lunches are not going to solve the problem of child hunger at any serious level," an exasperated and unshaven Ben Shapiro explained. "If there is a problem with children actually starving, that is a child endangerment scenario in which CPS needs to be called. if you're talking about actual child starvation, the truth is, it does not take that much money to feed a child. I know, I have three of them. You should be feeding your child before you feed yourself. It's that simple. There's a much deeper problem at work than school lunches if kids are legitimately starving."
You hear that? Feeding children is not the answer to child hunger. The answer is reporting parents to CPS.
ALSO BEFORE!Somebody Is Stealing Children To Put In Paul Ryan Speeches!
Dennis Prager: Kids Should Be More Hungry
This is certainly an interesting take from someone who is very excited to force people to have children regardless of whether they want or can afford them. Personally, I think all states that choose to outlaw abortion should be forced to pay all expenses for all children from -9 months to 18 years old, and then also pay for them to go to college. If they want those babies so badly, then they should pay for them.

Don't think this means that Ben Shapiro is cheap, though. Far from it! Giving a child free lunch for a year costs only $670, while a year in foster care costs on average about $25,782 (likely more since the most recent study on this was done in 2011) in foster care stipends and administrative costs. Ben Shapiro is willing to spend about $25,000 a year more than it would cost to give these kids a free school lunch, which is very gracious of him. Not to mention the fact that being put into foster care can seriously affect one's future. Only about 51 percent of children who grow up in foster care graduate from high school, while only three percent will go on to graduate college. It is also estimated that "[a]mong former foster youth, one-third of all males and three-fourths of all females rely on government assistance programs." We can assume this also costs more per year than school lunches.
On the other hand, free school lunches have been known to lead to overall better behavior and school performance, as well as spontaneous Irene Cara-centered dance riots.


Child hunger is a serious problem in the United States, as 12.5 percent of children live in food insecure homes. Sure, the kids likely don't look like they belong in a commercial with Sally Struthers, but that's because parents likely are feeding their kids before they feed themselves. While these children may not be literally starving to death, there is room between that and having everything they need in which one subsidized meal could help a lot.
Free school lunches means that money is freed up to spend on food for everyone in the household, and healthier and better food at that. Maybe they have some nice chicken and vegetables instead of cereal for dinner. These are not the kind of things Ben Shapiro, who is worth somewhere between $25 and $50 million according to various shady-looking celebrity net worth sites, has to worry about or consider when it comes to his own children, but they are things that millions of other American families do have to worry about and consider.
For people like Ben Shapiro, their greatest concern is that children are going to see a drag queen or find out that racism exists (well, white children anyway). That is a luxury for rightwing elites that not every parent has, as they are far too busy worrying about what their kids are going to eat, whether they will have health care, or how they are going to afford rent or their mortgage — which is why taking this one thing off their plate is so crucial.
Do your Amazon shopping through this link, because reasons.
Wonkette is independent and fully funded by readers like you. Click below to tip us!
©2018 by Commie Girl Industries, Inc
This Is Not An Ad
Privacy