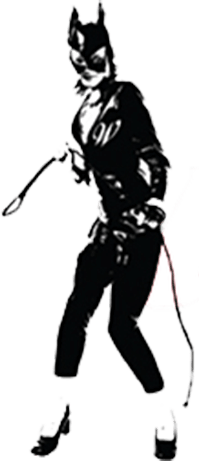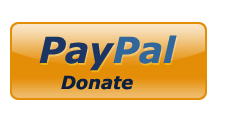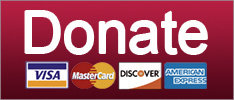 Nice Time
It's an end-of-day Nice Time! Hooray!
Attention, Democratic candidates running in 2020 -- not just for president, but for ANYTHING: Get on board with the American Family Act, introduced today in the Senate by Michael Bennet of Colorado and Sherrod Brown of Ohio. In the House, it's been introduced by Democratic Congresswomen Rosa DeLauro of Connecticut and Suzan DelBene of Washington. It's a ridiculously simple way to make middle-class and working families better off through fairly simple tweaks to the existing child tax credit, as Dylan Matthews explains at Vox.
Currently, the Child Tax Credit (CTC) helps out fairly well-off people, but does little for families with low income. The American Family Act would change that significantly, turning the CTC into a monthly child allowance available to every family with children (and phasing out for families at the high end of the income scale). The benefit would pay:
-- $3,000 per year, or $250 per month, per child ages 6 to 16
-- $3,600 per year, or $300 per month, per child ages 0 to 5

The benefits would be distributed monthly, in advance, so families could pace out their spending and smooth their incomes. Because the CTC, like the earned income tax credit, is currently paid out through tax refunds, it sometimes leads to a perverse situation in which families use it to pay down debt they never would've had to incur if they'd gotten the money earlier.
And what would this accomplish? It would boost the available income for families with kids, immediately, and particularly when kids tend to be especially expensive, in the first years of life, when, unfortunately, young parents tend to have their lowest earning power, too.
Researchers project this child allowance would have some amazing bang for the buck in terms of lifting kids out of poverty:
Poverty among children would fall from 14.8 percent to 9.5 percent,

meaning

4 million kids would escape poverty.

Deep poverty

— the share of kids living on half the poverty line or less — would

fall almost by half, from 4.6 percent to 2.4 percent.
Is there more, in terms of overall benefit for US America? You bet your sweet Great Society ass there is! How about improvements in health, reductions in crime, and overall benefits for education?
Keep reading...
Show less
Courts
Greg Abbott, we don't even know you anymore.
Texas's great big hunt to manufacture some outrage over "legal aliens illegally registered to vote" started falling apart almost as soon as it was announced, since it was based on bad assumptions and bad use of data. Secretary of State David Whitley breathlessly announced in January his office had compiled a list of 98,000 registered voters listed as non-citizens by the Department of Public Safety (DPS), which runs the driver's license office. Worse, since 1996, some 58,000 of 'em had voted!!! Wingnut media and Donald Trump took to wailing about voter fraud even as nit-pickers pointed out the data was crap, because the DPS only had records on people who said they weren't citizens when they applied for a driver's license or photo ID. Tons of people on the list actually been naturalized citizens later, and were completely legal to vote. In fact, as three federal lawsuits against the fake list of suspicious voters have proceeded, DPS officials have said 25,000 people on the list had already proven they were citizens when Whitley's office released it. Long story short, it's a massive clusterfuck that's proving to be a huge embarrassment to both Whitley and to Gov. Greg Abbott, who appointed Whitley to the post in December.
And now that Whitley is facing a very difficult confirmation fight in the state Senate (yeah, he's been in the job with no "acting" title; we dunno, it's fucking Texas), Abbott has finally taken a brave stance on who's responsible for the embarrassing fucktangle: Not Whitley, who did the shitty "analysis," but DPS chief Steve McCraw, for generating the data in the first place. This is a bit of a problem since, as the invaluable Texas Tribune reports, DPS made clear to the SecState's office the data was flawed from the get-go.
Still, Abbot makes a compelling case, if by "compelling" you mean he's good at pointing anywhere but his shit-covered appointee and yelling "SOMETHING STINKS!"
Keep reading...
Show less
Elections
He should moonlight as a motivational speaker.
New York Times columnist David Brooks has an opinion about Medicare for All. It's not a good or even all that interesting an opinion, but he's going to share it with us anyway.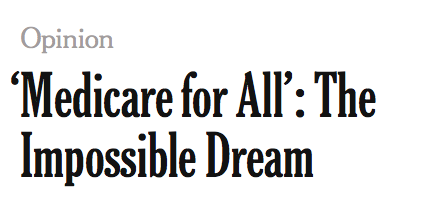 See? Medicare for All is impossible. Health care expert and political genius David Brooks said so. We can all give up now and move on to more important matters, like carefully considering the feelings and bruised egos of bigots. Brooks also dismisses Medicare for All as just a big dream, like the one we often have where the New York Times hires decent columnists.
Brooks is a rich guy with reliable access to health care, but that doesn't mean he has no skin in this game. Maybe one of the valets at his club died from a preventable illness. It's not as though Brooks thinks universal coverage is a bad idea. His buddies in Britain and Canada, after all, all swear by their single-payer systems. He just doesn't understand how you could possibly make that work in the United States. And if Brooks -- a card-carrying white man -- can't figure it out, how on earth could Elizabeth Warren or Kamala Harris?
Keep reading...
Show less
Elections
Washington governor smacks down McCain's Green New Deal lies.
Washington Gov. Jay Inslee is running for president and his primary focus is fighting climate change. We are just a generation away from desperate scientists strapping their kids in rocket ships and sending them off to to be superheroes in disappointing movies. However, conservatives still act like it's 2000 and Al Gore is whining about trees. Why should they care about any of this?
Inslee appeared on "The View" Monday where he was grilled by resident Republicans Abby Huntsman and Meghan McCain. It was a tag-team concern trolling effort. Huntsman reminded Inslee that he doesn't just have to beat the dozen or so other Democrats and Bernie Sanders in the race but also eventually Donald Trump. We're pretty sure at least one of Inslee's advisers mentioned this to him. Huntsman wondered how Inslee hoped to defeat Trump with such a weak sauce platform as defending humanity from global catastrophe.
HUNTSMAN: "You saw [Trump] at CPAC. Whether you agree with him or not, he knows how to get people riled up. He gets headlines. He gets attention. The media's always talking about him. Climate change? That's not the number one issue for many, many people in this country."
Huntsman talks about Trump like Principal Rooney's secretary describing Ferris Bueller: "He's very popular, Jay. White nationalists, conspiracy theorists, wasteoids ... they all adore him. They think he's a righteous dude." She straight-up tells Inslee he's just too dull to beat Trump. Why would the media bother covering him and his boring "real" issues when they could devote air time to Trump's rambling, deranged declarations of fake national emergencies?
Keep reading...
Show less
Elections
Most shocking political news of 2019 you bet!
In an appearance on local teevee news in New York, Hillary Clinton confirmed Monday night that she really really isn't running for president in 2020, and will instead devote all her time to running a vast shadowy conspiracy to live inside Republicans' heads forever. In an interview with Long Island's News 12, Clinton said nah, officially, but that she also intends to remain active in politics even if she's not going to seek office any more: "I'm not running, but I'm going to keep on working and speaking and standing up for what I believe." A brief moment of silence will be held later today for the small but intense "Clinton's about to run" industry that has so far kept pumping speculation from "sources familiar with Clinton's thinking."
Keep reading...
Show less
Sex
North Carolina really knows how to pick 'em.
GOP congressional candidate Stony Rushing -- the dumbass gun range owner endorsed by Mark Harris in the Republican primary for the do-over election for North Carolina's district nine seat -- certainly has a fascinating history, as detailed by Judd Legum at Popular Information. The Boss Hogg-cosplaying county commissioner is a fan of conspiracy theories, and accuses Democrats of being ultimately responsible for the election fraud scandal that caused the state Board of Elections to order a new election, even if all the cheating was done by Republican operatives. So it shouldn't be the least bit surprising to find Rushing has a seriously stupid little dirty tricks game in his own past. How did you guess it involves the family-values Bible humper getting caught up in a sex affair? He even admitted that much in a sworn deposition, so ain't no "allegedlys" about it.
Keep reading...
Show less
Elections
Your white male Democrat of a certain age desperately wishes it was still the 1990s. Who knows why. "Will & Grace" is back on the air, so there's no real need to dwell in the past. Regardless, moderates insist that the problem with our fractious, dysfunctional politics is that we don't "work across the aisle" enough and put "people before party." This is naive gobbledy-gook, and the latest Democrat to spout it is John Hickenlooper.
The former Colorado governor launched his presidential campaign today and during an interview with George Stephanopoulos, he outlined his Mary Sunshine platform.
STEPHANOPOULOS: "You're elected president, you come in... Mitch McConnell is still the head of the Senate. [Republicans] still have the majority. What's the first thing you do with him?"

HICKENLOOPER: "I would go to Mitch McConnell, to his office, and I would sit down with him and say, 'Now, what is the issue again?' and we would talk...Sounds silly right? But this works."
He's right: This is silly. Lampshading the silliness doesn't make it any less goofy. There's also literally zero evidence that this works. Hickenlooper sounds like the Vulcan elder in an old "Star Trek" who thought he could negotiate with some of the worst villains in history. He goes off alone and unarmed to meet with them for some "bipartisanship" in space. Later, all we hear is his anguished screams.
Keep reading...
Show less
2020 presidential election
One man's quest to become America's second four-syllable president.
Former Colorado Gov. John Hickenlooper announced today he's running for president, bringing joy to the sort of headline writers who've already exhausted their supply of "Buttigieg" jokes. Fortunately, Yr Wonkette is far too sophisticated to engage in such juvenile antics, so we'll just make a lot of weed jokes instead, since Hickenlooper presided over Colorado's first-in-the-nation voter initiative legalizing recreational cannabis use. He was personally against it, by the way, but the tax revenue sure has been nice. Hickenlooper is positioning himself as a business friendly moderate who's liberal on social issues, and his campaign launch video makes clear he intends to make opposition to Trump a central part of his campaign. Oh, heck, we forgot to include a weed joke there.
Stand Tall www.youtube.com
Hey, that uses damn near the same dramatic opening chords as Jay Inslee's ad! Weird! The ad emphasizes Hickenlooper's ability to deal with the unexpected, like fires and floods, and the horrifying, like the Aurora movie theater massacre ("just offering thoughts and prayers would never again be sufficient"). Over video shots of Donald Trump, Hickenlooper says,
I'm running for president because we're facing a crisis that threatens everything we stand for. As a skinny kid with coke bottle glasses and a funny last name, I've stood up to my fair share of bullies. Standing tall when it matters is one of the things that really drives me.
The ad emphasizes his progressive achievements, noting that after Aurora, he signed a universal background check law and a ban on high-capacity magazines. It also calls attention to another Colorado first, a bill tightly regulating methane emissions in oil and natural gas operations, a big deal in fighting climate change. He's said it's equivalent to taking 320,000 cars off the road annually. Also, true fact: The greenhouse emissions from bongs don't even compare.
Keep reading...
Show less
Elections
Yeah, but is she also over-prepared?
Kamala Harris's presidential campaign was clipping along nicely. She was introducing herself to voters at packed rallies with overflow crowds. She tried on fierce jackets. She spoke of the joy of dinkie dow. Yet concern-trolling publication Politico wonders if Harris is connecting too well with people.

This is the latest in Politico's series of "What's Wrong with the Lady-Parts-Having Democrat?" non-think pieces. A couple months ago, Politico wondered if Elizabeth Warren's campaign could survive if people like the staff at Politico kept saying she was as "unlikable" as Hillary Clinton. Clinton has won the popular vote in every race she's ran (yes, even the 2008 primary). We should all be so unlikeable. Still, Clinton was a boring policy wonk with no compelling rationale for her campaign other than her many qualifications. Now Warren is too "divisive." Harris is apparently taking a different approach because she's a different person, as we understand women sometimes are. Politico points out the folly in this strategy.
In interviews, two dozen political strategists, elected officials and Democratic activists and voters — most of whom watched Harris' events in Iowa, New Hampshire and South Carolina — said she's shown promise as someone who can connect with voters at an emotional level. The excitement she's generating and her profile as a charismatic, mixed-race progressive, they said, is creating a sense that she may be the candidate who best matches the mood of Democratic voters at this moment.
"Mixed-race progressive"? People still say "mixed-race" like they're talking about the offspring of a poodle and a dalmatian? This article's not getting any better from here, is it?
Keep reading...
Show less