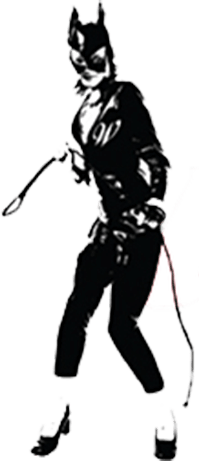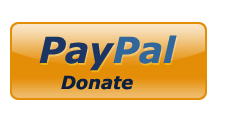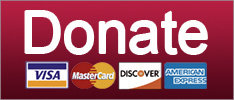 2020 presidential election
Hint: One of them is FOR and one is AGAINST!
Is Donald Trump scared of Smokin' Joe Biden? We personally avoid searching for any rational motives behind Trump's spontaneous verbal farts. However, Trump directly responded to Biden's campaign launch video from yesterday. Remember, there are 20 Democrats running for president and almost all of them have stated that Trump is a racist embarrassment, unfit to govern a country that still leads the world in Avengers movies. How did Biden provoke the sundowner in chief? He attacked the president's horrific handling of the 2017 Charlottesville Klan-bake.
BIDEN: We saw Klansmen and white supremacists and neo-Nazis come out in the open, their crazed faces illuminated by torches, veins bulging, and bearing the fangs of racism. Chanting the same anti-Semitic bile heard across Europe in the '30s. And they were met by a courageous group of Americans, and a violent clash ensued, and a brave young woman lost her life.

And that's when we heard the words from the president of the United States that stunned the world and shocked the conscience of this nation. He said there were 'some very fine people on both sides.' Very fine people on both sides?

With those words, the president of the United States assigned a moral equivalence between those spreading hate and those with the courage to stand against it. And in that moment, I knew the threat to this nation was unlike any I had ever seen in my lifetime.
No wonder Trump's pissed. He's committed at least a dozen more racist acts since then. He's referred to brown nations as "shitholes" and separated families at the border. His actual policies directly resulted in the deaths of two children. Why is Biden criticizing his "Hard Day's Night" period when he's already moved on to "Sgt. Pepper"?
This morning, Trump defended his racist statements -- the ones from 2017, about Charlottesville, if you're trying to keep track. We think it's weird that Trump let Biden control the conversation. Most Republicans at the time supported Trump's Charlottesville response, because most Republicans are terrible. Maybe Trump wants to let his faithful deplorables know he's still got their back and they shouldn't pay attention to the other incredibly old white man behind the curtain.
Keep reading...
Show less
Conspiracy Theories
Mueller Report DEFINITIVELY debunked that he was behind the email hack, but what are 'facts' to Fox and Wikileaks?
The Mueller Report pretty conclusively disproved the rightwing (and left!) Wikileaks-Seth Rich conspiracy theory. That was where Sean Hannity and a few DemExit dead-enders agreed that the 2016 leaks of DNC and Clinton campaign emails came not from a Russian hack, but from Seth Rich, a data guy who worked at the DNC -- until he was murdered in a botched DC street robbery or, according to the conspiracy theory, by Hillary Clinton.
But as the Mueller Report showed, Rich was murdered four days before Julian Assange even got his hands on the hacked DNC data, and Assange continued to communicate with his (Russian) hacker sources long afterward. As our Robyn pointed out in the link above, that hasn't slowed down the crazies in the conspiracysphere a single bit, because after all they have never been susceptible to liberal plots like evidence and logic. But how about the far more high-profile organizations like Fox News and Wikileaks, "journalism" home to Julian Assange himself? Now that they've been proven wrong -- Assange himself had a tendency to strongly hint multiple times that Rich had been murdered after leaking the data to Wikileaks -- we bet they're just all kinds of embarrassed, and are in a hurry to clarify the record, because after all, they are Responsible Journamalism Outlets!
As Rolling Stone's Andy Kroll reports, there doesn't seem to be much urgency to set the record straight. Possibly because, in the wake of the Mueller Report, Sean Hannity is very busy proving what a threat to national security Hillary Clinton is. Maybe once Americans know the real truth about her email server, he can get around to un-slandering a murdered DNC staffer.
Keep reading...
Show less
Elections
It's your Sunday Show Rundown!
After Attorney General Bill "The Worst" Barr (beating Roseanne for the title) released a five-page memo and gave Trump almost a month to positively spin the Mueller Report, the real Mueller Report (with redactions) was finally released on Thursday. And despite Barr giving a pre-release preamble of bullshit, it was not good for Trump. So it was time to load Trump's attorney Rudy Giuliani into a trebuchet of bullshit and launch him into the Sunday shows to say stupid things!
Keep reading...
Show less
State/Local Politics
'How about if we just send all Democrats to jail?'
Just a little more than a month after a federal judge told Texas not to try purging its voter rolls of suspiciously brown people based on very bad drivers license data, the state Senate is back with a whole NEW load of voter-suppressing fuckery, once again in the name of fighting "voter fraud," which is exceedingly rare to start with. This time the vehicle for reducing turnout is a steaming pile called Senate Bill 9, which passed Monday and will now head to the state House. SB 9 will treat submitting "false information" on a voter registration form as a "state jail felony," even if the incorrect information is an honest error -- like writing the wrong zip code. And that's just for starters!
Keep reading...
Show less
Elections
She probably hasn't been pretending to be a progressive for the last 20 years just to Manchurian Candidate us all.
Within the last few weeks, Elizabeth Warren has churned out a number of absolutely fantastic and incredibly progressive policy ideas -- from plans for universal child care and affordable housing and breaking up big tech to plans to actually tax the super wealthy and the large corporations that are currently paying no income tax. Functionally, at this moment, they are better, more numerous and more specific than anyone else's policies. If your primary concern is what actually gets us from Point A to Point B, Elizabeth Warren is your gal.
Also, within the last few weeks, we have heard a lot about how Elizabeth Warren used to be a Republican. A fairly apolitical and noncommittal Republican who only ever voted for Gerald Ford and Arlen Specter, but a Republican nonetheless. (No, according to her, she did not vote for Ronald Reagan.)
To many people out there in social media land, whom I am far too gracious to call out as individuals, this means that she is not a real liberal or a real progressive. That she is, to revive a term, a poseur. That, hypothetically, were she to become president, she would immediately turn her back on everything she has been doing and saying for the last couple decades and suddenly, I don't know, morph into Rush Limbaugh. That she is simply not to be trusted.
In terms of people who might have room to talk in this regard, I would rank pretty high. There is almost no present-day lefty purity test that I would not have passed with flying colors when I was in elementary school in the late '80s and early '90s. This includes support for single payer health care, reparations, and gay rights and never, ever, sitting quietly while some other kid was getting bullied. This wasn't because I was magically born an incredibly authentic progressive, it was because I had a super smart and super politically and socially aware mother whom one might describe as very far left, though she prefers the term "prematurely correct."
Now, it took a lot of people -- presumably many of those "concerned" about Elizabeth Warren's past life as a Republican -- a long ass time to get to where I was when I was a child. Lots of people who are now saying, at least in their delightful conversations in my mind, "Wow, Robyn, you were right all along! Health care is a human right, labor rights are totally important, and it is very weird that anyone ever thought that 'civil unions' made any sense to begin with." I could easily judge all of them, but this is not 9th grade and I'm not going to sneer at someone's Doc Martins because I was listening to The Ramones while they were still listening to Debbie Gibson. In the words of another '80s pop singer -- I don't care how you get here, get here if you can.
After all, it sure would be hard to get any of this stuff done by myself.
That is how I feel about Elizabeth Warren having been a Republican prior to 1996. She took a longer path? So what? She's here now and she's doing good shit. Why would I complain about that? That's good! The whole point of everything is to get people and things to change.
Rather than being concerned that her change -- for the last 20+ years -- was not truly authentic, I happen to appreciate the fact that she was convinced by evidence that her previous views were wrong. That is a good thing! Right now we have a president who could be shown all the evidence in the world that he is wrong and still stick to his story, and that is terrifying.
And jeez, haven't people ever heard the line "fire of the converted" before? People who go through the whole "Oh man, everything I thought was right my entire life was a lie!" thing tend to be really devout. They're also the ones who are going to be able to effectively persuade others while people like me are standing around being like "It sure is weird that you hate poor people so much and want them to die."
When someone tells me, "Oh, that guy acts like an asshole, but deep down he's a really good guy" or "Sure, what this one person said or did is racist or sexist, but I know they are not racist or sexist in their heart," I believe that person is full of shit. I do not believe in a "deep down," I do not believe in an "in their heart," I believe people are defined by their actions. What someone does is what defines "who they are," not the other way around. In fancy terms, this is called existentialism.
I believe the opposite is true as well. If someone does good things, they are a good person. If someone changes what they do and what they think, that is who they are now.
Let me tell you what I think, as the purest of the pure -- I do not give a flying shit who gets the shit done as long as the shit gets done. I don't care if the person getting everyone healthcare and childcare was a Republican 25 years ago. Hell, I don't care if they are a Republican right now, at this very moment. I don't care if their voice is grating or if they yelled weird one time or, frankly, whatever the hell else they have done in their lives, assuming they have not murdered or sexually assaulted anyone. And honestly, depending on the scenario, murder might not even bother me that much at this point. I could be persuaded.
Once things are not a giant garbage fire, we can talk. We can disqualify people for stupid mistakes and for things they thought 20 years ago. We can be super judgy about their voice or their dorky hair or what they eat or whether or not they gesticulate in a way someone finds off-putting, we can talk about the indefinable thing that makes you not trust them, and we can speculate wildly about how all or any of those things actually reveal that they are secretly bad in some way. Right now, we do not have that luxury, Right now, we do triage.

If you don't think Elizabeth Warren is the one with the best plan to get shit done, that's fine. Talk about what you don't like in her policies, and why you like about someone else's policies better. That is what is important right now. And if you truly don't trust her because she was a Republican 20 years ago, save that hot take for the voting booth and your own kitchen table because it is helping no one and, frankly, it makes you sound stupid.
[Politico]
Wonkette is independent and fully funded by readers like you. Click below to tip us!
Elections
Won't even let them eat the poor.
Fox News graciously invited presidential candidate Bernie Sanders onto its network for a town hall Monday night. And like your typical two-faced hosts, they ragged on their guest as soon as he'd left the building. Sean Hannity kicked off his show with a drive-by attack on "Crazy Bernie" (a mature nickname he swiped from Donald Trump) and the "radical socialist Democratic Party."
HANNITY: That was hard to watch! Bernie Sanders for two hours, wow! Gee, let's hear every communist idea we possibly can.
That's a fair criticism, we guess, from someone whose show airs between an hour of Tucker Carlson and Laura Ingraham. Sanders, by the way, is not a communist. He didn't spend two hours reading his favorite sections of "Dialectical and Historical Materialism" to the audience. He just wants to raise rich people's taxes. When an actual real live socialist is running for president, you shouldn't have to make up shit. It's like when right-wing conspiracy theorists claimed Barack Obama wasn't even born in the US. C'mon, the guy's black. Have a sense of sportsmanship.
Keep reading...
Show less
Elections
It's The Sunday Show Rundown!
Kellyanne Conway appeared on "Meet The Press" Sunday with Chuck Todd fresh off her defeat of Kirstjen Nielsen to become the top lying, conservative blonde in the Trump administration.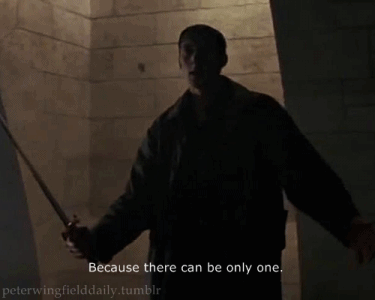 I don't like this "Highlander" Remake. media3.giphy.com
Keep reading...
Show less
Crime
Help help he's bein' repressed!
Wikileaks founder Julian Assange was arrested in London this morning after finally pissing off the Ecuadorian government -- his hosts for almost seven years in their embassy there -- one too many times. After Ecuador withdrew his asylum status, Assange was arrested by London's Metropolitan Police, who had been invited into the embassy to see the gentleman out, please, according to a statement from the coppers. The initial arrest was on a 2012 charge of skipping bail while evading arrest on Swedish rape charges (since dropped), but police confirmed Assange was also arrested a second time in connection with a warrant from the USA, and that he would face extradition.
Here's some video of the arrest from, appropriately enough, Russian propaganda outfit RT:
EXCLUSIVE: Assange arrested & escorted out of Ecuadorian Embassy www.youtube.com
He sure is playing up the whole "Help! Help! I'm bein' repressed!" thing with the tripping and foot dragging, isn't he? The Daily Beast notes Assange shouted, "The U.K. must resist!" and appeared to be holding -- title plainly visible in case anyone might miss it -- a copy of History of The National Security State, by Gore Vidal. Undoubtedly it was just what he happened to be reading when the Goon Squad grabbed him.
Keep reading...
Show less
Congress
Get ready for an even bigger flood of terrible judges.
Mitch McConnell, that salmonella-infected old turtle who's poisoned American politics ever since he vowed to block Barack Obama on everything forever in hopes of making him a one-term president, has gone nuclear and changed Senate rules to get quicker confirmations of Donald Trump's judicial and sub-cabinet nominees. We saw this coming just days ago when McConnell sobbed great big fake tears about the mean obstructionist Democrats who insisted on using the existing rules to slow confirmation of Trump's herd of idiot judges chosen by the Federalist Society and the Heritage Foundation.
The new rules voted in Wednesday cut the amount of time allowed for debate on district court nominees from 30 hours to just two hours, meaning that when the next total loser who's never actually overseen a trial of any sort comes up for approval, the moron will be approved without any troublesome opposition from Democrats. The same rules will apply to executive branch appointments for anyone below the level of the actual Cabinet, so count on a lot more faithful GOP donors and industry flunkies staffing all levels of government. Unlike legislation, which is subject to filibuster by the minority, rules changes only need a simple majority.
McConnell put on a great show of crying over how the Democrats MADE HIM DO IT:
Keep reading...
Show less