Eliot Spitzer's Hooker Forgot Their Safeword
News
December 30, 2013 08:35 AM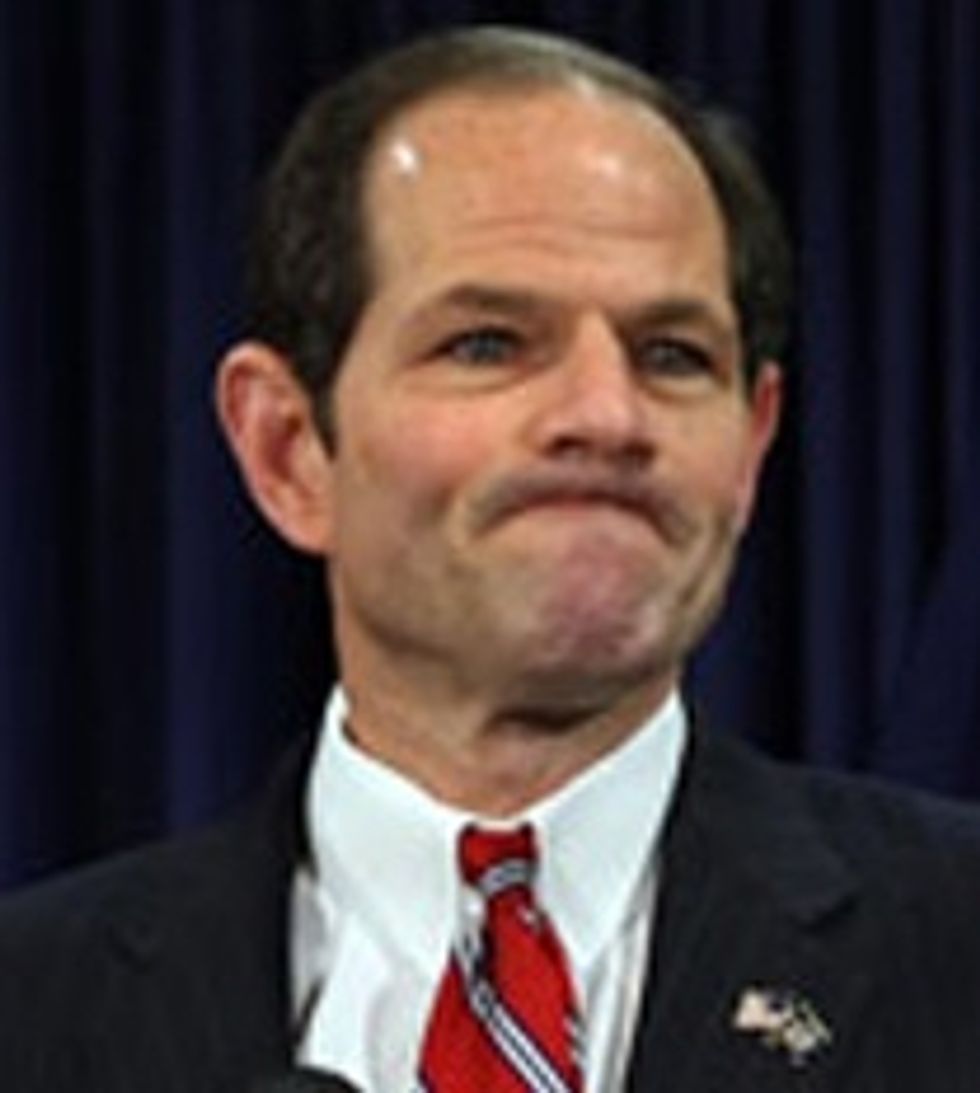 The New York Post sure does have a hard-on for Eliot Spitzer lately, which is funny because he does not actually hold any elected position, but that is not stopping them from calling for New York Mayor-elect Bill de Blasio tofire some chick for being porked by Spitzer, consensually, and without (presumably) an exchange involving cash, which we did not even cover because it was so fucking weird. Like, Andrea Peyser is sort of beyond mockery at this point, because we do not like to make fun of the mentally ill. :( Well, everyone laughed at them all week about it, like, what is even your damage, HEATHER, but now they are back with more, and at least this one has some sort of relevancy to something we guess, and that relevancy is that there is a hooker and she is saying way worse things about Eliot Spitzer than that he didn't like to take off his socks. She is saying, in fact, that he liked to choke her, and we think we are supposed to be very OUTRAGED by this? (Spoiler: we are not very outraged by this.)
---
In her new book, Call Girl Confidential: An Escort's Secret Life As an Undercover Agent (well, an undercover agent for the DA), Rebecca Woodard (writing as Rebecca Kade) says Eliot Spitzer wanted her to fight him off, and he choked her and stuff, AND THEY DID NOT EVEN HAVE A SAFEWORD. That is some amateur hour bullshit, Rebecca Woodard and/or Kade. You are a call girl. You are supposed to know that when someone wants to get rough, you are supposed to have a safeword. That is on you.
(Our safeword is "safeword.")
"It got rough," she writes. "And then he put his hands around my throat, strangling me.

"He wasn't pretending to be a rapist. But he was like an attacker. I still had my lingerie on. He was naked. He was aroused," she writes. [...]

"It was I who was taking control of him initially," she writes. "I felt really stupid at first. But then I got it. I'm pretty strong. I think he was gauging my strength."

Spitzer then wrested control.

"I didn't feel I was acting after a while," she recalls of starting to struggle for real.

"I remember holding his wrists, him pushing back, me trying to hold my stance, and then we moved to the bed. My clothes came off in the fray," she writes.

"It was all about restraint and holding me down until I was nearly helpless. He really put on a lot of pressure, pinning me to the bed," she writes.

"It takes a lot to scare me. I've been through a lot. But at this point I was starting to get worried . . .

There was no 'safety code word,' and Spitzer ignored her pleas that he stop, halting the attack only when he was sated," she said.

"He never said, 'I'm sorry, are you OK?' " she recalled. He did leave her a big, undisclosed tip.
Oh for fuck's sake. Waaah back atcha lady. No Whore Diamonds for you. In case you were wondering, whining about consensual rough sex which she knew would be rough and for which she got paid, is not Woodard's first lapse in manners and judgment. She also had a baby with the singer of the Spin Doctors. Gross.
[NYPost]
Rebecca Schoenkopf
Rebecca Schoenkopf is the owner, publisher, and editrix of Wonkette. She is a nice lady, SHUT UP YUH HUH. She is very tired with this fucking nonsense all of the time, and it would be terrific if you sent money to keep this bitch afloat. She is on maternity leave until 2033.