Enjoy Your Global-Warming-Delayed Autumn With Delicious Southern Tomato Pie!
Culture
October 01, 2016 02:00 PM
Summer is over, at least in most of the USA. And that means we're going to change our menus. Heartier fare. Stick-to-your-ribs comfort food to keep us warm. More soups, things made from various gourds & root vegetables, more casseroles, things like that. But not quite yet, here in the Deep South! So, before the low temperatures drop down into the chilly 70s, here's a summertime favorite, to say goodbye to those toasty days. Suck it, all you Yankees already dealing with frost! HAH!
---
This is how I make TOMATO PIE. And you should, too.
Drinkage. This is Southern as all shit, so Sweet Tea would be appropriate -- except that we want to get our drink on, so, we're going above the Mason Dixon-Long Island Ice Tea (recipe to follow. Eventually). How many? Well, that depends. Do you want to remember this particular occasion? If yes, then one. If no, then three. Or four, we don't even care! You're covered.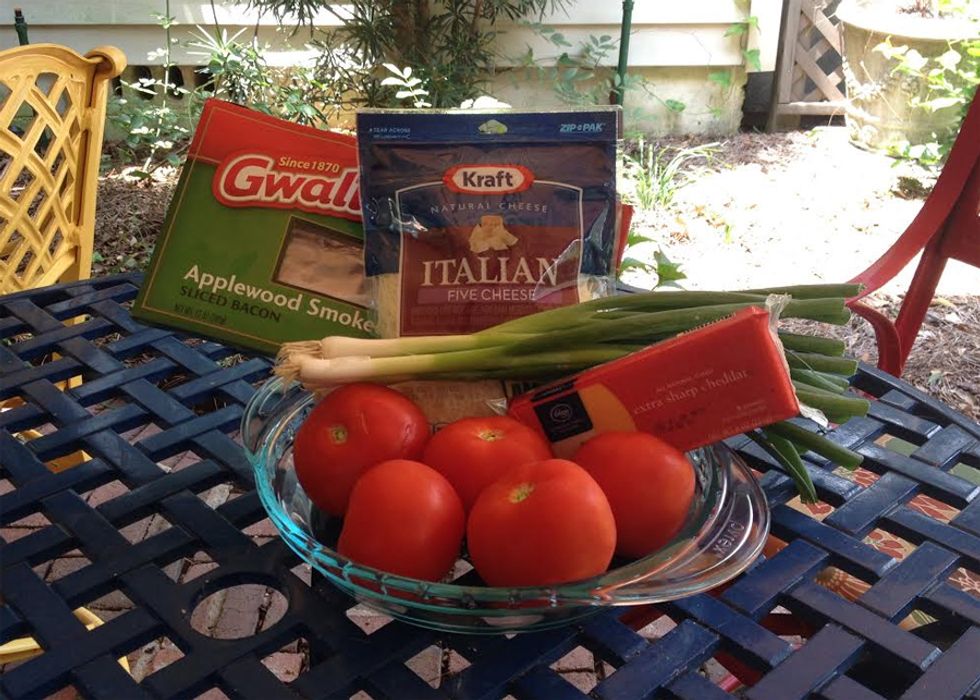 WHAT YOU NEED:
4 tomatoes (maybe 3, if they're big. Maybe 7 if they're comparable to Trumplethinskin's hands)
10 fresh basil leaves
6 slices of bacon, cooked and crumbled
1⁄2 cup green onion
1 cup mozzarella cheese
1 cup cheddar cheese
1 cup mayonnaise
salt and pepper
1 pie crust. Something flaky -- use your favorite recipe. I'm a poseur, so I buy mine. Deal with it!
A cutting board, a tomato knife, another knife or two, probably a grater, a pie plate, one cookie sheet, a shitload of paper towels. A cooling rack. I think that covers it. But MAYBE NOT! If you need something else, figure it out as you go along. Oh yeah. An oven is probably a good idea.
WHAT TO DO WITH WHAT YOU NEED:
Blind bake the pie crust.
Peel the tomatoes*.
Chop up the green onions and basil leaves.
Slice the tomatoes about 1/8 - 1/4 inch thick. Thinner is better!
Lay the tomato slices on paper towels on the cookie sheet. Sprinkle with salt and allow to drain for 30 minutes.
Grate the cheeses, combine with the mayo, mix in the crumbled bacon..
Put a thin layer of the cheese/mayo mixture in the pie shell. Layer the tomato slices/basil/bacon/onion/cheese mixture into the pie shell until full. Season with salt and pepper as you go.
Bake at 350 F for 30 minutes, until lightly browned.
Remove from oven, let cool for AT LEAST 30 minutes.
To serve: cut into slices and serve warm. On the verandah.
* The quickest, easist way to acomplish this is to parboil them. Bring a big pot of water to a boil, submerge the tomatoes in the boiling water for 30 - 90 seconds then dunk in an icewater bath. The skin will slide right off.