Eric Trump Knows Daddy Wouldn't Nepotism Him If He Wasn't Such A Good Boy
News
April 05, 2017 01:30 PM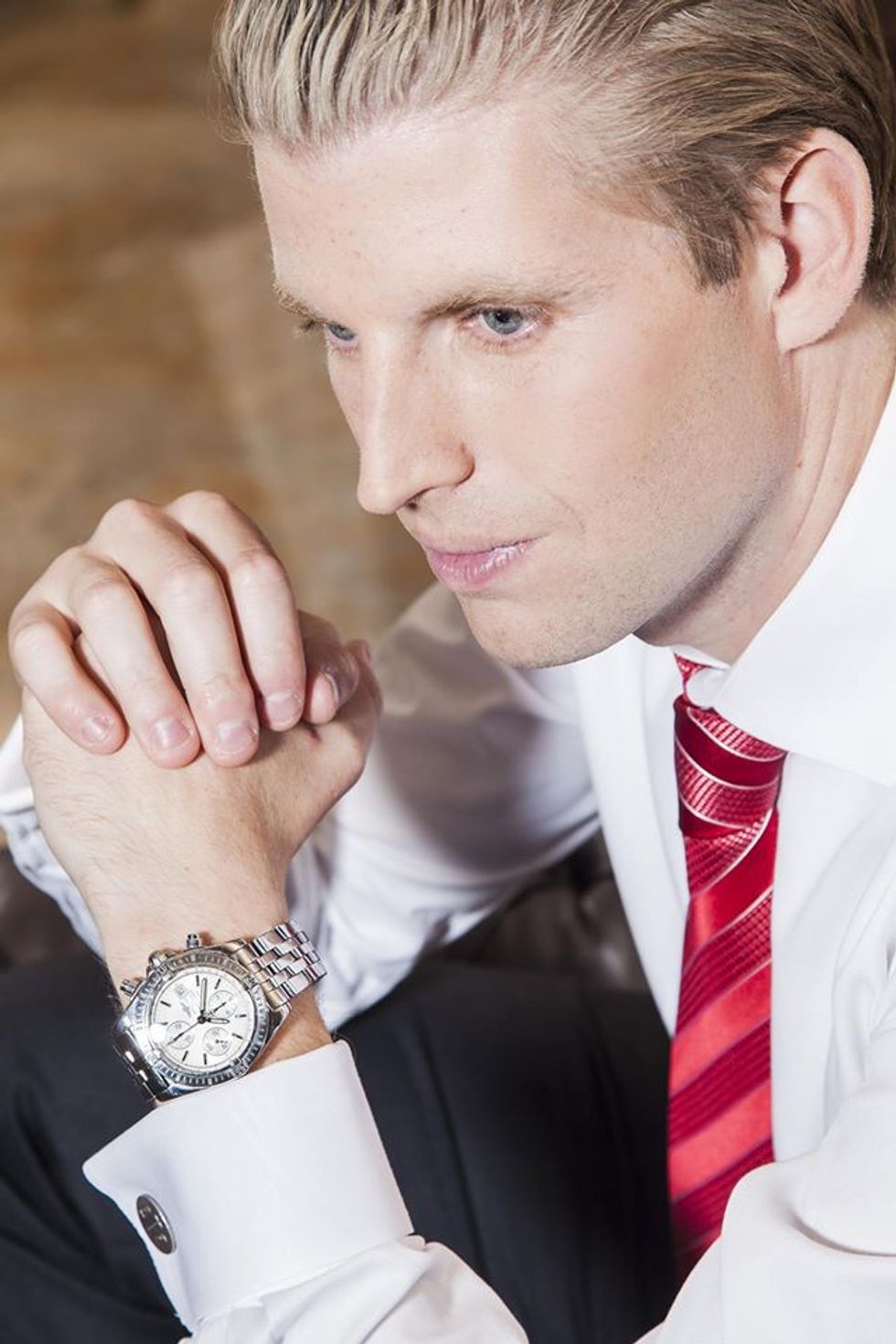 This guy.
---
Of the three adult Trump children who aren't off Tiffany-ing around somewhere, Eric Trump is not EVER the one that comes to mind when you try to figure out which Trump is "The Smart One." We were only mildly poking fun at him when somebody sent him some powdered lemonade in the mail and he queened out thinking it was TERROR POWDERS. It could have been, after all, lemon-flavored TERROR POWDERS. We were more for real making fun of him when he said wages in U.S. America have been stagnant for 15 years because of the one billioneleventy million few thousand Syrian refugees we've admitted to the country. And we were downright LOL giggling when he said his dad ran for president because America's not allowed to have Christmas trees in the White House no more. (There's always been a Christmas tree at the White House, and it's called a Christmas tree.)
Those are just a few things to keep in mind, as Eric Trump explains to us that nepotism, like the kind that has provided careers to him and his siblings, is no big deal, and besides, if they weren't all so BAD-ASS, then Daddy for sure wouldn't nepotism them anymore:
"Nepotism is kind of a factor of life," said Eric Trump, sitting in an office on the 25th floor of his father's famous Trump Tower, just down the hall from his brother Don Jr. "We might be here because of nepotism, but we're not still here because of nepotism. You know, if we didn't do a good job, if we weren't competent, believe me, we wouldn't be in this spot."

His father would make sure of it, Eric Trump said. "He's a guy, no matter where it is, he expects people to perform. And if they're not performing, he kind of encourages them to go on their way. You know the one thing, Don, Ivanka and I never let him down really in any factor of life. And I think it's one of the reasons that we're as innately close as we are."
Not to be picky, but if they are "innately close," that means "naturally" or "inborn," which would mean the relative competence of the assorted Trump spawn would not be a factor. We guess being good at words isn't one of the factors Daddy looks at when he decides whether to keep doing nepotism to somebody. Young Eric does offer that he doesn't think his dad would have trusted him and his brother the animal murderer to run his companies four years ago, so we guess they had Room For Growth, as they say in the corporate world.
While we're on the subject of Trump nepotism, let's check in with the others!
Anyway, this is all normal and fine, because now we know these folks only receive their daily bread of nepotism because they are so fucking brilliant, and Daddy Trump would know, because he picks the best people.
Wonkette is funded by readers like you. If you like this post, click below to fund us!
[Forbes]
Evan Hurst
Evan Hurst is the managing editor of Wonkette, which means he is the boss of you, unless you are Rebecca, who is boss of him. His dog Lula is judging you right now.
Follow him on Twitter RIGHT HERE.