Even Your Favorite Chips Come In Homo Gaysexual Lesbian Rainbow Flavor Now
Featured
September 18, 2015 08:45 AM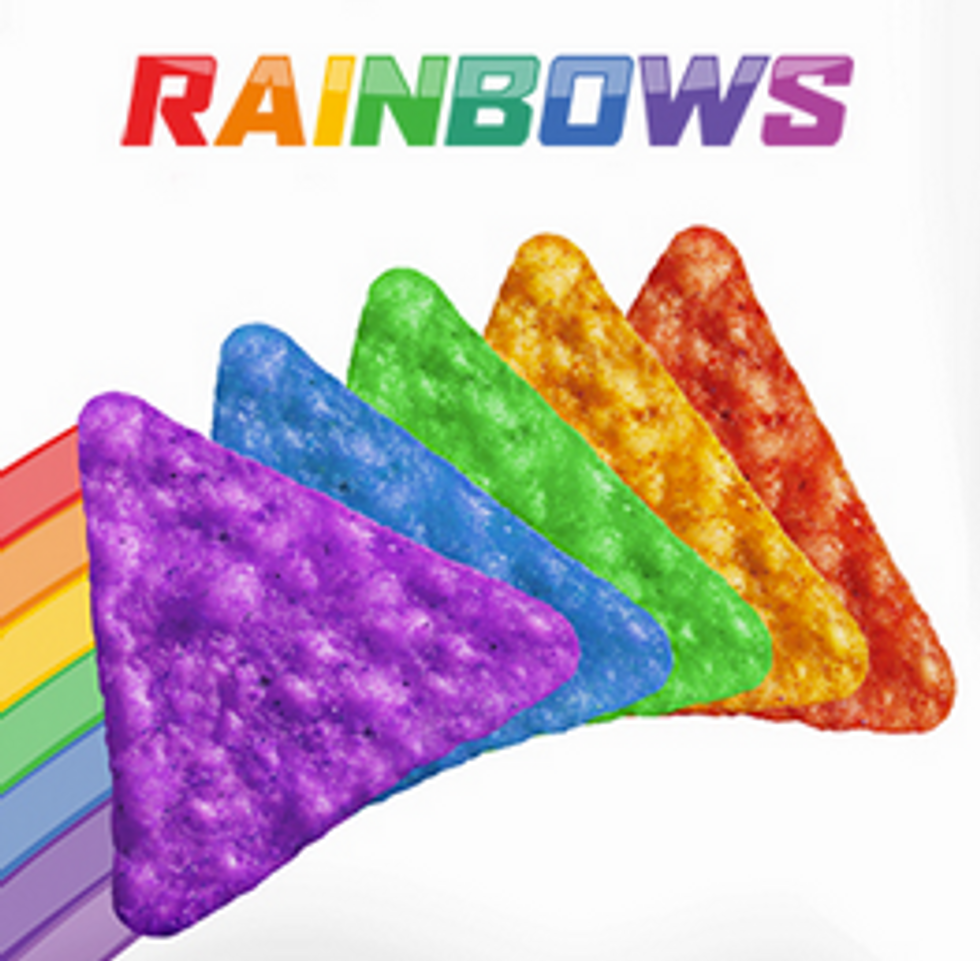 Good for a cause, though not for your ass
---
BREAKING NEWS FLASH SIREN ALERT TRIGGER WARNING DEFCON 69! Look what is being crammed down your throat now! It is what used to be your favorite snacky treat, from the makers of all those Cool Habanero Nacho Fiery Ranch Doritos chips, so delicious! Except now they come in GAY, so if you are the kind of closeted cock-snuggling Bigot-American who enjoys boycotting brands -- like the Rose Parade, or Honey Nut Cheerios, or Chipotle, or Wells Fargo, or Google -- when you learn they don't hate the same people you do, you're going to want to stop stuffing your face RIGHT NOW:
Doritos is producing rainbow-colored chips in partnership with nonprofit It Gets Better.

Doritos Rainbows are a limited-edition version of its Cool Ranch-flavored tortilla chips to show the chipmaker's support of the LGBT community.
You can buy your gay chips online, RIGHT HERE, in all the gay colors of the gay rainbow, and Doritos will give ALL THE MONEYS to It Gets Better and even pay for shipping and everything. Awww, that is so nice of you, Doritos! For The Gays, that is. It is not so nice of you for all the people who are hurt, in their butts, because when they go onto the internet to log in to their favorite cheating-for-marrieds website, they might accidentally go to the special Gay Doritos website instead and accidentally order the Gay Doritos, and accidentally send their money to The Gays, and then Jesus will cry and say, "Why don't you love me anymore, in a not gay way?" OH NO, how could you do that to Jesus?
Twitchy has already alerted its flying monkeys about this latest attack on traditional snack foods, although in a rather half-hearted way, like even Twitchy knows your revolution is over, Mr. Lebowski! Condolences! The bums lost! The bums will always lose, do you hear me, Lebowski? THE BUMS WILL ALWAYS LOSE!
Or maybe Pat Sajak has not tweeted a SICK BURN about it yet.
Still, the commenters are mad, bro, because how come the gays get to have their own Gay Chips, when they already got their own gay marriage? UNFAIR. Where are the special un-rainbow chips for hetero-buttsexers, HUH?
Dead Breitbart's Internet Home For Coke-Fueled Rage Warriors is also mad, bro, that traditional values tortilla chips have teamed up with the project started by mean homo-bully Christian-persecutor Dan Savage, to tell gay kids their lives will Get Better despite closet-case cock-gobbler jerk splooges like the disciples of Breitbart's Ghost:
The rainbow color of the Dorito [sic] chips represent the LGBT rainbow flag, a symbol now widely seen as one of anti-Christian hate and bigotry.
Pearl-clutching time! Dorito [sic] chips are now waving the flag of anti-Christian hate and bigotry. If you refuse to accept that it is a flag, not of hate but of heritage -- of buttscissoring and fabulous parades -- maybe you will have to refrain from eating the gay Dan Savage anti-Christian Dorito chip. Shucks, guess freedom is dead in America now. Again.
Also, Breitbart word-typer John Nolte is OUTRAGE ANGER-BEAR MADFACE at Doritos, and the whole world, because "Savage has demanded Republican presidential contender Ben Carson to 'suck his dick.' He's demanded the same from Republicans Herman Cain and Mike Huckabee." Where is Nolte's invitation to suck Dan Savage's dick, HUH? HUH?!?! Maybe he wants to suck on Savage, but Dan never writes back to his perfumed love letters, we guess.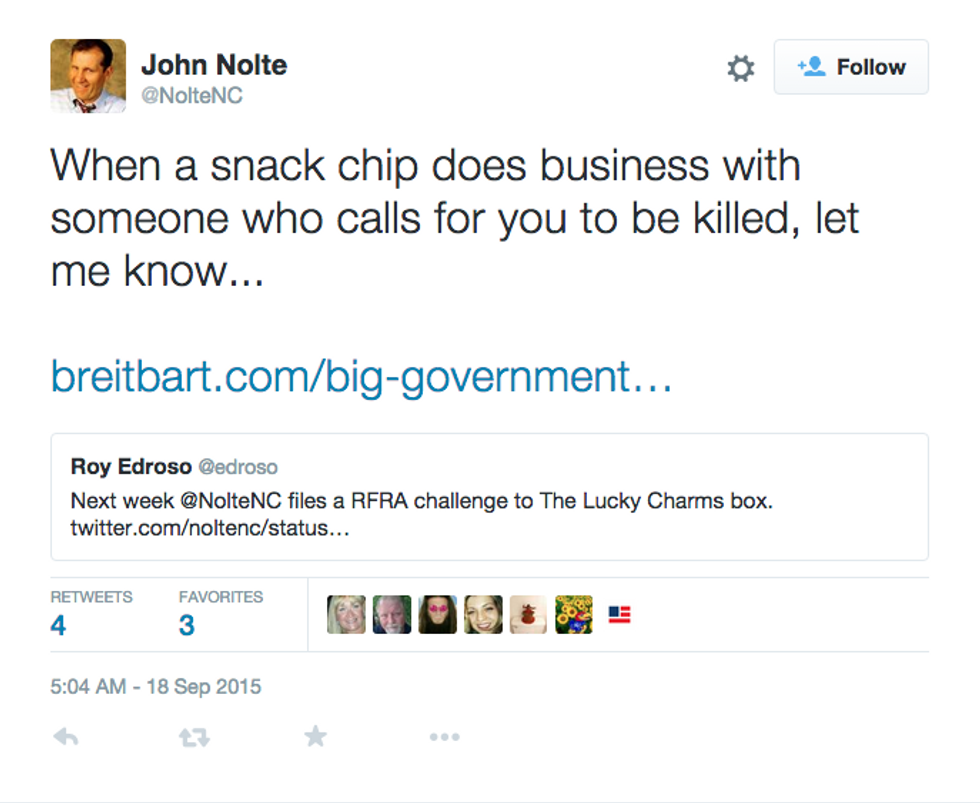 If you are wondering if boycotting is right for you, JoeMyGod would like to remind you that "Doritos is owned by Frito-Lay, a wholly-owned subsidiary of PepsiCo," so good luck trying to avoid all those delicious products you love to gobble and gulp down your throats, HAHAHAHA.
Yr Wonkette does not typically indulge in Cool Ranch-flavored crack because mmm, this bowl of kale is almost as good, and also Michelle Obama is watching, but if you like to, as a rare and special treat, munch Cool Ranch Doritos, maybe while you are high -- for a friend, of course -- may we suggest, for this limited time only (sorry, Mrs. Obama), you do so by purchasing your treats RIGHT HERE, for a good cause, for The Gays, and for America, and for maybe a personal invitation to suck Dan Savage's dick!
[Yahoo News via JoeMyGod / Brietbart]