Evil College Kids Force Bachmann Into Hiding With Funny Signs
News
October 05, 2011 01:25 PM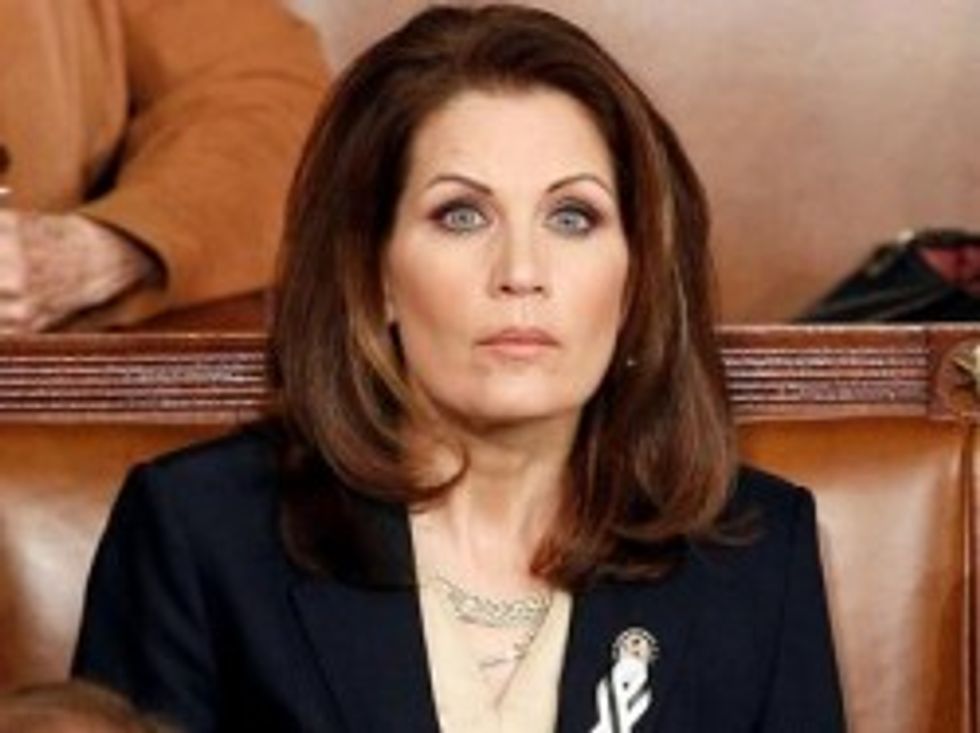 Reliable comic relief generator Michele Bachmann (which is theonly way she is reliable) has exactly one mode when confronted by peaceable handfuls of voters that she perceives as being against her whackjob right-wing viewpoints: FLEE AND CALL THE POLICE. A small horde of Grinnell College student-barbarians showed up to one of her campaign events to mill around with funny signs like "John Wayne Quincy Adams -- Our Greatest Forefather," but rather than get anywhere near their evil librul AIDS germs, she hid in her bus, cancelled the public event entirely and made the cops show up. This is so much like the response she had that one time when a couple lesbians tried to approach her for a policy chat that it makes us wonder (strictly rhetorically): if you dropped Michele Bachmann from a helicopter into the middle of Zuccotti Park, would she just explode into a million tiny curio keepsake Bibles? That is our guess.
---
From the Des Moines Register:
But the event's 5:30 start time came and went with no sign of the candidate after the event space filled up with college students, some carrying signs. Bachmann ended up not appearing until about 6:40 – after a truck from the Poweshiek County Sheriff and two police cars arrived on the scene and officers cordoned off part of the farm with police tape.

Rather than speaking publicly from the barn – which was festooned with Bachmann campaign posters and clearly arranged for her to speak – Bachmann met with Family Leader donors privately in a house on the property and then took a short walking tour with farm owners Danny Carroll – a former state lawmaker – and his wife.

The students, meanwhile, stood behind the cordon waving signs supporting gay marriage and playing on misstatements the candidate has made. They clapped rhythmically and yelled questions and entreaties in Bachmann's general direction.
And then Michele sent all of these students to be waterboarded by Jesus and St. Paul at Gitmo for a thousand years, in her mind. [Des Moines Register]