Joe Biden Sorry Not Sorry He Said Facebook Was Killing People
Tech
July 20, 2021 10:11 AM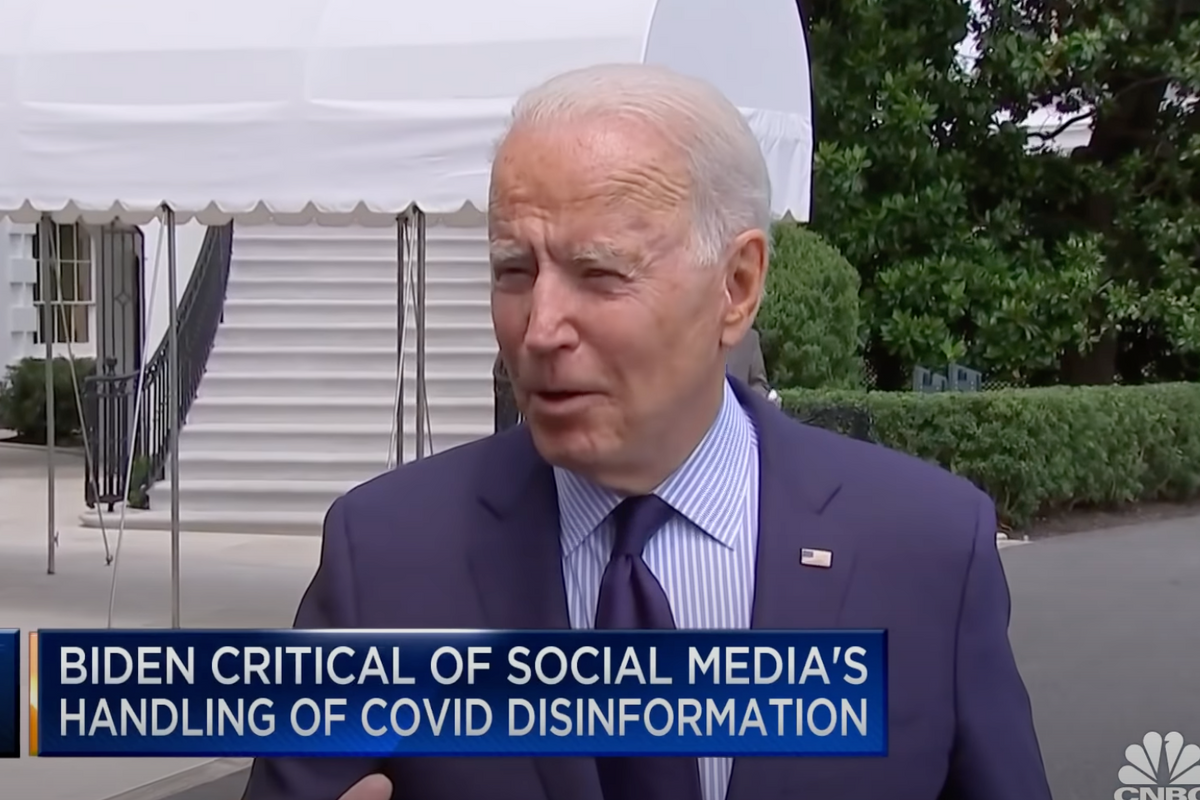 Facebook got up in its feels last week when President Joe Biden (correctly) noted that the platform was "killing people" by allowing everyone's crazy uncle to spread disinformation about the COVID-19 vaccine.
"They're killing people," [Biden] said. "Look, the only pandemic we have is among the unvaccinated, and that — and they're killing people."
White House Press Secretary Jen Psaki had been more measured at an earlier briefing, but the point remained. Facebook was enabling vaccine disinformation "that is leading to people not taking the vaccine, and people are dying as a result." QED = RIP.
Facebook quickly clapped back through company spokesperson Dani Lever, who declared: "We will not be distracted by accusations which aren't supported by the facts." The facts however show that while Facebook has made some superficial attempts at promoting vaccine use and cracking down on anti-vaccine content, a great deal of garbage still gets through.
Between May 2019 and May 2020, nonprofit organization Avaaz found that Facebook saw a whopping 3.8 billion views on health misinformation on the platform, including on false claims about vaccines that went unflagged by Facebook fact-checkers. The Center for Countering Digital Hate, which has researched the anti-vaccine industry on social media, told Recode it found that, between March 2019 and December 2020, members of anti-vaccine groups on social media grew from just over 650,000 to just under 800,000 members — a more than 20 percent increase. Between the end of 2019 and 2020, the group also found that the number of followers of anti-vaccine accounts grew by at least 1 million people on Facebook and 4 million on Instagram, based on accounts CCDH tracked.
---
This isn't a new problem. Pro-vaccine advocates had sounded alarms about anti-vaccine content on Facebook and Instagram well before the COVID-19 pandemic. Ethan Lindenberger, a 20-year-old vaccine advocate, said that Facebook groups convinced his mother not to vaccine him as a child against illnesses such as measles. Facebook groups are often safe spaces for ignorance. The members share personal horror stories about how vaccines hurt their kids, and this is taken as firsthand information. (You could imagine an updated version of Rosemary's Baby where the coven operates openly as a Facebook group.)
Yes, Facebook banned advertising with vaccine misinformation, but it still allowed ads to push "opposition" to vaccines. Spokesperson Lever has claimed that "reducing the distribution of false information" is a priority, but a study by the Center for Countering Digital Hate revealed that "of more than 500 anti-vaccine posts reported to Facebook by volunteers as misinformation, less than 6 percent were eventually removed or flagged by the platform."
Last week, Psaki also cited a statistic from the Center for Countering Digital Hate that claims 12 people produce 65 percent of antivaccine misinformation on social media. The so-called "disinformation dozen" remain active on Facebook, usually through creative workarounds. For instance, in videos, someone might hold up a "V" sign instead of saying the dreaded word "vaccine." Perhaps the most sinister tactic is to misrepresent and distort otherwise true facts to promote their narrative. House Reps. Marjorie Taylor Greene and Lauren Boebert have each claimed COVID-19 vaccines aren't "FDA approved," which is technically true but ignores that the FDA provided emergency use authorization. The implication is that the vaccine is some "experimental" drug and less safe than catching COVID-19, both of which are false.
Our so-called leaders are a major driver of antivaccine disinformation, which speaks to a point conservative and Canada native David Frum made recently: "There's Facebook in Canada too, but Canadians are getting vaccinated." Canada's vaccination rate has surpassed the United States' as Americans remain free to die from a preventable disease.
When Twitter placed Greene in a 12-hour penalty box for spreading vaccine misinformation even dumber than usual, the pride of Georgia immediately posted a video on Facebook about how Big Tech was censoring her. (Irony is beyond her comprehension.)
"They have been censoring conservatives for far too long. Our voices are the voices that they want to cancel and we are experiencing being canceled every single day," Greene said
So much wisdom that "Big Tech" is keeping from the common people.
Vaccine resisters continue to cry censorship if social media doesn't let them spread lies on private platforms. This does put Facebook in a tough spot (not that you should ever feel sorry for the company) because the Right will attack any effort Biden's White House makes to slow the spread.
The president softened his rhetoric Monday, while subtly suggesting Facebook stop being a bunch of babies.
BIDEN: My hope is that Facebook, instead of taking it personally that somehow I'm saying Facebook is killing people, that they would do something about the misinformation — the outrageous misinformation about the vaccine.
People who claim to be free speech absolutists would argue the White House should focus more on countering misinformation on social media with accurate information instead of using its free speech to criticize anyone. But it's too easy for anti-vaccine Facebook users to avoid the truth and wallow in falsehoods. We might also have to accept the reality that Facebook, as it currently exists, is beyond redemption as a constructive good.
[New York Times / Recode]

Follow Stephen Robinson on Twitter.
Keep Wonkette going forever, please, if you are able!
Stephen Robinson
Stephen Robinson is a writer and social kibbitzer based in Portland, Oregon. He writes make believe for Cafe Nordo, an immersive theatre space in Seattle. Once, he wrote a novel called "Mahogany Slade," which you should read or at least buy. He's also on the board of the Portland Playhouse theatre. His son describes him as a "play typer guy."