Failed Republican Windbag Karen Handel Self-Aborts From Komen
News
February 07, 2012 01:05 PM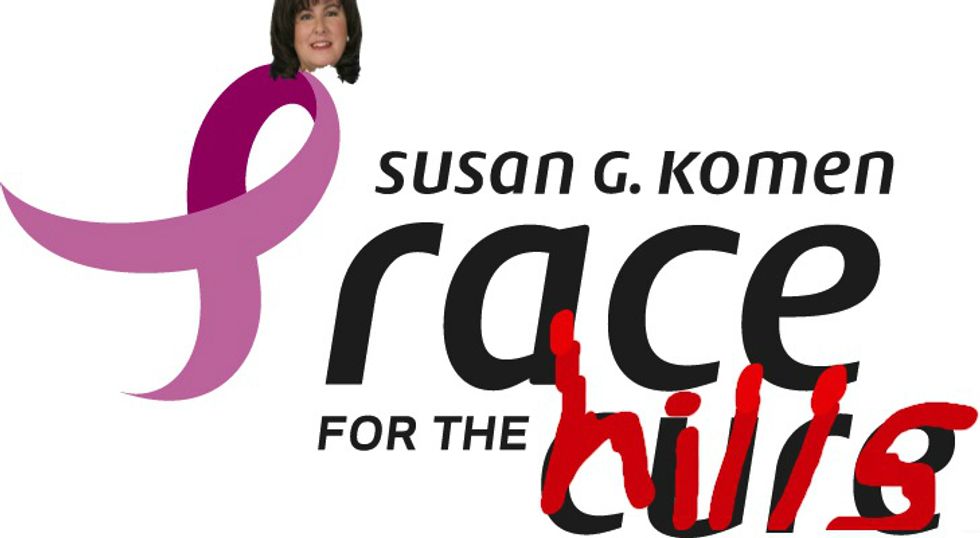 A week after 100-percent prime Republican Karen Handel and her completely non-ideological money thing that "best" "serves" women decided to cut its funding to Planned Parenthood because it was "under investigation" by crazies, and then undecided to once more, Handel announced her resignation Tuesday as senior vice president of public affairs in a terribly rude missive of the kind that suggests this zygote-loving failed politician did not want to go gently into obscurity/a night of passion with Meg Whitman. "I am deeply disappointed by the gross mischaracterizations of the strategy, its rationale, and my involvement in it," Handel said, spoken like a true loser politician.
---
Handel said discussions about cutting funding to Planned Parenthood began before she joined the foundation last year, and then became Reality once she, pro-lifer and one-time wannabe Republican governor of Georgia (she lost to Governor Nathan Deal, also a Republican, in a phenomenon known as Palin's Razor), showed up. "Neither the decision nor the changes themselves were based on anyone's political beliefs or ideology." Sure sure. But the funny part about that is that when the foundation reversed its decision last week, it said:
Our original desire was to fulfill our fiduciary duty to our donors by not funding grant applications made by organizations under investigation. We will amend the criteria to make clear that disqualifying investigations must be criminal and conclusive in nature and not political. That is what is right and fair.
Somewhere, zygote charm bracelet-wearing chatty jackass Rick Santorum is holding a candlelight vigil for all the people who made the machines that made the money that is paying for the 750,000-per-annum breast cancer screenings that Planned Parenthood funds, and which it got lots more money to fund when this whole debacle went pleasantly viral. [AP]