Felon Ex-Congressman Michael Grimm Can't Believe Trump's Goddamn Hands Are So Fucking Huge
Elections
October 27, 2017 04:39 PM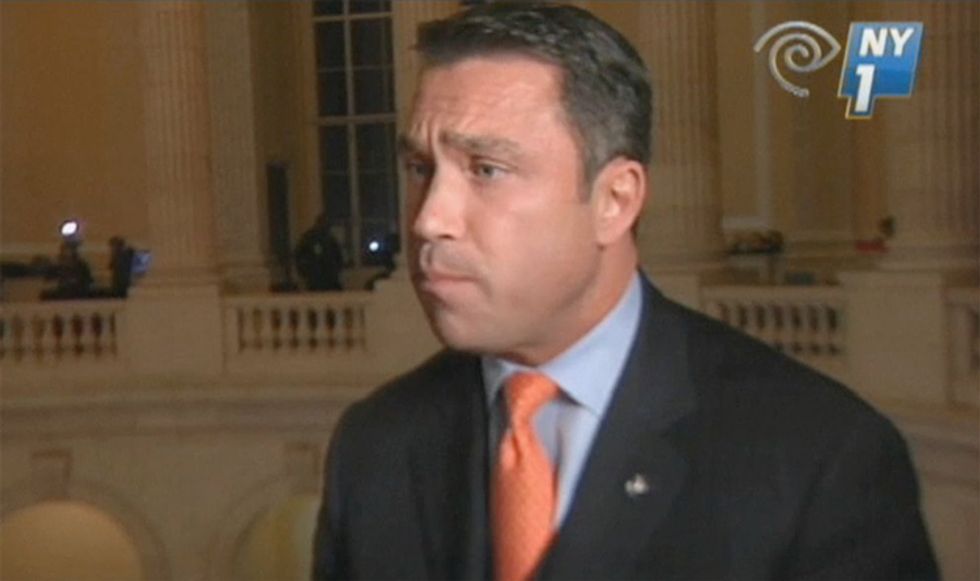 'His hands could break me in half. Like a boy.'
---
Michael Grimm, the ex-convict New York congressman who had to leave the House of Representatives after pleading guilty to felony tax evasion in 2014, has returned to politics with the endorsement of Steve Bannon, who isn't picky. And Grimm is doing what he can to prove he's the greatest MAGA suckup since Trump's cabinet played out the opening scene of King Lear that one time, telling the president how grateful they were to have him not just as their president, but as their boss, Amen. In an interview with New York magazine's Olivia Nuzzi, Grimm did his very best to get the article included in the daily folder of flattering clippings Trump's staff hands him.
Indeed, one might even get a subtle hint from Nuzzi that she knows precisely what Grimm's up to. Grim admits he's only met Trump a few times, but gosh, did Trump ever make an impression, and could you please include this in your magazine piece nice journalist lady?
But his impression of Trump, he told me, was a lasting and positive one -- so positive, in fact, that if the president were the kind of person who paid close attention to his press coverage, he might come across Grimm complimenting him effusively. "I remember saying to myself, I never realized what a large man — I mean stature-wise, he's a big man, with massive hands," Grimm said, outstretching his own regular hands above the table.
Mission Accomplished! Michael Grimm doesn't at all come off sounding like a sycophant here, no, not at all!
"I don't have small hands, but when I shook hands with him, the first time I shook hands with him, I realized he was a big man." He sensed my skepticism. "He is!" he said, defensively. "I thought they were pretty big. You don't think so? I thought he had a big, strong grip. I'm dead serious." He went on about how Trump is "a pretty big guy" and "not a small man even for his height" and how his hands were "more like a workman's hands" than those of "a CEO."
Uh-huh, do go on, won't you?
Hey, man, you don't talk to Mr. Trump. You listen to him. The man's enlarged my mind. He's a poet warrior in the classic sense. I mean sometimes he'll... uh... well, you'll say "hello" to him, right? And he'll just walk right by you. He won't even notice you. And suddenly he'll grab you, and he'll throw you in a corner, and he'll say, "Do you know that 'if' is the middle word in life? If you can keep your head when all about you are losing theirs and blaming it on you, if you can trust yourself when all men doubt you"... I mean I'm... no, I can't... I'm a little man, I'm a little man, he's... he's a great man! I should have been a pair of ragged claws scuttling across floors of silent seas...
Nuzzi eventually got Grimm to talk about something other than the president's hands, but as she was ending the interview, Grimm was at it again:
What are they going to say about him? What? Are they going to say he was a kind man? He was a wise man? He had plans? He had wisdom? Bullshit, man!
And now is the time on Wonkette when we dance!
Yr Wonkette is supported by reader donations. Please click here to send us money. Don't you miss it, don't you miss it. Some 'a you people just about missed it!