Ferguson Goes Nuts Again, It's All Jake Tapper's Fault
News
August 19, 2014 10:42 AM
If you were watching cable teevee Monday night around 11 ET, you got to see a completely baffling sight. After several hours of peaceful protests, police suddenly took up defensive positions -- "a wall of law enforcement officers 60 wide and five deep," asNBC News put it -- that seemed to come virtually out of nowhere. On CNN, Jake Tapper expressed the basic what-the-fuckness of the situation as well as anyone:
---
"Nobody is threatening anything," Tapper said a little after 11 PM ET. "Nobody is doing anything. None of the stores here that I can see are being looted. There is no violence."

Then Tapper directed his camera towards the police force. "These are armed police. With machine -- not machine guns, semi-automatic rifles, with batons, with shields, many of them dressed for combat. Now why they're doing this, I don't know. Because there is no threat going on here. None that merits this."

He continued to compare the scene to Afghanistan. "There is nothing going on on this street right now that merits this scene out of Bagram. Nothing. So if people wonder why the people of Ferguson, Missouri are so upset, this is part of the reason. What is this? This doesn't make any sense."
At one point (about 1:54 in the video), Tapper responded to a protester who was yelling something about the media to him, "Yes. It's my fault. It's my fault." We aren't sure if that was unprofessional, but we're kind of in love with him for that.
Police later said that they had come under "heavy gunfire," which wasn't apparent on television; livestream indie journo Tim Pool caught some good scary footage with audio of gunshots, though it's difficult to see what's going on (video cuts to Vice News logo after a few minutes, then continues):
There were also reports of Molotov cocktails, and while those devices also didn't make any TV appearance either, the St. Louis County PD tweeted a photo of an unlit Molotov cocktail they said they'd seized: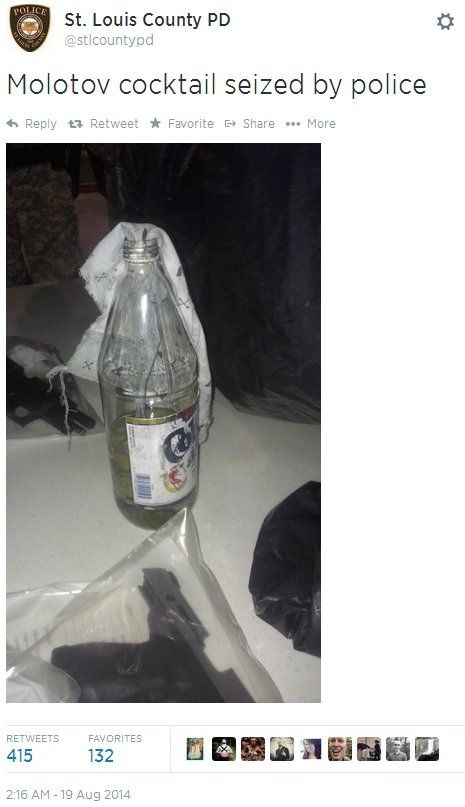 Does it make us Alex Jones-style conspiracy theory loons if we just assume anything the St. Louis County PD says is pure crap? Maybe it does. Still, a malt-liquor bottle? Really? If it is real (and it may be!!!), then we'd just like to ask that Ferguson's troublemaker community be a bit more sensitive to how they may be perpetuating negative stereotypes, for godssakes. And pull up your pants, you delinquents.
Missouri Highway Patrol Capt. Ron Johnson, who's still in charge of the -- we almost wrote "troops" -- police response in Ferguson following the deployment of the National Guard to protect the police command center, also said that police did not fire back; in addition, he said that two men in the crowd were taken to the hospital after being shot but that they had not been shot by police.
Also worth a look, this tools-of-the trade piece on how reporters are learning to cover Ferguson, if you like Inside Baseball, and yes, we're a sucker for a good Tim O'Brien reference:
The intensity of the situation is illustrated by the things reporters carry — not just notebooks and cameras, but flak jackets, helmets and gas masks. On Monday, The Washington Post, following the lead of other news organizations, began outfitting its employees with gas masks, purchased at a chain hardware store. Post photographers are among those equipped with an accessory familiar to war correspondents: a blue bulletproof vest emblazoned with the word "PRESS."
Sure, it's more than a little self-important, and no, Ferguson is not The 'Nam, Walter. But it's an interesting piece nonetheless.
And finally, the comic relief we all need: Predictably enough, the Stupidest Guest Blogger on the Internet, Mr. Kristinn Taylor, offers this very smart headline at Gateway Pundit: "Obama Parties the Night Away As #Ferguson Burns." It seems that instead of personally stopping all The Blacks from rioting (which they weren't) or burning down Ferguson (nothing burned there except a dumpster), our Fake President went to dinner at the home of his White House chef, several hours before the crazy began in Ferguson. But he shoulda known! INPEACH!
[NBC News / National Journal / WaPo / WaPo again / Gateway Pundit / Image: screenshot from video at NBC News]