Russia
Oh hi! Big news in this post! Lots of big news! Read all of this post!
President Joe Biden's Treasury Department announced Thursday a whole raft of sanctions aimed at punishing the Russian Federation for attacking our elections in both 2016 and 2020 and our allies' elections; for all its hacking, including the massive SolarWinds hack that hit tons of government agencies and Fortune 500 companies; and for targeting journalists and dissidents, including opposition leader Alexei Navalny. And so on and so forth!
The Treasury Department sanctioned six Russian tech companies that "support Russian intelligence services." They directly blamed the SolarWinds hack on the SVR Russian intelligence agency, and named the FSB intelligence agency as responsible for the poisoning of Navalny. They're kicking 10 Russian "diplomats" out of Washington. And in direct response to Russia's 2020 election attacks, they are sanctioning "a total of 32 entities and individuals involved in the influence campaign as well as other acts of disinformation."
The Washington Post explains more:
The package includes sanctions on all debt Russia issues after June 14, barring U.S. financial institutions from buying government bonds directly from the Russian Central Bank, Russian National Wealth Fund and the Ministry of Finance. The action, experts said, will complicate Moscow's ability to raise money in the international capital markets. [...]

The new sovereign debt sanctions, affecting ruble and non-ruble bonds, are noteworthy, analysts said. "Russia will know it is shut out for the future from the international debt market," said Anders Aslund, an Atlantic Council senior fellow.
In response, Kremlin spokes-mouth Dmitry Peskov said blah blah blah who cares what he said.
Couple big things in here of note. We'll get to the big Paul Manafort thing in a second, but first we need to discuss ...
No Bounties! No Bounties! YOU Are The Bounties! (Maybe.)
Notably, these sanctions do not target Russia for alleged bounties it put on American troops' heads in Afghanistan. Biden administration officials are now saying they only have "low to moderate" confidence in those reports, many of which came from detainees. This doesn't mean that they're definitely not true, but that the US intel community is now saying its level of confidence doesn't rise to the level that the administration feels comfortable sanctioning Russia for it.
The issue hasn't gone away, according to the administration:
"[W]e do believe that this information puts the burden on the Russian government to explain its action and takes steps to address this disturbing pattern of behavior," [a] senior administration official said. "We expressed those concerns directly to the government of Russia."
"We have noted our conclusion of the review that we conducted on the bounties issue and we have conveyed through diplomatic, intelligence, and military channels strong, direct messages on this issue, but we are not specifically tying the actions we are taking today to that matter," a senior administration official told reporters in reference to the bounty claims.
Again, this does not mean it didn't happen. It just doesn't rise to the level of certainty they need to tie it to sanctions.
Jason Campbell, who worked on Afghanistan in Obama's Pentagon, told the Daily Beast he's not surprised the Biden administration's official review of the bounties issue came back inconclusive, noting how difficult it is to get good intel in situations like this:
"I am unsurprised that the review led to a murky determination of low to moderate confidence. While it is clear that Russia and other adversaries have been providing assistance to their proxies in Afghanistan, identifying type and amount of such assistance with great specificity has been the persistent challenge."
Of course, that isn't stopping Intercept types like Ryan Grim from taking victory laps like TOLD YOU SO, TOLD YOU SO, NEENER NEENER!
But the original sourcing -- anonymous Afghan government officials with an incentive to torpedo a peace deal by scr… https://t.co/DZ7ICerkum

— Ryan Grim (@Ryan Grim)1618502991.0
You know, maybe people would have been more circumspect from the outset if the previous president wasn't so thoroughly up Vladimir Putin's ass and so thoroughly disdainful of American troops that it would be highly believable Trump was letting Russia get away with putting bounties on our troops' heads. Also, if Trump had been straight with the American people, like, ever, especially on matters pertaining to Russia, instead of sticking his fingers in his holes and shouting "THIS RUSHUR HOAX, WITH TRUMP AND RUSHUR!" Maybe we could have trusted that the previous administration would figure out if the story was true and then do something about it if so.
As it is, perhaps we should just go with "maybe Trump didn't let Russia do this ONE awful thing" and save the victory laps for never.
You ready for the biggun'? Here is the biggun'.
Yes Collusion! Yes Collusion! Let's Close The Circle On HERE'S THE FUCKING COLLUSION!
We mentioned that part of this sanctions package hits individuals directly. And guess who's on the list? That's right, it is Paul Manafort's business partner/Russian spy buddy Konstantin Kilimnik! And if we are today less sure about what happened or did not happen with Russian bounties, we are more sure than ever about what Kilimnik did in 2016, and also in 2020.
During the 2016 U.S. presidential election campaign, Kilimnik provided the Russian Intelligence Services with sensitive information on polling and campaign strategy. Additionally, Kilimnik sought to promote the narrative that Ukraine, not Russia, had interfered in the 2016 U.S. presidential election. In 2018, Kilimnik was indicted on charges of obstruction of justice and conspiracy to obstruct justice regarding unregistered lobbying work.
Oh, that is some bold language! The Biden Treasury Department just came right out and said the thing we've been suspecting all along!
You know the story, or should, if you read Wonkette, because we harp on it at least once a month.
Kilimnik is the guy Manafort was passing internal Trump campaign Rust Belt polling models before the 2016 election. It always seemed pretty clear Kilimnik was probably handing that data to Putin's favorite oligarch Oleg Deripaska, who was also one of their business associates. But we were never sure! He is the guy Manafort lied to special counsel Robert Mueller the most about, according to the Mueller Report, and neither Mueller nor the Senate Intelligence Committee (SSCI) could suss out exactly what they were doing, because of the lies, and because they used encrypted apps that deleted their comms.
Mueller assessed Kilimnik to have "ties" to Russian intelligence. SSCI in its Russia report outright called him a spy. (Reminder: The committee was then run by Republicans!) SSCI had info suggesting Kilimnik was somehow "connected to the GRU's hack and leak operation targeting the 2016 U.S. election." SSCI also thought Manafort himself may have been connected to the Russian hacking in 2016. But still, it was not entirely clear what Kilimnik did with Manafort's Rust Belt polling data.
In case you are missing the significance of the language accompanying the new sanctions here, follow the bouncing ball: We have now progressed from Mueller saying Kilimnik has "ties" to Russian intelligence, to Senate Intel calling him a fucking spy, to Biden's Treasury Department outright saying Kilimnik "provided the Russian Intelligence Services with sensitive information on polling and campaign strategy" in 2016. Just as we suspected all along!
Last month, when the Biden administration released its National Intelligence Council's (NIC) unclassified assessment of foreign attacks on the 2020 election, it named Kilimnik as one of the Russian actors who also attacked the 2020 election, albeit with clearly less success this time around. So of course the new sanctions announcement mentions that.
Kilimnik is obviously still hiding in Russia, but remember how starting around February, the FBI put up a fancy new "wanted" poster offering $250,000 to anybody who can help apprehend Kiliminik so he can face justice? If you forgot, the Treasury Department spelled it out in its press release and included the poster: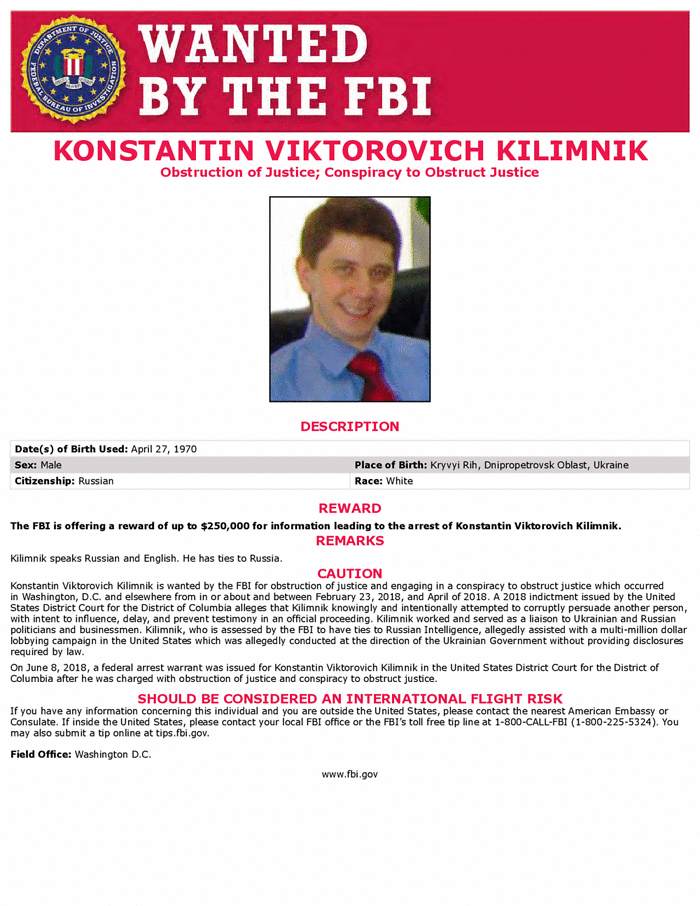 No collusion! No collusion! YOU are the collusion!
Just kidding no you aren't.
And while there's still a hell of a lot we don't know, we have learned a BIG thing that is a big fuckin' deal.
How long has Wonkette been saying it's all Manafort? One hundred years, that's how long. How long has Wonkette been correct about that, apparently?
Yeah.
[Sanctions press release / Washington Post / Daily Beast]
Follow Evan Hurst on Twitter RIGHT HERE, DO IT RIGHT HERE!

If you happen to have some extra money right now, we would take it.
Keep reading...
Show less
Military
It's like he doesn't even know what 'forever' means!
Yesterday, President Joe Biden announced that the USA's longest war will finally end, with all US troops being withdrawn from Afghanistan by September 11, the 20th anniversary of the attacks that led to US "involvement" there in the first place. Biden said that after two decades of death and misery, it's time to end this:
"We cannot continue the cycle of extending or expanding our military presence in Afghanistan hoping to create the ideal conditions for our withdrawal, expecting a different result," said Biden, who delivered his address from the White House Treaty Room, the same location where President George W. Bush announced the start of the war. "I am now the fourth United States president to preside over an American troop presence in Afghanistan. Two Republicans. Two Democrats. I will not pass this responsibility to a fifth."
Here's video of Biden's announcement:
Pentagon officials had argued that the US should at least leave behind some kind of residual force, or that a withdrawal happen only when certain conditions were met — like maybe the flourishing of a robust democratic government with a broad popular mandate, something that the US seems to have difficulty managing at home. But Biden decided, as one administration official told reporters, that agreeing to a conditions- based withdrawal would amount to "a recipe for staying in Afghanistan forever."
And so the approximately 2,500 US troops still in the country will leave by September, with the drawdown starting in May. Donald Trump had, between attempts to foment the overthrow the US government, set May as the deadline for pulling US troops out.
Politico has an interesting behind-the-scenes look at how the decision came about, which can best be summed up as plain old civilian control over the military, as the country was designed to work: The generals had input, but ultimately, Biden said it was time to end this, and now the military will do all it can to carry out that policy.
Biden also said that while it's "time to end America's longest war," the US won't "conduct a hasty rush to the exit," and promised that the US would continue to provide diplomatic and economic support for Afghanistan. Secretary of State Anthony Blinken flew to Afghanistan Thursday to meet with Afghan President Ashraf Ghani. Blinken said he "wanted to demonstrate, with my visit, the ongoing commitment of the United States to the Islamic Republic and the people of Afghanistan." He also met with other Afghan government leaders, and with "members of Afghan civil society, mostly women, at the US Embassy," according to pool reporters.
Following the stop in Kabul, Blinken flew on to Brussels to discuss plans for military withdrawal with NATO leaders; NATO will also withdraw the roughly 7,000 troops it has in Afghanistan at the same time the US does. While there, Blinken said the USA would
continue support for the rights of Afghan women and girls, minorities advocating for their meaningful participation in the ongoing negotiations and their equal representation throughout society, and we'll maintain significant humanitarian assistance to those in need.
It's debatable how realistic a prospect that is, particularly since most military experts believe the Taliban, which already controls much of Afghanistan, is likely to win back power within a year or two, after of course plenty of bloody fighting to retake the capital. At The Atlantic, George Packer says expecting the worst may be the most realistic option:
We should assume that Afghan cities could fall within months or weeks and that Kabul will soon become a bloody battleground, as it was in the early 1990s, during the civil war that followed the departure of Soviet troops. We should also assume that the Taliban will be no more merciful toward women, girls, religious minorities, civil-society activists, political opponents, and perceived infidels and spies than during its years in power before September 11, 2001.
David Ignatius is somewhat more optimistic, or at least less pessimistic:
Those who suspect that the country will quickly tumble back into the Middle Ages and a primitive version of Islam are wrong, I suspect. The years of war have modernized Afghanistan. It's now a richer, more urban country, connected by modern communications. People who gained their freedom in the two decades under a U.S. umbrella won't give it up easily.
Both agree, however, that as the US prepares to leave another war it probably never could have won (particularly not after George W. Bush decided an unwinnable war in Iraq would be more fun), we need to avoid the mistakes we made nearly 50 years ago as the government of South Vietnam fell to troops from North Vietnam. We shouldn't abandon to the tender mercies of the Taliban the thousands of Afghans (and their families) who worked with the US and our military over the past 20 years. Back in 1975, Packer notes, Joe Biden opposed helping the Vietnamese whom the US had promised to save if the North invaded, claiming in a Senate speech, "The United States has no obligation to evacuate one, or 100,001, South Vietnamese." Says Packer,
Biden failed to see a moral obligation in 1975. Today he can learn from the mistake and redeem it. Seventeen thousand Afghans who have worked for America in Afghanistan, along with tens of thousands of their family members, are waiting for the excruciatingly slow bureaucratic wheels of the U.S. government to process their visa applications. At the normal pace, they will still be waiting years after the last American troops leave their country. While they wait, trying to hide, many of them will be hunted down by the Taliban. We will be gone, and Afghans who believed our promises will be killed. Our war will be over—Americans might not even hear the news of their deaths.
Packer suggests that as the US prepares to leave Afghanistan, we should evacuate those Afghans who are at risk, using what's been called the "Guam option," similar to how the US evacuated thousands of Iraqi Kurds to the US military base on Guam following the first Gulf War. Then we can do the visa screenings needed to let them come to America.
If you haven't seen the brilliant 2014 PBS documentary Last Days In Vietnam, I urge you to look for it (you can rent it on the major streaming sites). It's a sobering look at the human costs of imperial hubris and wishful thinking. We shouldn't have made war in Vietnam in the first place, but we also shouldn't have abandoned our allies as shamefully as we did.
For 20 years, the absolute hell question about Afghanistan has been what happens to the people there when we leave. To avoid finding out, president after president has kept the US in a conflict that since 2001 has eaten up two generations of our military (2,200 dead, 20,000 wounded) and killed roughly 111,000 Afghans, over 31,000 of them civilians. The Pentagon, as Ignatius notes, is sick of the war too, but the military's desire to get the hell out has long been "checked by a feeling that the only thing that's worse than remaining in what seems an unwinnable stalemate is pulling out troops — and then having to go back in."
But with no prospects of ever reaching a point where Afghanistan will become stable enough to leave without any negative consequences, Joe Biden is betting that leaving now, instead of in another decade or two, is the least terrible of all the terrible options.
[AP / Politico / WaPo / Atlantic / Last Days In Vietnam]
Yr Wonkette is funded entirely by reader donations. If you can, please donate $5 or $10 a month.
Keep reading...
Show less
WonkTV
It's the annual Worldwide Threat Hearing!
Back in the olden days of the Trump administration, the memories of which we are actively trying to repress, a thing would happen almost every year. All his intel chiefs would go sit in front of the Senate Intelligence Committee and do the annual Worldwide Threats hearing, and they would say "Russia did it" and "Russia is bad" and "They attacked the election for Trump in 2016, gonna do it again in 2020." And the former president would have DAYS UPON DAYS of conniptions, because these awful people he hired insisted on saying out loud that his benefactors in Russia were bad.
It didn't happen in 2020, because Donald Trump's moron Director of National Intelligence John Ratcliffe was being a dick. He didn't want there to be an open session, where the American people could hear about the actual worldwide threats. Is this because they were running a con trying to get people to think 'GIIIIIIINA was stealing the election for Joe Biden, and an open hearing on the intel community's actual assessments would not have been helpful? Possibly maybe!
Well this year it's happening again, albeit under different circumstances. We have a new president, Old Handsome Joe Biden, and neither Russia nor Iran nor 'GIIIIIIIINA helped steal the election for him. The annual Worldwide Threat Assessment just came out, and it's a doozy this time:
In a new report released Tuesday, the U.S. intelligence community warned of a "diverse array" of global threats that could further destabilize a world shaken by the effects of the COVID-19 pandemic, technological change and international competition. [...]

The report said China, Russia, Iran and North Korea would seek to challenge U.S. interests in different arenas and on multiple levels, and that transnational crime, cyber attacks and terrorist plots posed continued threats. Domestic violent extremists, as the intelligence community forecast in a separate report released last month, will pose an "elevated threat."
And that's just a mini-summary! Read the whole thing if you'd like!
So today at 10 a.m. Eastern, before the Senate Intelligence Committee, is the Worldwide Threats Hearing. The Committee, of course, is now chaired by Democratic Senator Mark Warner. And Joe Biden's intel chiefs will all be there. Specifically that would be DNI Avril Haines; CIA Director William Burns; NSA Director Paul Nakasone; Defense Intelligence Agency (DIA) chief Lt. Gen. Scott Berrier; and FBI Director Chris Wray.
There will be no tweets yelping "RUSSIA RUSSIA RUSSIA, WHY IS IT ALWAYS RUSSIA RUSSIA RUSSIA" after this hearing.
Well, maybe from Glenn Greenwald or somebody, but not from the president of the United States.
Watch with us!
[CBS News]
Follow Evan Hurst on Twitter RIGHT HERE, DO IT RIGHT HERE!

If you happen to have some extra money right now, we would take it.
Keep reading...
Show less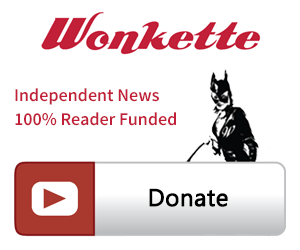 ©2018 by Commie Girl Industries, Inc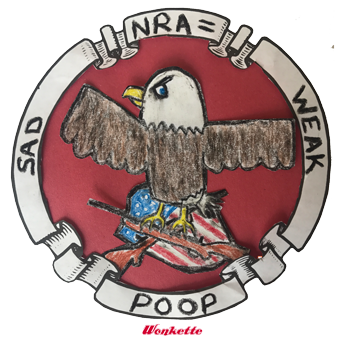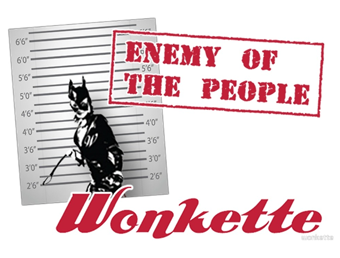 This Is Not An Ad
Privacy