Former French President Nicolas Sarkozy: Hurry Up And Wait For Jail
News
June 13, 2012 06:06 PM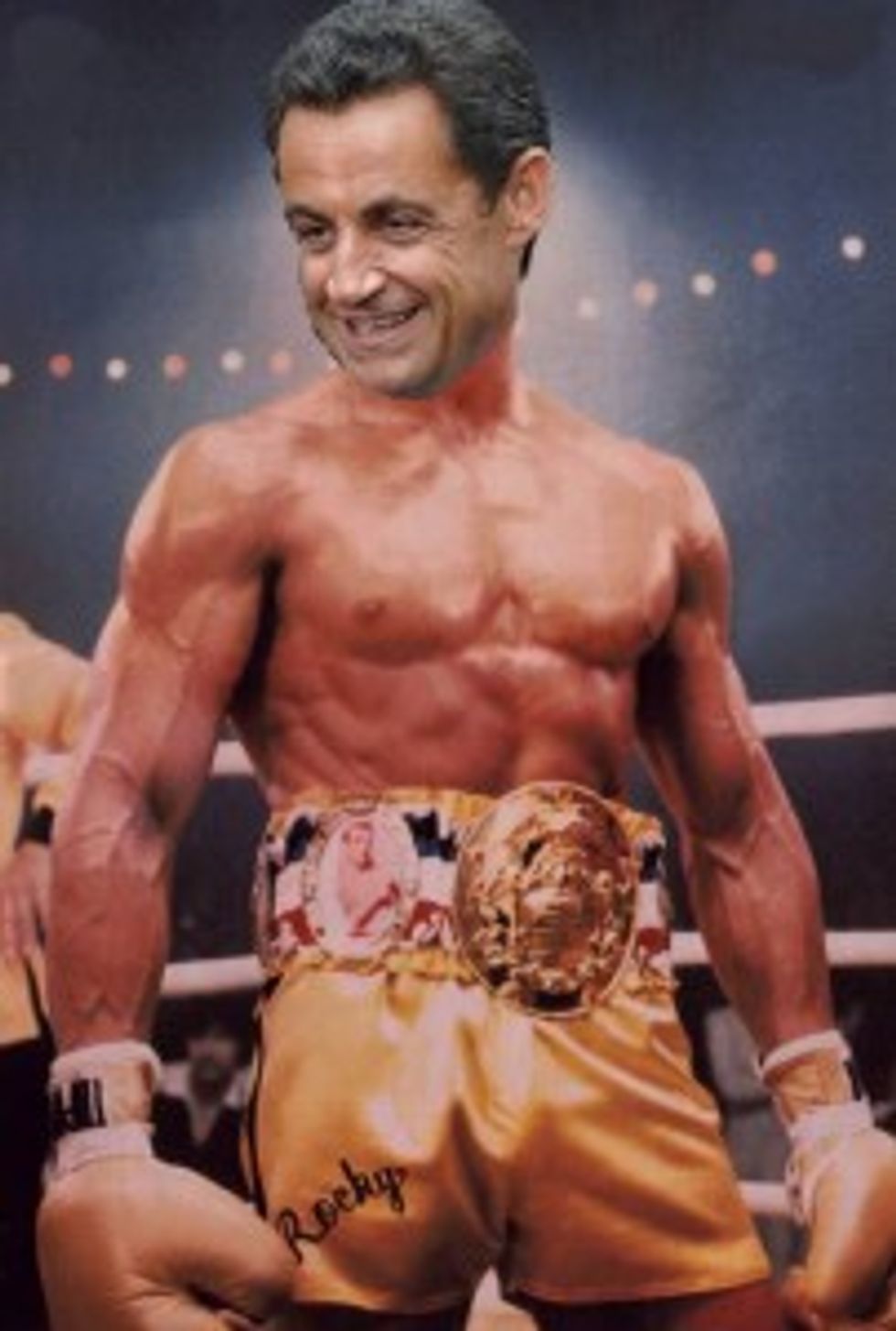 America let George W. Bush return to his quiet, private life sohis undocumented workers he could clean up dust bunnies in his suburban McMansion even though he tortured us all (some of us, literally) for eight years playing neo-con puppet to Dick Cheney's and John Bolton's war administration. This says a lot about America (not all of it good). Perhaps we were nice to George because it would hurt our collective John Wayne Gacy hearts to see a wild n' free cowboy behind bars.
---
But France doesn't have any cowboys.
This Friday, June 15, former French president Nicolas Sarkozy will lose his presidential immunity from criminal prosecution and be eligible for investigation for some alleged crimes we already told you about (taking illegal campaign contributions from two crazy people: L'Oréal heiress Liliane Bettencourt and dead dictator Moamar Gaddafi) plus two more:
allegedly accessing French newspaper Le Monde journalists' phone records and using his secret service to spy on them to see if he could discover their sources for the Bettencourt allegations;
Allegedly taking kickbacks on a 1994 sale of three submarines to Pakistan so he could illegally fund the 1995 presidential campaign of his mentor and former prime minister Edouard Balladur, not to mention the related 2002 bomb in Pakistan that killed 14 people - 11 of whom were French submarine engineers - thought to be revenge by Pakistani officials because their promised bribes weren't paid.
As if that isn't enough, on the same day he loses his immunity, a former female member of Sarkozy's party, Marie-Célie Guillaume, is publishing a new novel with a main character called, for some ungodly reason, "Rocky." There is not a single person in all of France named Rocky. But whatevs. The author has admitted that Rocky is really Sarkozy in disguise. And Rocky is a sexy sexy bad boy. One sweaty scene includes Rocky, fresh from a boxing exercise in front of a mirror, which made him "hot, very hot," propositioning a female official from his own party who's asking him for a government subsidy for her city's museum. Of course, they have sex, and the female official described his performance as... "in a hurry."
In the immortal words of Debbie Harry: Depeche-toi, Rocky. Depeche-toi.