Fox Idiot: I Did Not Make A Blowjob Joke About That Woman, Ivanka Trump
Culture
April 26, 2017 02:07 PM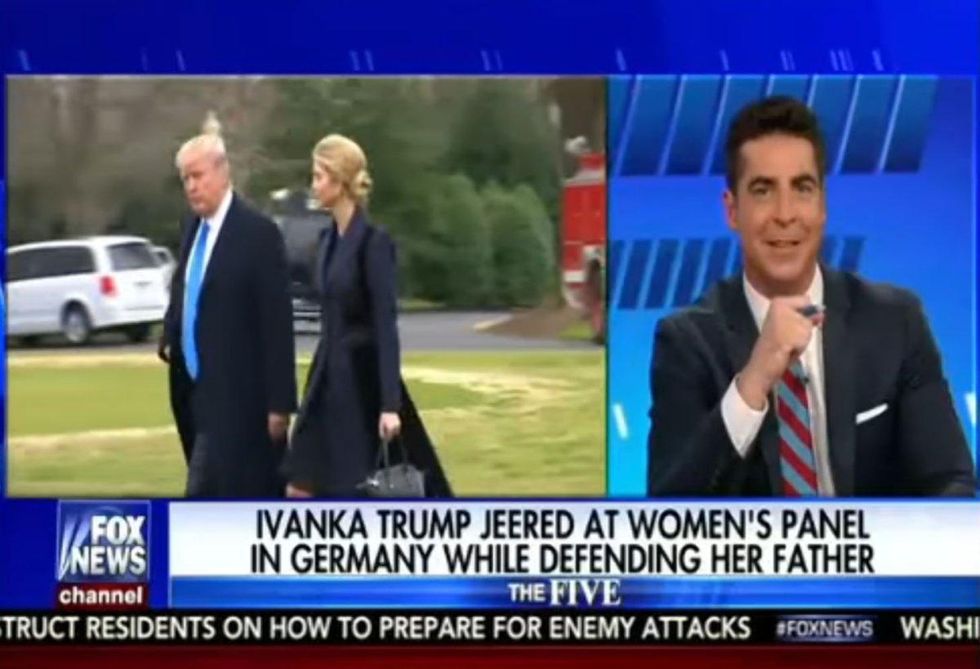 ---
When Bill O'Reilly was shitcanned from Fox News this month for accidentally calling his female coworkers on the phone to masturbate at them, over and over again, for decades, to the tune of $13 million in settlements, the Powers That Be made sure his idiot racist sidekick, Jesse Watters, would have a soft landing. They gave him a slot on Fox New's hip, edgy politix show for youths, The Five.
It took less than a week for Watters to not make a blowjob joke about Ivanka Trump, into whose purty mouth he would definitely never think about sticking his penis.
WATCH: Jesse Watters on Fox News re Ivanka Trump: "I really like how she was speaking into that microphone" pic.twitter.com/HoJHLpMtq1

— Yashar (@yashar) April 26, 2017
Watters: Yeah it's funny, the left says they really respect women, then when given an opportunity to respect a woman like that, they boo and hiss. So I don't really get what's going on here, but uh, I really liked [mimes holding a microphone] how she was speaking into that microphone.
HM ER HUH COUPLE THINGS.
1. Jesse Watters is as stupid as the Prison Planet guy from Alex Jones's Infowars, who thought feminists were being hypocritical for not just voting with their vaginas and supporting actual fascist Marine Le Pen.
So-called "feminists" are trying to block people voting for a woman.

She would be the first female president of France.

Let that sink in. pic.twitter.com/dUM89QAbCQ

— Paul Joseph Watson (@PrisonPlanet) April 23, 2017
It's not disrespecting women to boo one who's claiming DONALD TRUMP is good for women, when his policies are even worse for the ladies than his common pussburgling.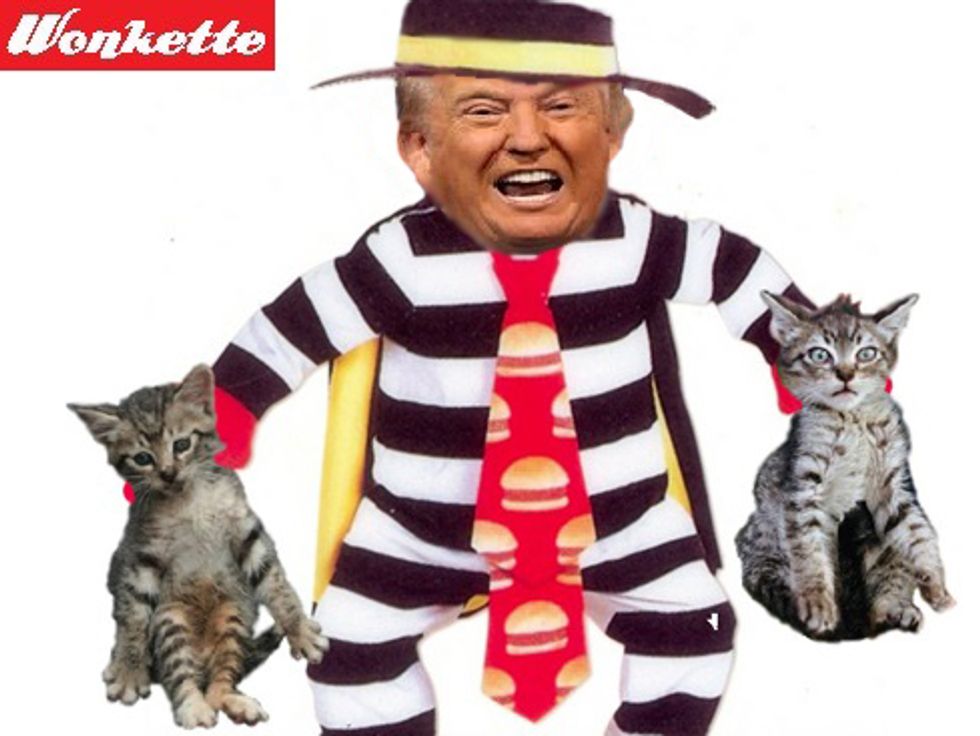 presidential portrait
2. We know you don't really "get what's going on here." Because you are not really that bright.
3. Only you, Jesse Watters, or possibly any other man who's ever appeared on Fox News, could end a sentence about how other people aren't respecting women, by verbally stating disagreement with her ideas, with where you would like to stick your dick.
4. Nobody believes you were talking about her "smooth jazz radio voice." Including other Republicans.
5. Should have paid attention to what happened to President Bannon when he called his boss's daughter's husband "a cuck," meaning "a man who wants to watch dudes get it on with his boss's daughter." Fox doesn't need to keep you around for decades despite how gross you are, because you're no Bill O'Reilly, and eventually neither was he.
Rebecca Schoenkopf
Rebecca Schoenkopf is the owner, publisher, and editrix of Wonkette. She is a nice lady, SHUT UP YUH HUH. She is very tired with this fucking nonsense all of the time, and it would be terrific if you sent money to keep this bitch afloat. She is on maternity leave until 2033.