Fox Nation Seems To Be Implying Obama Has Been President Since 2000
News
August 18, 2011 07:29 PM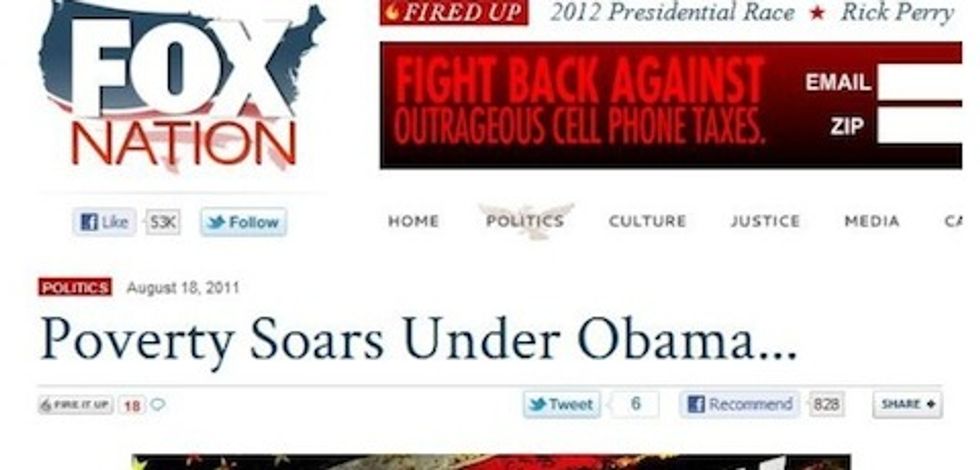 Jesus, does anything ever go right in this turd country anymore? Poverty lines the streets of America knee-deep with roasted turd chips everywhere you turn. Totally, totally, *head shake*, Fox Nation is with y'all there. They just read this terrible study they will post about, because the study says it found that "child poverty increased in 38 states from 2000 to 2009. As a result, 14.7 million children, 20%, were poor in 2009. That represents a 2.5 million increase from 2000, when 17% of the nation's youth lived in low-income homes" blah blah that is so terrible, is anyone at all paying attention to this societal depravity, like Fox Nation? See how bad things got from 2000 to 2009? That was a pretty tragic decade. Yeah, what the hell, Obama?
---
Oh fine, the Fox Nation editors accidentally remembered that 9/11 was in 2001, NEVER FORGET, before Obama took office in 2009, and the headline now reads a very boring, "Study: 1 in 5 American Children Living in Poverty."
Maybe their own story summary under the headline was the first clue?

And here is something from the study on child poverty, to make you cry yourself to sleep:
In the Annie E. Casey Foundation's first examination of the impact of the recession on the nation's children, the researchers concluded that low-income children likely will suffer academically, economically and socially long after their parents have recovered.

"People who grew up in a financially secure situation find it easier to succeed in life; they are more likely to graduate from high school, more likely to graduate from college, and these are things that will lead to greater success in life," said Stephen Brown, director of the Center for Business and Economic Research at the University of Nevada, Las Vegas. "What we are looking at is a cohort of kids, who, as they become adults, may be less able to contribute to the growth of the economy. It could go on for multiple generations."
How weird is it that Fox News can only be shamed into writing an actual journalistic headline when they realize they may have accidentally made fun of George W. Bush? [Media Matters]