Fox News: Come For The Groping, Stay For The Fraud ALLEGEDLY
News
May 08, 2017 08:52 AM
Is Fox News a media company with a harassment problem? Or is it a clubhouse for slimy perverts who finance their groping habit by shouting word salad at aging Boomers? We are just asking! Because those Fox accountants sure found a lot of creative ways to siphon off Cialis ad revenue without tipping off the shareholders. Now that Roger "Raw Hamburger" Ailes and Bill "Falafel" O'Reilly are out, what kind of accounting fuckery is going to shake loose in the lawsuits and ongoing federal probe? Was it All of Them, Katie, or were these two guys just bad apples in an organization of boy scouts and good samaritans?
---
Spoiler Alert: Nope. Shady shit, top to bottom.
It Ain't Beanbag!
The boys at Fox do not play nice. In 2013, Fox fired Ailes aide Brian Lewis for alleged "financial irregularities." Lewis's attorney Judd Burstein immediately released a statement reminding Fox executives that his client knew where a lot of skeletons were buried.
First, Brian Lewis no longer has any confidentiality obligation to Newscorp [sic] or Roger Ailes because of the false and malicious statements made by Fox to date. Second, Roger Ailes and Newscorp [sic] have a lot more to fear from Brian Lewis telling the truth about them than Brian Lewis has to fear from Roger Ailes and his toadies telling lies about Brian Lewis.
Burstein is reported to have gotten Fox to fork over $8 million for Lewis's silence. That is some very expensive silence!
So when Andrea Tantaros sued Fox, Ailes and short-tenured Fox co-president Bill Shine (hey-o!) in 2016, she hired Burstein to come out swinging. He filed a complaint alleging, "Fox News masquerades as defender of traditional family values, but behind the scenes, it operates like a sex-fueled, Playboy Mansion-like cult, steeped in intimidation, indecency, and misogyny."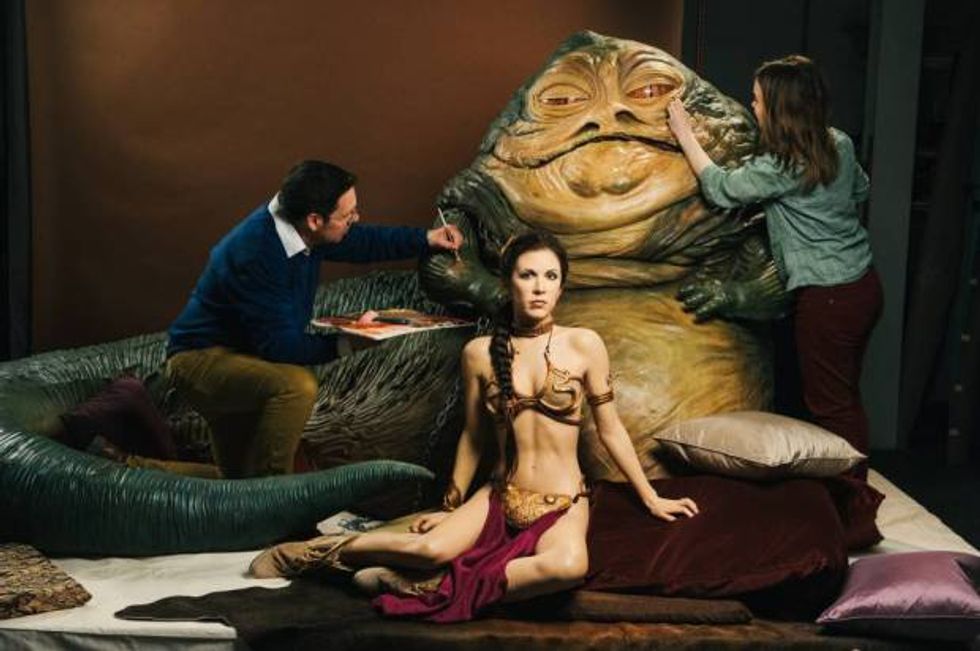 Tantaros auditioning for Roger Ailes. ALLEGEDLY.
This February, in open court, Burstein told the judge that two of his clients had received subpoenas from the Justice Department to testify about financial shenanigans at Fox.
"Once I saw that it was the securities prosecutors I understood immediately what was going on here, which is that what Fox has done is enter into agreement, after agreement, after agreement, with victims of sexual harassment, not reported them in any of their SEC filings," Burstein said.

Burstein appears to believe that the issue is related to the way Fox has been structuring settlements and keeping recipients as employees to avoid reporting obligations under securities law.
Tantaros lost her bid to take her case out of arbitration. But before the blanket of confidentiality came back down, Burstein made sure to let the world know that Fox was under investigation for securities fraud because it hid harassment payouts from its shareholders. Judd Burstein does not play nice either.
Preet Bharara. Remember that guy?
After Burstein spilled the beans ooopsie! that the Feds were investigating Fox for hiding payouts from shareholders, the company was forced to admit they had been cooperating with investigators from Preet Bharara's US Attorney's office in New York. Maybe Fox's shareholders were entitled to know about all those millions of dollars of payouts? Maybe the shareholders had a right to know that the network president and its biggest star were running the place like their own private Bunny Ranch? Preet Bharara was just asking questions! But then Roger Ailes's bestie Donald Trump made the entirely coincidental decision to fire Bharara and stop him sticking his nose in everything. Trump is reported to favor replacing Bharara with Marc Mukasey, an attorney who has represented both Roger Ailes and Jared Kushner's family. Because of course he has.
Creative Accounting
Trump's attempt to intimidate the Justice Department by firing Bharara was totally ineffective. Sad! The New York office continued its deep dive into the Fox cesspool. They were especially interested in the $3.15 million severance package given to Laurie Luhn, a woman alleged to have engaged in a twenty-year relationship with Roger Ailes. (Ewwwwwwwww!!!)
Luhn's case is of particular interest to prosecutors because of the unusual nature of her severance. One of her settlement checks is signed by a corporate executive based in Los Angeles who had no direct involvement with Fox News, according to people who spoke about the investigation anonymously because they weren't authorized to speak on the record.

Luhn worked primarily at Fox's headquarters in New York, not in Los Angeles, so the executive's signature has raised questions about where the funds for her severance came from. Investigators have been looking into whether some of the cost of her settlement was attributed to another Fox-owned entity to minimize the impact on Fox News' financial statements.
So, Fox buried a $3 million payout to Ailes's mistress by spreading payments across multiple divisions of the company. Sounds legit!
"Friends of Roger"
You know you're in deep shit when even the mailman is after you! In April, CNN's Brian Stelter broke the news that the US Postal Inspection Service is also investigating Fox.
Mail fraud and wire fraud cases are part of the USPIS purview. [...]

Investigators have also been asking questions about mysterious confidants of Ailes -- people who were known inside Fox as "friends of Roger."

Ailes, through Fox News, employed a number of longtime friends as consultants, for purposes that remain unknown. One of the consultants earned $10,000 a month by submitting a monthly invoice to Fox.

When Ailes was forced out of Fox News last July, some of the consultants were also dismissed.

"Longtime friends of Roger's dating back to the '70s are beginning to exit the building," a source told CNNMoney in August.

Some of the people interviewed by investigators have been asked about these "friends of Roger" and what they did behind the scenes at Fox.
Hmmmmm. What is Brian Stelter getting at here? Is he suggesting that Fox is being investigated for wire fraud because "friends of Roger" were paid for no-show jobs? We are just asking, so do not sue us! But is the Mailman mad because Roger Ailes got his random buddies added to the payroll and used the Postal Service to deliver the checks? Because that would be defrauding Fox's shareholders, which is a federal crime. It must be nice to have a friend like Roger, ALLEGEDLY!
[WaPo / Hollywood Reporter / Politico / NYTimes / CNN / Gawker / Tantaros v. Fox, via Hollywood Reporter]
It's going to be a crazy week! Maybe drop a dollar in the kitty to keep your Wonkette humming!
Liz Dye
Liz Dye lives in Baltimore with her wonderful husband and a houseful of teenagers. When she isn't being mad about a thing on the internet, she's hiding in plain sight in the carpool line. She's the one wearing yoga pants glaring at her phone.