Fuckin' A, People, It's Not That Hard: The Trans-Cis-Woman Sister Act
Mommyblogging
June 23, 2017 12:53 PM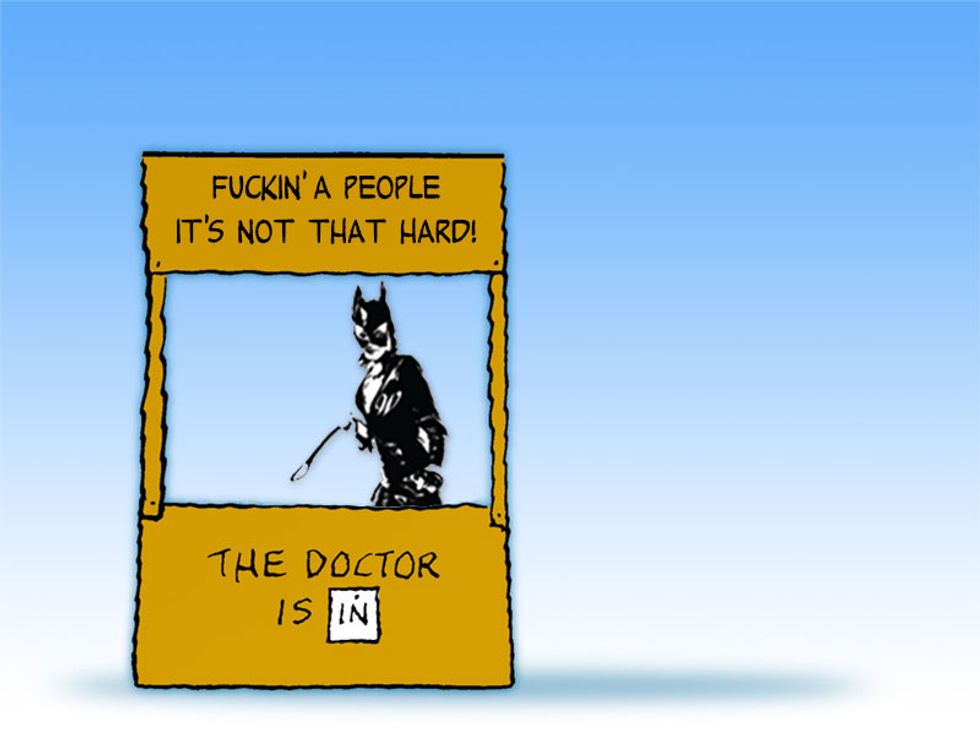 Dear Rebecca,
---
The last couple of weeks I've noticed that everyday feminist groups online are freaking out and clutching their pearls, and trying to force a sort of genital distinction between "real" women and "trans" women. Yes this argument has raged since the beginning, but as of late it seems to be popping up everywhere, and smart, well-meaning feminists are getting sucked in to what used to be a radical and out-there fringe.
It seems pretty obvious to me that it's just a ploy to separate allies, whether because 4chan thinks trans people are lulzworthy, or because some O'Keefe-type idiot is trying to fake something stupid, or because left-wingers are too smart to fall for Infowars-style "FAKE NEWS" so pulling lefties from the center for electoral advantage requires a little more finesse.
In any event, this sudden WE HAVE TO DEBATE TRANS WOMEN'S GENITALIA RIGHT NOW conversation popping up amongst feminists all over the internet is disturbing, especially considering that at this very instant our health care is being ripped away, Russia is all up in our networks, and we're not even sure if our election was even free and fair, but please gals, can we get down to the important decision of what is the ratio of penis to penis-free years a trans woman must have to get help at a domestic violence shelter? Really? Am I the crazy one for thinking this is a stupid and pointless distraction?
Remember when trolls first started making their profiles a few years ago and it would be something ridiculous like "Polysexual trans woman Native American amputee HIV+ Albino" because that's what they think gives instant liberal cred? And they were all really dumb and obviously conservatives pretending to be liberals? Well, I think they got better at it, is all I'm saying. They're still in there, and they are effectively trolling women into repeating anti-trans talking points straight from the religious right. They are appealing to the sad fact that all of us women have been threatened or assaulted by a man. It's easy for us to relate to, because it's happened to all of us, and folks have used this fear and compassion for victims to fracture natural allies. So they make trans person accounts that are assholes in feminist groups, and you make feminists accounts that are assholes in trans groups, let it simmer online awhile and then voila! We've got a fight!
How do I tell my very smart, very strong, very intelligent feminist friends that they're being duped? Conversely, AM I GOING CRAZY?
Gentle reader:
Oh wait. This question is that hard. And for anyone who's ready for a fight, not a dialogue, I imagine I will say 13 things that are all kinds of "problematic."
I don't think it's Russians or Milo Yiannopoulos gettin' all up in our AOL bulletin boards, though I am conspiracy-susceptible. I think that, tiring of Trump-trauma, we're going back to our same fights. And women fiiiiight.
Even the women who have everything fight.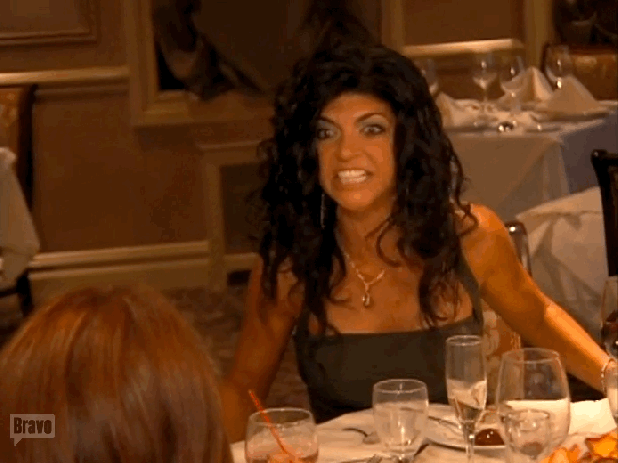 (Angry Facebook commenter: HOW DARE YOU SAY WOMEN FIGHT???)
And online? Jesus Christ. Every single one of us has been an asshole online. We have been unkind or intemperate or thirsting to take that day's issues out on an internet stranger. I do this everyday, because while I am the Mom of You, I am not actually the Blessed Virgin Mary of Internet Perfection. And as a cisgender (for new people, that means someone whose gender identity matches their genitals) middle class white straight feminist, I can check a lot of the boxes for "hitting someone's last nerve" when I spout off like I know all the answers, which is always, even when I don't. The trick is to try to know who our actual enemies are, and keep from friendly fire.
The black feminist vs. white feminist fight (which was dismaying) was put on hold for Hillary even though she was a white feminist. (I for one would like to return the favor and back a black woman next. Yes, specifically because she is black. The populists don't like "identity politics"? How's a Kamala Harris/Kirsten Gillibrand 2020 ticket suit ya, DICKS?)
But you're right: The cis vs. trans feminist death-matches are heating up. A group of older feminists I know actually shared a Daily Caller list of supposed "trans attacks" in bathrooms. (They weren't sharing it ironically.) (And no, they weren't trans attacks. They were dumb bullshit like people in Targets pretending to be trans so they could come into the women's room and terrorize people, to prove how trans people would terrorize people.)
Biology is a core of cis feminists' fight -- pushing back on people, male and female, who want to police their bodies and specifically their uteruses and vaginas. So when trans activists say there's no biological basis for being a woman, or that you can't call an abortion fundraiser "Night of A Thousand Vaginas" -- or the "Vagical Mystery Tour" that Wonkette pal Lizz Winstead is doing right now! -- because some women don't have vaginas, but in that case those particular women don't need abortions but some men with vaginas do and they weren't saying it was a fundraiser for "women," they were literally talking about the reproductive part, and I just thought that whole fight was terrible -- that gets cis feminists' dander up. They have been fighting this particular fight for decades. And some language police are saying their fight doesn't even exist.
Trans women, on the other hand, are under attack every single time they're out in public. Sometimes it's "just" rude sniggers, like the time I was in a women's restroom with my sister's drunk friends and one was pointing and cackling and yelling "what is THAT?" at the tall older woman doing nothing but washing her hands. I quietly told her (the friend, not the tall older woman with the good hygiene) that it was inappropriate, if a woman's in the restroom what she is is a woman, and she needed to stop. All her drunk friends just stared with their mouths open, except one kindergarten teacher nodding furiously. Later, the friend asked another friend of my sister's what was wrong with me: was I "just a bitch"? "No," my sister's other friend answered, and walked away. HA! I am still tickled by that.
Rude sniggers is the least of it. When a trans woman is young and sexy, and a straight guy feels attracted to her, he might show that he is offended by this by killing her.
So trans women, in reaction, can get really militant! They're reacting to a YOOGE power imbalance -- first, the general population only became aware of them really recently in the grand scheme of things, and second, they're really outnumbered. And they, like every single human being in this room right now, can be super cunty online! (IRONY!) A group of them will go for the jugular when someone is well-meaning but just hasn't ever met a trans person before, or doesn't know the minutia of the academic jargon -- for a while there, people were getting dragged if they didn't put a * on "trans*." (I think the asterisk is optional now? I haven't seen it lately.) And it creates hard feelings!
When I was in college, my Uncle Johnny came up to Santa Barbara to visit for the day. He had something he wanted to tell me: He was a woman, and was going to start living as one. And my Uncle Johnny became my Aunt Annemarie. When she went to visit my octogenarian grandma and my 50-year-old uncles in Oklahoma -- IN OKLAHOMA -- they got it right immediately. "This is our sister," they said, and "this is my daughter." And everybody IN OKLAHOMA was totally cool with it, despite that Annemarie is a very tall woman herself. What I have just done is considered to be TERRIBLE: I have referred to her by her male name, and as having been a man. But she was a man as far as I knew all those years, and she lived as a man. She had a life with a history to it.
To me, it is totally reasonable to tell that story in that way, and I will probably get dragged senseless for it! Because it is what we -- black and white and gay and straight and trans and cis -- do. WE FIGHT until we are bloody.
And what we have to do is the opposite of what we're told in women's studies departments: We can't answer genuine questions or simple thoughtlessness from well-meaning people with attacks, telling them it's not up to us to educate them. We must educate others, as patiently as we can -- and it works better if we're able to do it in private, or at least quietly, instead of calling people out. We're not always going to be perfect angels, and sometimes our tempers will get the best of us and we'll LET SOMEONE HAVE IT, and that's okay, we can forgive ourselves when we do, and probably tell ourselves they deserved a smack. They probably did! Oliver Willis, who is a good guy, who's been working for civil rights all his adult life, tried to make this point on Twitter once; he had only just recently heard a term for the first time (I think it was "cis"), so if he didn't know it, maybe respond kindly and educate others who were well-meaning instead of screaming at them.
It did not end well for him. But when I asked my aunt (see above), what she thought about it, she said she had never heard the term either. So that is nuts! (LIKE TESTICLES GET IT?)
The long and long of it is trans women and cis feminists should be allies, and focus fire outwards, not in. But there are some hard things to get past. Biology is a hard one! It has affected women born with vaginas their whole lives, and saying it's a "construct" sticks in their craws. Caitlyn Jenner getting woman of the year, when she's an asshole, is another. And cis women walking around like a bunch of fucking mean girls, AND WE DO, while our trans sisters are getting fucking murdered for THEIR biology, is far harder.
When your cis feminist friends are arguing that our trans sisters should not have the privilege of sheltering from domestic violence, THEY ARE WRONG, AND YOU CAN SAY SO AS SHRIEKINGLY AS YOU WANT TO. You are saving lives. Feelings don't matter. USE AS MANY FUCKING ALL CAPS AS YOU WANT. CALL THEIR SHIT OUT. I guess if you do it calmly, it might be more persuasive, but you do it however the fuck you feel like in the moment.
When it's not a life and death situation, like shelters, but is more a matter of cis feminists feeling squicky about women with penises or something, I guess you have to come up with a mantra of some sort for your FemChan Internet TERFs. Being both Jewish and Catholic, I find mild guilt (without crossing over into snark or passive-aggression) works best. "I'm very sorry you don't think I'm as much of a woman as you are. I would like us to work on our common goal of 'equitable health care for everyone' (or whatever)."
SOME cis feminists will quietly own their shame and be better in the future. And some will keep being shitty. But we all should be trying to walk in each other's shoes (mine are ugly middle-aged lady shoes from Costco, because I'm 44 and married and done with that fucking bullshit), take a breath, and calm our tits.
YAY TITS!
Got a question? Send it to rebecca at wonkette dot com. Since we're ad-free and supported only by Readers Like You, send some money too!
Rebecca Schoenkopf
Rebecca Schoenkopf is the owner, publisher, and editrix of Wonkette. She is a nice lady, SHUT UP YUH HUH. She is very tired with this fucking nonsense all of the time, and it would be terrific if you sent money to keep this bitch afloat. She is on maternity leave until 2033.