Ghost Breitbart's 'Happy Cult' Degenerates Into Sad Mess Of Confusion And Backbiting
News
October 24, 2012 03:00 PM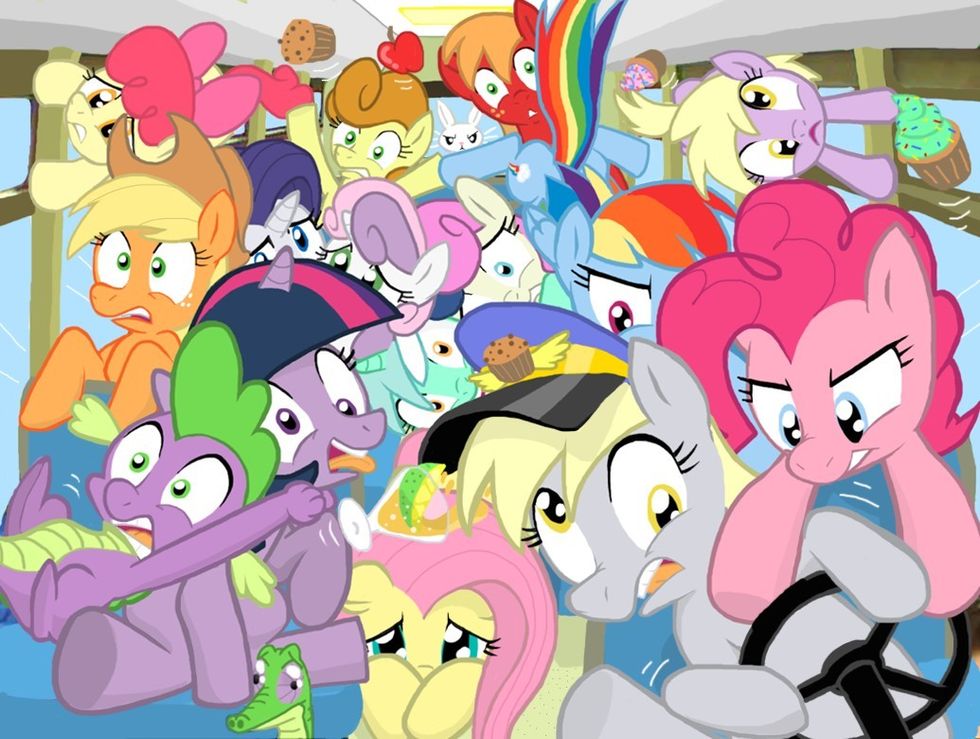 As we all know from the plot of virtually every big Hollywood gangster movie ever made, when there's a gang of loutish thugs and the head lout is removed, the remaining loutish thugs invariably turn on each other in a frenzy of loutishness and thuggery. This is apparently what is going on at rightwing internet concern Breitbart.com following the sudden death of Andrew Breitbart on March 1 of this year, according tothis juicy Buzzfeed story by McKay Coppins, which says the late lout's "web empire" is now "plagued by an unusual degree of disorganization and rampant infighting as his disciples battle for ownership of his legacy." Golly. No one could have seen THAT coming!
---
Actually, Your Wonkette didn't, at least not quite. But our Ken Layne did at least note, in Wonkette's initial story on the bloated bloviator's shuffling off this mortal coil, that the remaining crew was not exactly a model of intellectual rigor:
Breitbart leaves behind a wife and four children, along with hundreds of idiotic half-literate bloggers for his various websites who share his zeal for mindlessly attacking every non-wingnut aspect of life on Earth but lack his amiable personality.
It's not quite a prediction of a terminal fuck-tussle in the Breitbartosphere, but it's a pretty good assessment of the remaining management team at Arkham Asylum.
So! What exciting News McNuggets does Coppins serve up regarding goings-on among successors of the Wingnut Ozymandias? Look upon these jerks, ye righties, and despair:
Chaos and confusion! The portrait that emerged...was one of a disorganized, downtrodden army of conservative foot soldiers eager to carry out their fallen leader's mission, but deeply divided over how to interpret his battle plan.

"We were running a kind of happy cult when Andrew was in charge, and when Andrew died everyone had an incentive to spin what they thought he was up to," said one former employee. "If he knew he was going to die, I'm sure he would have called a dinner the night before and given us the tablets or something…. But he didn't."

Stars Drifting out of Breitbart Orbit... Dana Loesch, a CNN contributor who is the face of the Breitbart empire these days and its only veritable TV star, hasn't written a post in more than a month — and one source said she has sought a job at The Daily Caller.
...Or Just Burning Out! A current Breitbart staffer singled out a colleague, John Nolte, who has devoted much of his time to attacking journalists on Twitter rather than moving the ball with reporting.

"He's capable of tremendous insight but… he's written the same post for three years," the colleague complained.

Rank Amateurishness And Sloppy Journamalism! "They don't even know how to do basic stuff, like, what a lede is. Like, maybe you should inform your readers in the first paragraph what your story is about," said a high-profile conservative journalist who works for another outlet.
Out of Touch Management! [CEO Larry] Solov, [editor-in-chief Joel] Pollak and a few others run the company from an office in L.A., but the site's contributors are spread across the country — and many complain that the editors are all but impossible to reach.

E-mails and phone calls go unreturned for days, two sources said, and the people at the top of the masthead are so unresponsive that one employee sent a notarized letter to inform Pollak he was quitting.

Editorial Interference -- The Bad Kind! One reporter who eventually left the site complained that Pollak would regularly assign reported stories to advance his take on the news, and if the reporting deviated even slightly from his preferred message, he would simply rewrite the article.

"If you investigated it and it didn't come out in the way he wanted it, he would be upset," said the reporter, who complained that editing sometimes introduced factual errors. Pollak denied the claim, and said most of the rewriting he does is to protect the company against potential lawsuits.
Among the True Wingnut Believers, however, the worst fear is that under the new management, Breitbart.com has lost its cherished quality of independence, that certain loose-cannon quality that outsiders might instead call "bugfuck-crazy irresponsibility," as seen in the Shirley Sherrod smear or the Anthony Weiner dickopalooza. With the death of Breitbart himself, the site "lost a media savant... [who understood] how a good stunt, or a sophisticated prank could drive national news cycles for days." In short, without the head clown, the circus just isn't all that much fun anymore:
He was a partisan prankster with a knack for showmanship whose self-awareness and sense of humor endeared him to the press, and helped his scoops go national. These days, the only time reporters pay attention to Breitbartians is when they're clicking the "block" button on Twitter.
[Buzzfeed]