Giuliani Is A Money-Loving Hypocrite! Yr Wonkagenda: Friday, November 18, 2016
Elections
November 18, 2016 09:33 AM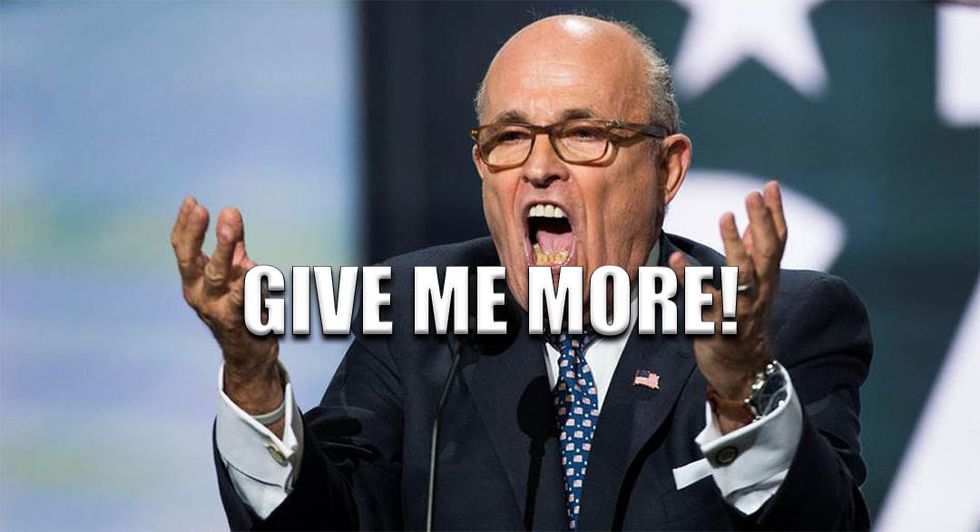 FEED RUDY ALL YOUR MONIES!
---
Well a good Friday morning to you, Wonketariat! There's news breaking left and right this morning, so let's skip the nonsense and jump right in to the hilarious trash pile Yr Wonkette might be covering more bigly today!
Retired lieutenant general Michael Flynn is expected to accept Donald Trump's offer to serve as National Security Adviser solidifying new U.S. policies that allow the ridicule of those demon Muslims, and borscht-flavored boners for Russia.

Sit down, Wonkaroos, because we're going to point and laugh at the hypocrisy of Rudy Giuliani accepting millions of dollars for speeches to terrorist groups and Wall Street banks, a private G4 plane, four two-bedroom high-rise suites with king size beds with a view, a motorcade, and absolutely no press coverage or transcripts of his remarks.

Alabama Senator Jeff Sessions has been offered Attorney General, and Kansas Rep. Mike Pompeo has been offered the role as CIA Director, so we'll soon start waterboarding those un-American commies at the NAACP.

Jared Kushner really, really, really wants to be the Wayland Smithers to Donald Trump's Mr. Burns, so Kushner is trying desperately to circumvent nepotism laws that would prevent him from being an state-sponsored bootlicker.

The Trump University fraud case goes before Mexican U.S. District Judge Gonzalo Curiel today. Place your bets about what kind of stalling and legal nonsense Trump's lawyers will use to halt a new deposition, deny previous depositions as evidence, or to dismiss the case. How can he testify in his own fraud trial when he's busy Making America Great?

Trump has no plans to appoint his children to administration roles in the White House because they plan to run his shitty hotels and casinos in a trust that is absolutely, 100%, legally as blind as Sergeant Schultz. [Archive]

Don't expect Judge Merrick Garland to get hearings for the Supreme Court, because yesterday a federal judge dismissed a case that could have forced the Senate to take up the vote. sigh

If you're disabled, you're probably not a happy camper right now, seeing as how Trump has promoted anti-vaxxer bullshit, insulted a disabled reporter, and wants to repeal Obamacare and kill Medicaid.

With one tweet Donald Trump single handedly saved the U.S. auto industry before the negotiators in Ford's UAW tried to sneak out for Mexican taco bowls.

The NSA uses a large, brutalist building in the middle of New York City without windows to spy on parts of Not-America. If that sounds familiar it's because it's because it's part of the Edward Snowden leaks that Glenn Greenwald has been milking for the last two years.

A Florida Man found guilty of first-degree murder for shooting at a car full of teens playing rap music at a gas station was denied appeal on the grounds of self-defense because he pulled a fucking gun on a bunch of kids in a car at a damn gas station.

Shortly after joining the chorus of social media platforms like The FaceSpace and Google in banning hate speech, Twitter continues to run ads for a neo-Nazi websites by accident. If you see something from a white supremacist neo-Nazi, say something!

Join us in rejoicing that the GAME CHANGE! guys' crappy political show on MSNBC is getting canceled because Michael Bloomberg always planned to cancel it after the election, and definitely not because Mark Halperin spent a year giving Donald Trump secret handshakes under the dinner table.

Donald Trump's visitor and phone calls are mostly celebrities, lunatics, and sportsing people, which is probably a good thing considering that it's more than likely Trump's phone calls aren't secure. Of course, now that he's president-elect, he's taking calls from foreign leaders on the same unsecured line, so it's also possible that some foreign government will leak one of undoubtedly many phone calls where Trump says something insane or embarrassing.

Last night CBS's Evening News had a white supremacist on teevee and let him deny his obvious ties to white supremacy and that's just a pathetic failure and a slap in the face to real journalists across the world.

120 journalists have been rounded up in Turkey for criticizing President Recep Tayyip Erdogan, who has engaged in a massive censorship campaign while lecturing smokers on the dangers of cigarettes. What an asshole!

Pioneer environmentalist Leon G. Billings has passed. Billings helped to create the 1970 Clean Air Act, 1972 Clean Water Act, and was Chief of Staff to former presidential candidate Edmund Muskie, so ALL OF YOU should go plant a tree in his honor while you continue to curse 2016.

If you're like us, you're always looking for another reason to hate Kanye West's egotistical and narcissistic bullshit. So here's a story about Kanye getting assailed with a sea of boos for admitting that, had he bothered to vote, he would have voted for Trump.

And here's your regularly scheduled morning Nice Time: KOALAS!
Dominic Gwinn
Dominic is a broke journalist in Chicago. You can find him in a dirty bar talking to weirdos, or in a gutter taking photos.