GOP Judge Blocks Democrat From Iowa Senate Ballot For Some Straight-Up BS Reasons
State/Local Politics
April 13, 2022 11:20 AM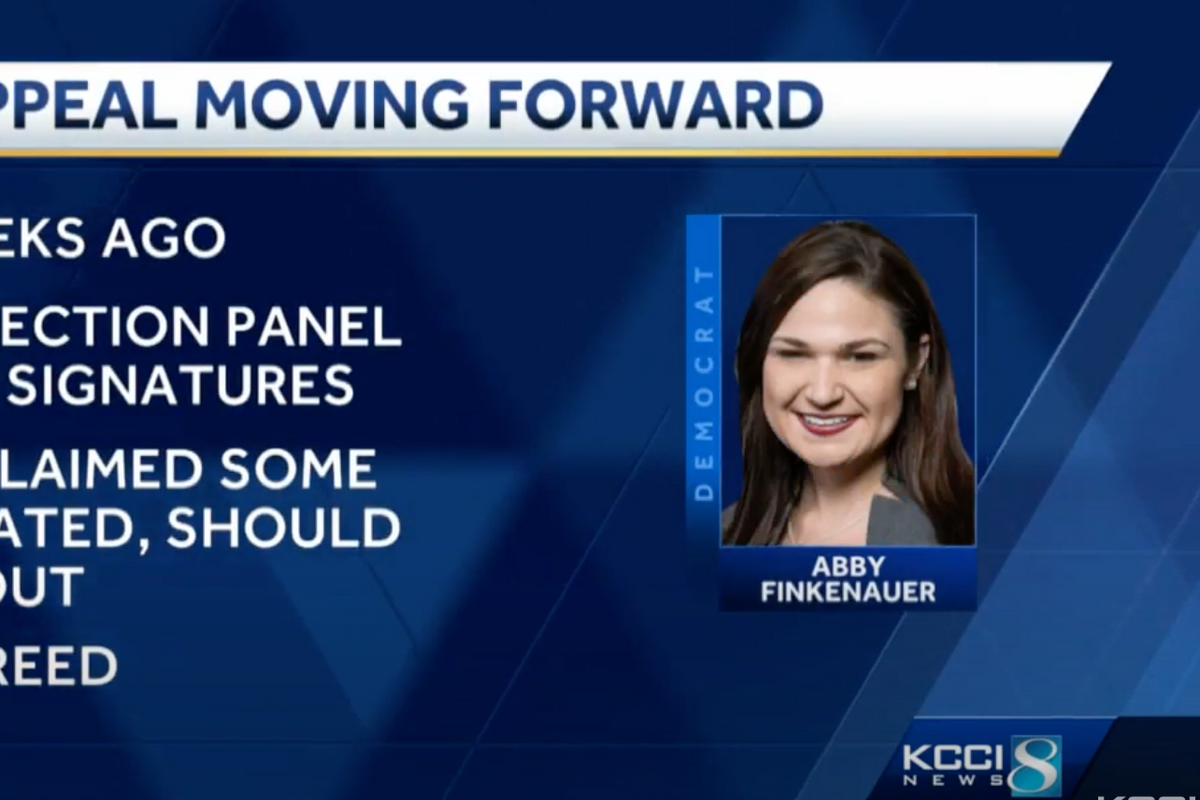 Democrat Abby Finkenauer was always a long shot to defeat incumbent Republican Senator Chuck Grassley from the Jurassic Era. Now she's a no shot after an Iowa judge ruled Sunday night that she can't appear on the state's June 7 Democratic primary ballot.
Unlike the attempts to block GOP Reps. Madison Cawthorn and Marjorie Taylor Greene from the ballot because they're traitors, Finkenauer was bounced because Polk County District Judge Scott Beattie ruled that she didn't meet the signature requirement.
The ruling centers around a dispute over the signatures required to get on the ballot. Although Finkenauer's campaign submitted more than the necessary 3,500 signatures, the judge found that she did not meet the requirement that each candidate have at least 100 signatures from at least 19 Iowa counties due to questions about three signatures obtained from Allamakee and Cedar counties.
Whenever a Democrat is kicked in the teeth, the foot usually belongs to the GOP. Republicans Kim Schmett and Leanne Pellett challenged Finkenauer's signatures, initially bringing the complaint to the State Objections Panel. The state body narrowly decided in March that Finkenauer could remain on the ballot. It was determined that Finkenauer submitted at least 100 signatures from 20 counties and needed 19. According to CNN, one of those counties "was knocked out by the objection but she was able to squeak by with 100 signatures in one challenged county and 101 in two others. But Republicans successfully brought a lawsuit claiming the panel "incorrectly interpreted the law."
---
Iowa Republicans were thrilled about the decision. Republican Party of Iowa Chairman Jeff Kaufmann gloated that the issue with Finkenauer's signatures revealed a "severe lack of enthusiasm behind Iowa Democrats." Yeah, there's obviously so little enthusiasm for Finkenauer's candidacy that Iowa Republicans invested time and money knocking her off the ballot on a technicality.
Judge Beattie wrote in his ruling:
The Court takes no joy in this conclusion ... This Court should not be in the position to make a difference in an election, and Ms. Finkenauer and her supporters should have a chance to advance her candidacy. However, this Court's job is to sit as a referee and apply the law without passion or prejudice. It is required to rule without consideration of the politics of the day.
That sort of "calling balls and strikes" rhetoric sounds very Chief Justice John Roberts. Beattie was in fact appointed by Republican Gov. Kim Reynolds, and Finkenauer has declared the ruling a "massive gift to Washington Republicans" that "overrules both the Republican secretary of state's office and the bipartisan panel, ignores decades of precedent, interferes in the electoral process, and makes a mockery of our democracy."
She's not wrong. Beattie insisted that state law demands "full compliance" for submitted signatures, but this ignores the precedent the state committee had cited where similar issues in the past had deferred to "substantial compliance." Schmett and Pellett argued that three of Finkenauer's signatures were "completely invalid" because the dates were wrong. Dig this: One voter wrote in the zip code instead of the date, and another left the date blank. FRAUD!
Although Finkenauer has blamed Republicans for her signature issues, Democratic operatives in Iowa have been quietly aghast at how a statewide candidate, let alone someone who successfully ran for Congress recently, cut it so close on the signatures needed to make the ballot.
While "Quietly Aghast" is a great 1980s new wave album name, these Democratic operatives are missing the larger point. Joe Biden lost Iowa by about nine points, and that was before he made the gas so damn high. Republican Senator Joni Ernst held her seat by six points. The balance of power in the Senate wouldn't likely rest on this race, but what if it did? Republicans aren't content with suppressing the vote. They're filing nuisance suits to keep Democrats off the ballot and their rightwing stooges on the bench aren't laughing them out of court but doing their bidding.
If two faulty signatures can keep Finkenauer off the ballot but open sedition can't spare the nation another Cawthorn or Greene term, something is fundamentally broken in the system.
Finkenauer is currently appealing the judge's ruling to the Iowa Supreme Court.
Follow Stephen Robinson on Twitter.
Do your Amazon shopping through this link, because reasons.
Yr Wonkette is 100 percent ad-free and entirely supported by reader donations. That's you! Please click the clickie, if you are able.
Stephen Robinson
Stephen Robinson is a writer and social kibbitzer based in Portland, Oregon. He writes make believe for Cafe Nordo, an immersive theatre space in Seattle. Once, he wrote a novel called "Mahogany Slade," which you should read or at least buy. He's also on the board of the Portland Playhouse theatre. His son describes him as a "play typer guy."