Greek Neo-Nazi Politician Suing Woman For Making Him Punch Her on Live Television
News
June 18, 2012 09:00 AM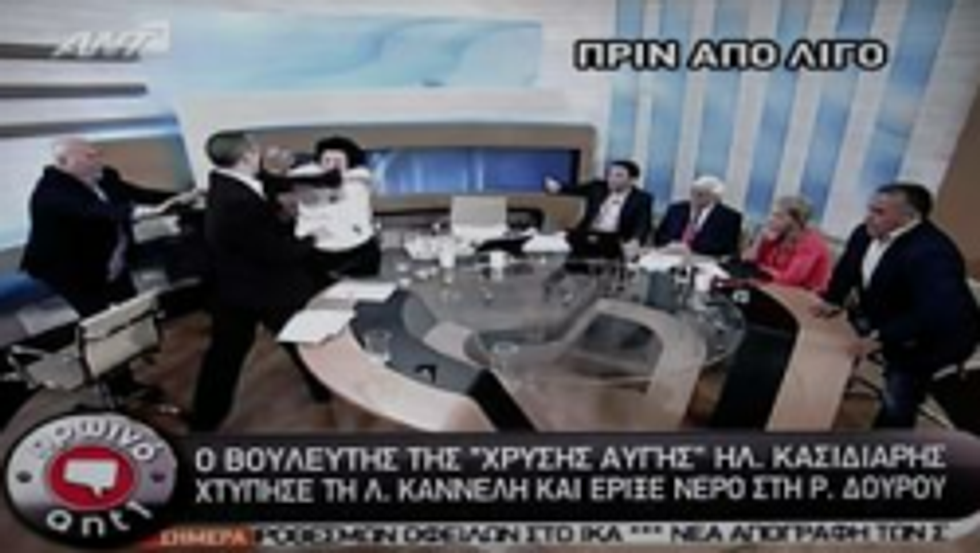 A male Greek neo-Nazi politician slapped a female Greek communist politician on live television last week.We brought you the scintillating footage, which features brilliant insults like "you old commie" because Greece is so poor now that their politicians have to recycle insults they got on loan from America 70 years ago. It was disturbing footage, a sad window into Greek political discontent. We were saddened.
---
While it's not clear what criminal action is being taken, there is civil litigation moving forward in the case. Hold on a minute, people who assume this will be a rational development: In a brilliant attempt to save face and repair his reputation, the slapper, Ilias Kasidiaris, is suing his victims.
Amazing! What spectacular crisis management skills he's got. Somebody get Jerry Sandusky on the phone; he's been doing this all wrong!
Kasidiaris is suing Rena Dourou and Liana Kanelli for defamation, saying they made him throw water at one of them and slap another repeatedly in front of whoever was watching this unbearable Greek political talk show.
Ilias Kasidiaris, spokesman of the far-right Golden Dawn party, said he would also sue private TV station Antenna for wrongful detention after he was locked in a room in the studio following the attack until he broke down the door and escaped.
What a charmer! But come on guys, just LOOK at how bad she's defaming him right now: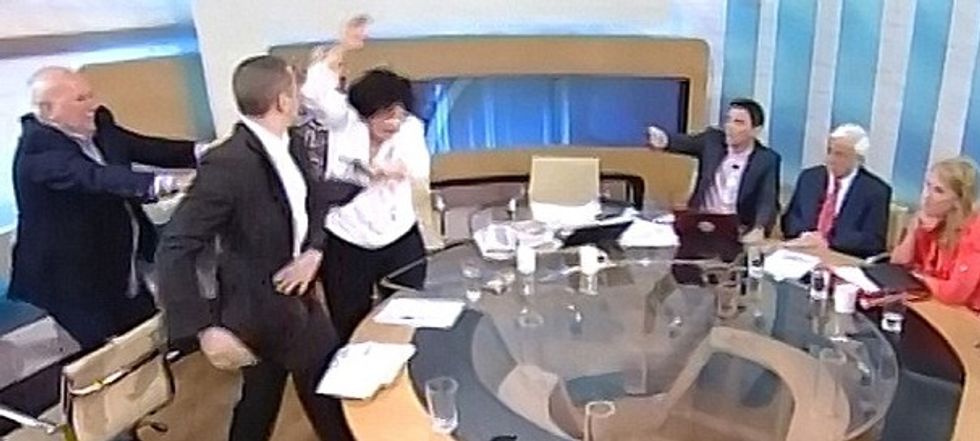 What's the deal with that? She totally defamed his hands with her old commie face. He should also probably sue those three people on the right for not giving half a Greek shit about anything anymore. Definitely Salmon Shirt Lady. There he is, trying to slap away the defamer, and she's bored.
It appears, though, that Kasidiaris, a member of the Golden Dawn Party, is not alone in his adept ability to deny reality:
Golden Dawn denies being a neo-Nazi party, but its image has been severely dented by continuously replayed footage of the incident as well as a variety of other pictures showing party members splashed with fake blood, making Nazi-style salutes or grinning next to an oven at the Nazi death camp Auschwitz.
Ah. Well, that'll do it. [Daily Mail]