GOP Governors Take A Pass On Those Satanic Vaccine Passports
White Nonsense
April 07, 2021 09:15 AM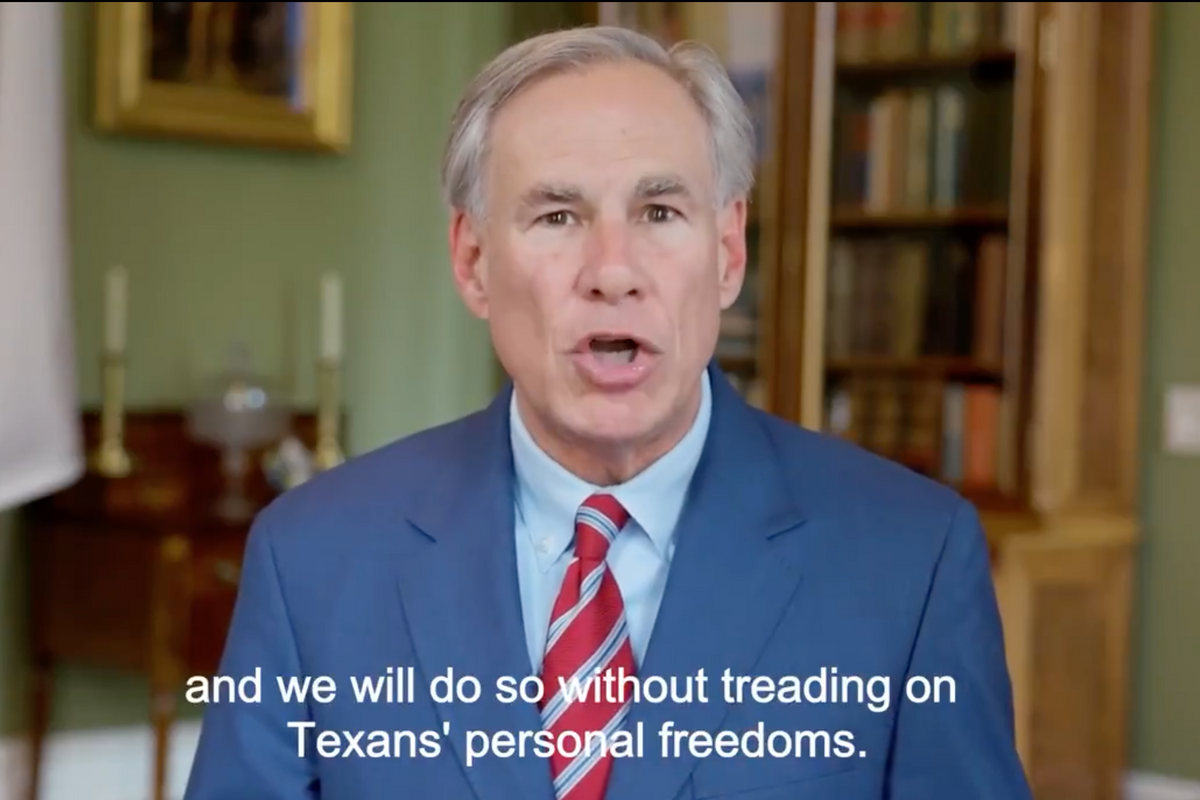 Conservatives oppose government overreach, unless the government's vetoing trans people's personal medical decisions. What they actually resent is the government specifically regulating their own behavior. That's no fun. Their latest freakout is over so-called "vaccine passports," digital proof of COVID-19 vaccination but without the unflattering photograph.
According to the New York Times, businesses, schools and many politicians consider this simple documentation "a path to reviving the economy and getting Americans back to work and play." It could jumpstart to economy if people feel less skittish about returning to restaurants, stores, and performance venues if they know the other patrons have been inoculated.
The usual Republican idiots have decried vaccine passports as the first step toward tyranny. Others have even compared them to Satanism, because of course Rep. Marjorie Taylor Greene did.
Texas Governor Greg Abbott signed an executive order Tuesday banning government-required "vaccine passports." He declared "Mission Accomplished" on COVID-19 without any socialized cooperation and civic responsibility.
---
If you insist on hearing his voice, there's also a version with the sound on. Here's what the governor had to say:
Every day, Texans return to normalcy, as more people get the COVID-19 vaccine.
President Joe Biden, who has a brain in his head, warned Americans on Tuesday against assuming we've reached the finish line. We're making great progress on the vaccine rollout, but we're nowhere close to the necessary numbers for herd immunity. Abbott, however, has put every cart available before the horses who are all sick from COVID-19. Texas has fully vaccinated just 8.76 percent.of its population, which is significantly less than the bare minimum of 70 percent.
Also, what does he mean about Texas returning to normalcy? Let's not get carried away.
But, as I have said along, these vaccines are always voluntary and never forced.
We don't support the Vaccine Police showing up at people's doors and inoculating them against their will. However, Republicans actively oppose even a mild carrot approach that would encourage more people to get vaccinated. Wanna see a movie or hang out in a crowded bar this summer? Get your ass vaccinated (the shot's actually in your arm). Many Republicans, especially men, are resisting vaccination. That's not a big deal in California but there are a lot of Republican men in Texas. They're the same idiots who keep electing Ted Cruz.
Abbott insisted that government shouldn't require any Texan to show their vaccination papers. This is America not the Texas public school system, where students have to provide acceptable evidence of vaccination prior to entry. (No, fresh air and an extensive CrossFit regimen won't immunize you from diphtheria and polio.)
He also argues that Texans shouldn't have to reveal "reveal private health information just to go about their daily lives." It's fascinating to see a notoriously anti-abortion Republican suddenly believe Americans have a right to privacy. There is no constitutional right to attend a baseball game or even eat inside a restaurant. And no, this isn't like segregated lunch counters because vaccines are available to everyone. There is no vaccine against Blackness, but it's an interesting premise for a Jordan Peele movie.
Abbott promised to vaccinate more Texans and protect public health but without "treading on Texans' personal freedoms." That's a noble sentiment from a governor who supported a gross bill that would've prevented trans people from using public bathrooms that fit their gender identity.
Friday, Florida Governor Ron DeSantis signed his own executive order that banned businesses from requiring vaccine passports. The order could complicate if not outright delay reopening plans for cruise lines and theme parks, both major parts of Florida's tourism trade.
Florida and Texas are the two largest US states run by idiots so we're in trouble. Georgia Governor Brian Kemp has also expressed his opposition to vaccine passports. It's as if he won't be happy until he chases all business from his state into the welcoming arms of Colorado.
The GOP governors likely assumed they were making preemptive strikes in an absurd culture war, but the Biden administration never engaged. Dr. Anthony Fauci said Tuesday that the federal government won't require vaccine passports for business and travel. Republicans are now just overly regulating private businesses. Ronald Reagan is spinning on his rotisseriein hell.
Follow Stephen Robinson on Twitter.
Looking for someone to give that cash to? Why not us?C
Stephen Robinson
Stephen Robinson is a writer and social kibbitzer based in Portland, Oregon. He writes make believe for Cafe Nordo, an immersive theatre space in Seattle. Once, he wrote a novel called "Mahogany Slade," which you should read or at least buy. He's also on the board of the Portland Playhouse theatre. His son describes him as a "play typer guy."