Hackers Steal DCCC Money, Are Better At Internets Than Edward Snowden
News
July 29, 2016 02:50 PM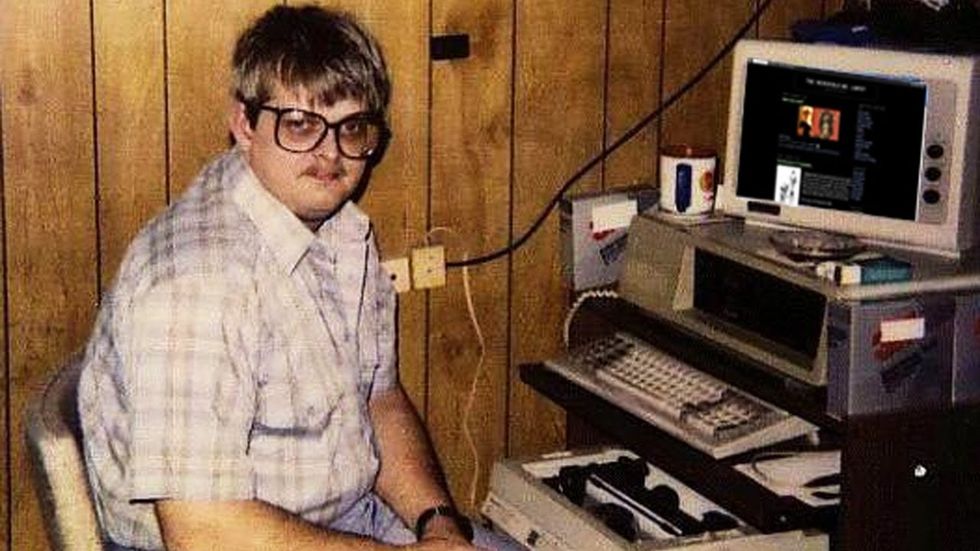 Just as Hillary Clinton was about to make history by becoming the first major party nominee for president of the United States, FBI officials revealed that the Democratic Congressional Campaign Committee (DCCC) had been breached by what appears to be the same alleged Russian intelligence actors who broke in to the Democratic National Committee and stole thousands of emails, voicemails and Hillary boobie pictures.
---
Instead of stealing Hillary's emails and all the sweet porn on the DCCC computers, the FBI says the super-secret hackers appear to have been after money and credentials from donors. Instead of just breaking and entering like normal criminals, they created a fake website that looked like the DCCC's main donation page, but any information and money entered on the site was sent to an I.P. address similar to one used by the alleged Russian government-linked computer nerds responsible for the DNC breach.
When questioned at the Aspen Security Forum, Defense Intelligence Agency Director James Clapper responded to people worrying about the security of our secret intelligence shit by basically saying, "I don't know, bro-ski. It may be the Russians?"
"I don't think we're quite ready yet to make a call on attribution. We all know there's just a few usual suspects out there, but in terms of the process we try to stick to, I don't think we're ready to make a public call on that yet.
Clapper wasn't done yet. He went on to say that everybody's freaking out over nothing, and that they really should just stop bitching because this is just the new normal.
Frankly I'm taken aback a bit by the somewhat hyperventilation of this. I'm shocked. 'Someone did some hacking, that's never happened before.' I think it's illustrative of the need for us as a nation, and as a people, to be more - to use the term, resilient about these kind of things. We're in a different era now. We're going to be in a state of suppression of extremism in whatever manifestation, whatever form it takes. Whether it's Al Qaeda, or ISIS, or whatever group that's spawned. This is going to be a long haul proposition, and I think this is going to be true in the realm of cyber security. We are - have been - in somewhat of a reactionary mode here, and I think there is because of all these developments a growing awareness, I think, both on a personal level and an institutional level. This is a profound challenge for the country. I think we just need to accept that, and not be quite so excitable."
Who's excitable? We're not excitable! We're calmer than you are! We're just pissed off that this shit keeps happening because we've been led to believe that our shining city on a hill didn't need big-ass firewalls to keep out the carpal-tunneled dick-beaters of creepy neckbeards in Russian cubicles from stealing our personal shit.
Surprisingly enough, American Internet Jesus Edward Snowden hasn't been too keen on all these break-ins and data dumps. He even went to Twitter, everyone's favorite medium for expressing complex thoughts ,to let the world know he's not too happy with what Wikileaks has been doing lately.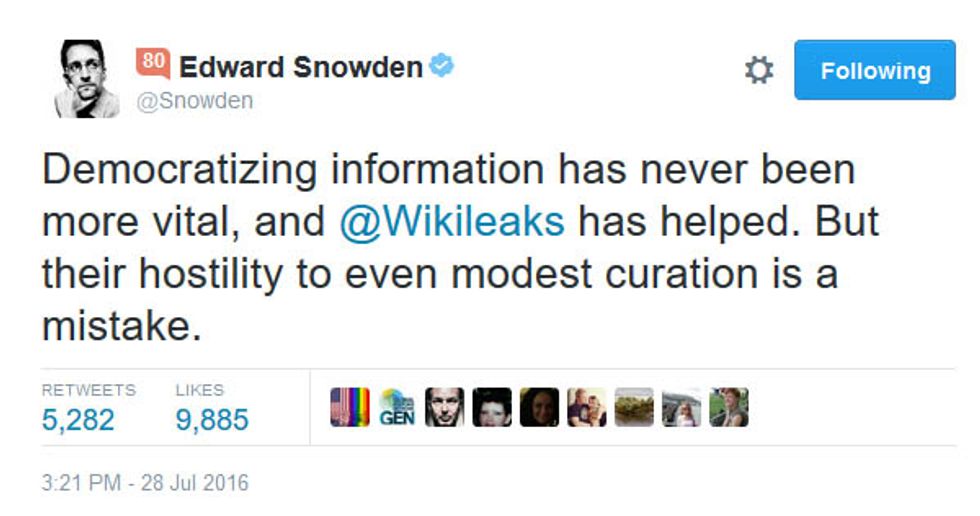 As a guy who became famous for stealing information from a U.S. federal agency, then running away to Russia to tell everyone that U.S. federal agencies were stealing information, you'd think Ed Snowden would appreciate the irony.
Naturally, the information libertarians at Wikileaks decided to throw their own shade all over Snowden.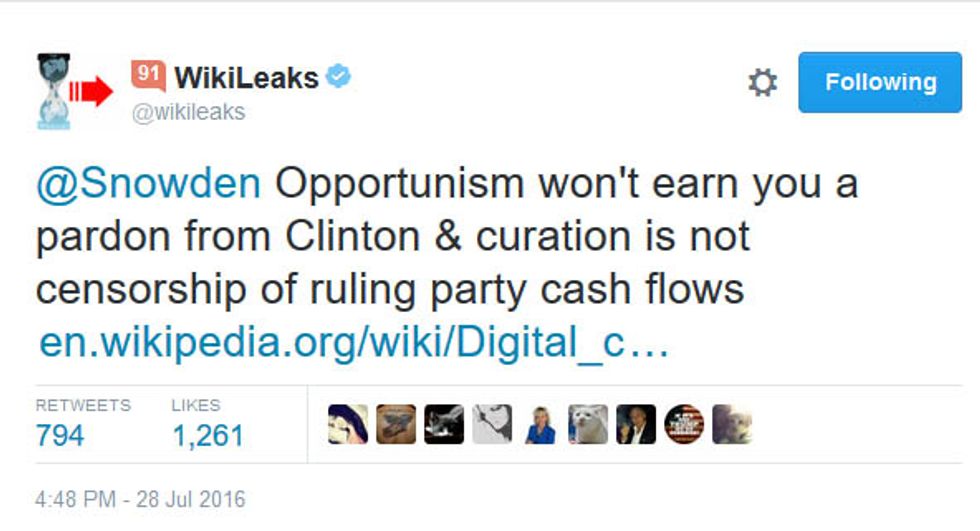 Let's ignore that both of these idiots are calling the other selfish for having bad judgment. The key difference in this little slap fight between information purists is that Snowden (naive idealist that he is) worked with established journalists to selectively release specific information that detailed abuses of power perpetrated by federal agencies operating without oversight. Wikileaks, on the other hands, routinely dumps any and all information out on the Internet without regard to the damage it causes to innocent people (a dastardly practice more commonly known as "doxxing"). The distinction is notable because, though Snowden may have ultimately been suckered into being a pawn in Putin's wet dream of reigniting the Cold War, translucent toilet snake Julian Assange is purposefully aiding a dictator who murders journalists and critics, while simultaneously aiding aspiring despots simply because he has his own axe to grind.
Dominic Gwinn
Dominic is a broke journalist in Chicago. You can find him in a dirty bar talking to weirdos, or in a gutter taking photos.