Happy Day! Latex And Marshmallow Fetishist Glenn Beck Comes Out In Favor Of Birth Control
News
July 24, 2013 03:01 PM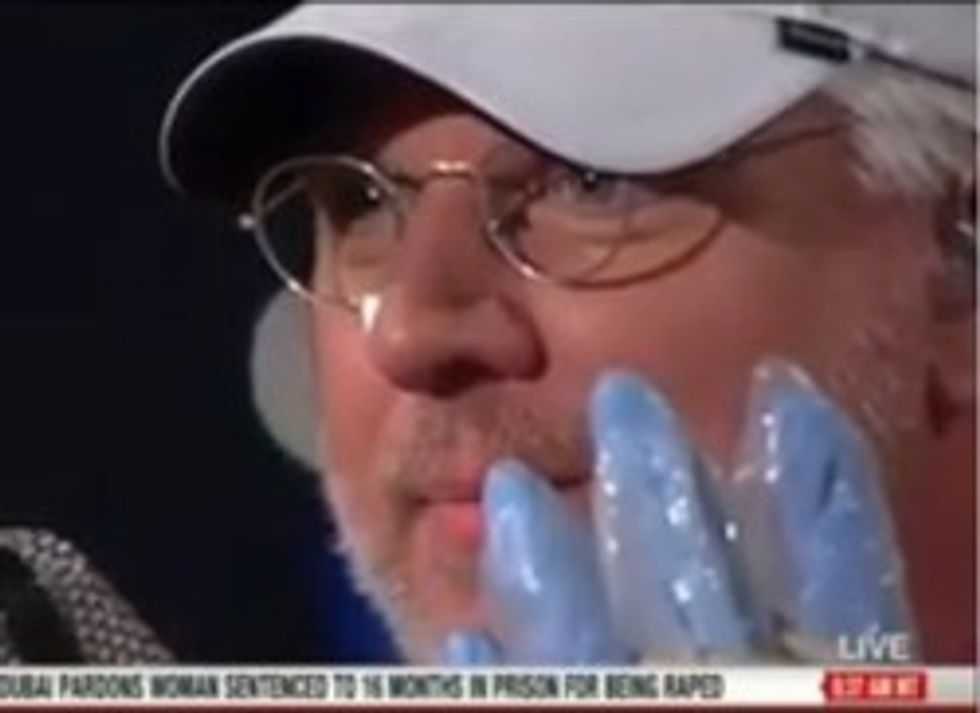 The Internet has given us many wonderful things. Porn, obsessive coverage of the royal babby, ways to buy groceries without leaving the house, and, of course, porn, also, too. Downside: it ha also given us a chance to see some things we would never see, like a full-blown meltdown of a once-major news commenter. It is really sad about Brian Williams, isn't it? Haha of course we are not talking about Brian Williams (he's fine, we think?), we are talking about Glenn Beck because Jesus things are getting weird. For example: Beck's stylish new birth control attire:
---
Looking a bit like a homeless re-imagining of horror movie icon Freddy Krueger, right-wing conspiracy theorist Glenn Beck appeared on his Blaze TV Internet show Monday sporting a beard, rolling condoms onto his fingers and taping a birth control pill to his nose in an apparent effort to mock MSNBC host Melissa Harris-Perry.
For those without the Internet, or teevee, or anything, Melissa Harris-Perry rocked tampon earrings after the Texas legislature confiscated feminine hygiene products during the abortion debate. Obvious question: does Glenn Beck think that birth control pills and condoms are feminine hygiene products, a la tampons? If so, conservative understanding of female anatomy and how is babby formed is even worse than we thought.
Even more distressing than Beck's near-criminal level of not knowing about lady parts is the fact that he seems to be some sort of marshmallow fetishist:
Beck explained Monday that if the MSNBC host were wearing the odd earrings in public, "I might be attracted to you." He said that's because they look "kind of like marshmallows," not stopping to explain why marshmallow earrings would cause him to become aroused. "From a distance you'd be like, 'She has marshmallow earrings. She is trolling for me!'"
The only upside for this brief view into the gaping hellmouth of Glenn Beck latex cosplay is that Glenn Beck has finally decided to give his full-throated support to the use of birth control:
"She is wearing tampon earrings, I'm wearing condom gloves. I just want to make the point that abortion is murder, and if you're looking to control reproductive organs, there are other things you can do."
Cool. We can all agree that using birth control pills and condoms can lead to lower abortion rates, so we're glad to have Glenn Beck's support for this, even if he does look like a motherless hobo child. Welcome aboard. Glenn. Shine on, you crazy diamond.