Happy Hobo New Year!
News
January 01, 2009 01:24 PM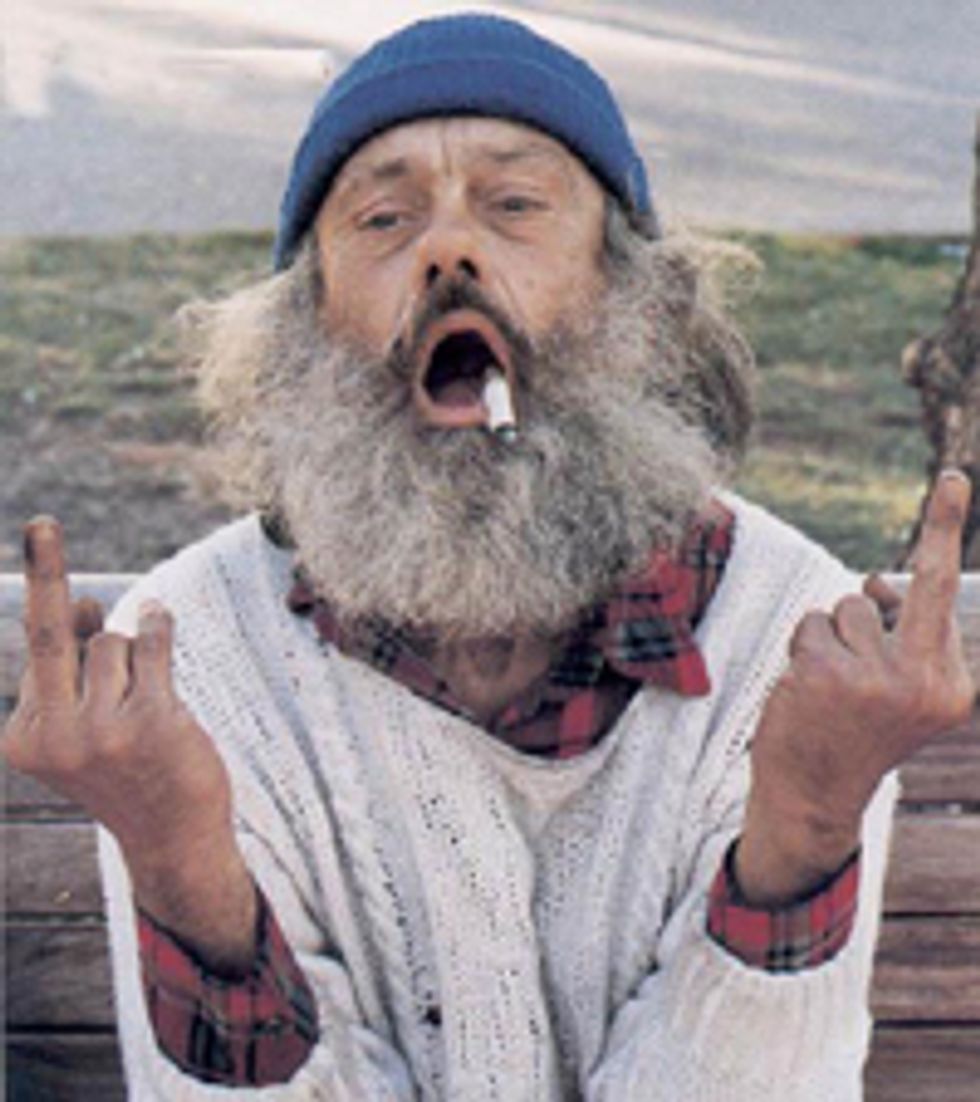 Back in the day, people would ring in the New Year the old fashioned way: by scoring an eight ball, buying a $5,000 VIP table at a Miami Beach party hosted by a fancy young rap impresario, and having sex in a jacuzzi with a half-dozen hot Brazilian models while smoking cigars made out of hundred-dollar bills. But this year, with everybody impoverished and starving, festivities were looking a little slimmer.
---
Over at Wonkette headquarters, we roasted a half-eaten hot dog over a coal fire and then enjoyed a few of what funny drinks-writer David Wondrich once called "The Hoboken Speedball" (a coffee chased with a can of Bud).
In other parts of the world, the scene was even more tragic. Forget about the rappers -- not even that "soulful crooner" guy or the naked lesbian Lindsay Lohan could find anyone to hang out with them:
Tickets to see [John] Legend perform at Prive in Miami Beach have not all been sold, and down the street at Mansion, where Lohan and gal pal Samantha Ronson will be hosting an event, organizers are still hustling to sell VIP tables, ranging from $1,500 to $5,000.

People are negotiating more over what they are willing to pay for these gala events, and are more interested in affordable parties, said Michael Galluppo, general manager at Newyears.com, a national Web site started in 1998 that gives party information and sell event tickets in major cities.

[...] Hundreds of the events listed on the site are still available. One event in New York City and in San Francisco each are marked as sold out, and two events are sold out in Chicago and in Miami. But in Las Vegas, headliners like Kid Rock, the Kardashian sisters, and singer Ashlee Simpson and her husband Pete Wentz can't seem to draw in sold-out crowds to their own events.
Jesus, Las Vegas is really going down the drain, isn't it? Was anybody else enough of a loser to watch the tragic Vegas Spectacular on FOX last night, complete with the mopey motorcycle stunt and the incredibly awkward exchanges between that Spike guy and the ventriloquist with the turtle, and worst of all, the relentless promotion of Cirque de Soleil, a freak show of spangled idiots bouncing on trampolines to Beatles music? 2009 will be the year America died, and it will all be Barack Obama's fault.