Harry Reid Invited To Celebrate Retirement With Hookers, Will Have To Bring His Own Blow
Featured
April 03, 2015 08:00 AM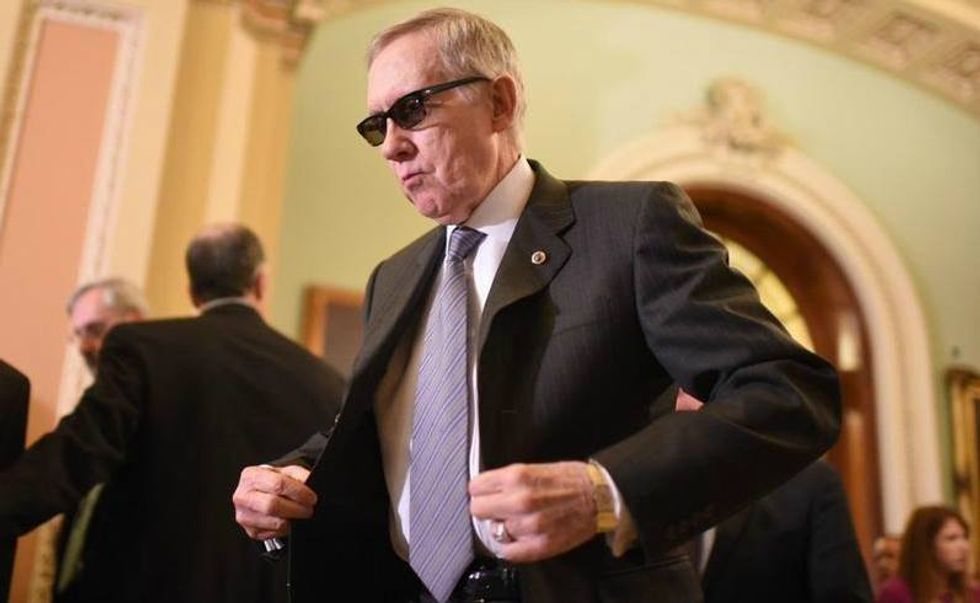 Go for it, Harry. Go out with a bang:
---
A brothel in Nevada has offered to host U.S. Senate Democratic leader Harry Reid's retirement party to thank him for efforts during his more than three decades in the U.S. Congress it says have "positively affected" the lives of legal sex workers in the state.

Sheri's Ranch, located 60 miles west of Las Vegas, posted a tongue-in-cheek open letter on its blog on Wednesday citing the 75-year-old Democrat's support for gay rights, his opposition to a nearby nuclear waste repository and his efforts on behalf of Obamacare.
In case you've already forgotten, Wednesday was April Fools' Day, aka, The Worst Day of The Year on The Internet, so Sheri's Ranch, which is a resort and spa and brothel, might not have been serious about its offer, having since replaced the letter with a hardy har har "APRIL FOOLS!" on its website.
The letter had thanked the senator "for making it illegal for insurance companies to deny Nevada's legal hookers the right to health care." It did not specifically thank him for also trying to spare Nevada's sex workers from an attack of thousands of Republicans in 2016, though the letter mentioned that "[a]s far as activities that we can offer attendees, many of your colleagues are intimately aware of our offerings." LOL! Actually, that's probably not a joke.
[contextly_sidebar id="Z6M2z57JSvwMRZ39rcDIh9jneaARTxT5"]
Jeremy Lemur, a spokesman for the ranch -- as well as "a driven professional with considerable experience in both the traditional and adult space" -- explained the invitation to the Pahrump Valley Times:
Harry Reid has been a critic of legal prostitution in Nevada and when we heard he was retiring we really thought about it… and we realized while he was a critic, he really didn't gain that much ground with regard to his criticism [...] We realized he (Reid) actually did more good to Nevada's brothel industry than ill, over the course of his political career… His actions have actually improved the lives of Nevada brothel workers.
He added that while the ranch doesn't expect the retiring senator to RSVP -- and Reuters reports that Reid's office has indeed not offered any comment on the invitation -- if Reid "were to be interested in the offer we would certainly make it happen. We would be delighted to host his retirement party."
It's certainly something to consider, senator. You can fill up on "Joel's Famous Beef Chili" at the sports bar and restaurant, take a dip in the swimming pool, and enjoy any number of adult pleasures from the ranch's extensive sex menu. Why not? It seems you'll have plenty of free time once you leave the Senate:
Mr. Reid seemed neither nostalgic nor regretful as he parried questions about politics and what many of his friends see as the improbability of Harry Reid, a man who sometimes seems to be in perpetual motion, in retirement. He said he did not know what he wanted to do next. [...]

But on one matter he was clear: He said he would not be a lobbyist.

"I'd rather go to Singapore and have them beat me with whips," he said.
You don't have to go all the way to Singapore for that, senator. Pretty sure it can be arranged at the ranch.