Harry Reid Taunts Black-Hating Sharron Angle With New Campaign Fashions
News
August 20, 2010 11:03 AM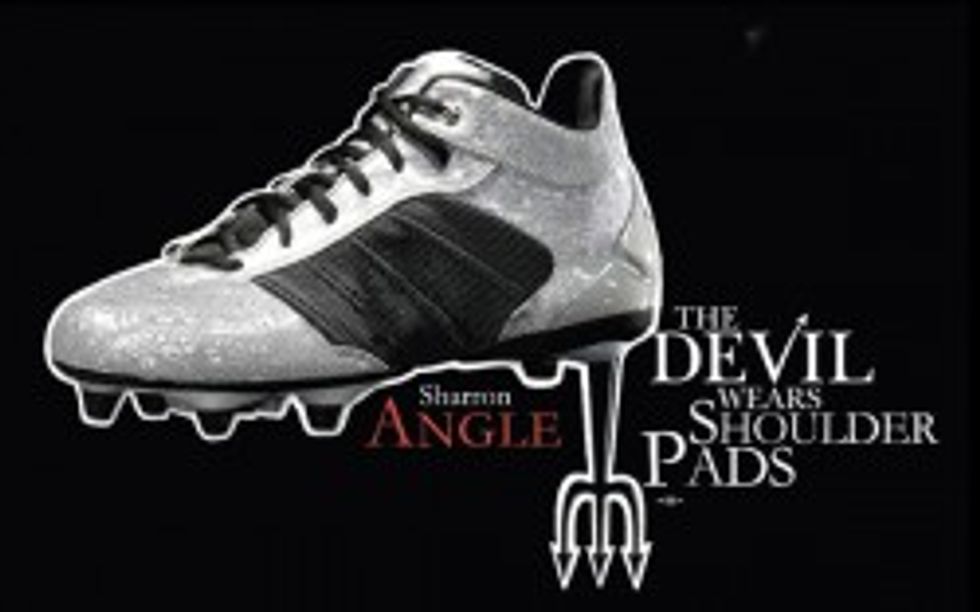 Nevada scribe Sharron Angle believes that the color black is satanic! Or at least sheused to, before her campaign advisers started telling her to appear more "tolerant." Senator Harry Reid also is satanic, which is why he's making t-shirts with this design, which mocks Angle for once campaigning against black high-school football jerseys full of Devil Power.
---
According to Nevada's Pahrump Valley Times*, in the early 1990s, Angle learned that the coach of her local high school football team, the Tonopah Jesuspeeps, hoped to get his players excited for their upcoming homecoming game against rivals the Laughlin Shariacreeps by having them wear black jerseys. The shirts would help his players remember their terrible loss against the Shariacreeps the previous year, and motivate them. But then a group including (led?) by Angle stepped in and started talking about how the evil spirits contained inside black jerseys would make the team lose their game and their souls.
When asked about the incident at a recent meeting for Republican women, Angle was wearing bright blue -- which the religious-color website Godweb says symbolizes skies, air, and personal being-amazingness. She told a reporter:
"I will just tell you that [Pahrump Valley Times leditor] Bill Roberts and I have completely different recollections," Angle said. "That was 20 years ago and it really doesn't matter because Nevadans care about their homes, their jobs and the economy."

Angle added her religious views are the basis of her value system. "Many people embrace my value system because they know I'm not going to lie."
She's got a point. In the end, it really doesn't matter if America's senators believe that certain colors will conjure up Satan, or that crossing a black cat's path will cause brain leprosy, or any such things -- as long as Americans are still holding onto their low-paying service jobs. Somehow.
You know, it only takes a few hours of work at Starbucks or Wal Mart or some place to afford one of Harry Reid's new shirts. So "Get yours today!" Or just maybe start thinking about it, unless you're afraid of Satan.
*Pahrump derives its name from "pahrump!" -- an excitable utterance commonly used by 19th-century locals when complaining about the local saloons' poor selections of microbrews. [The Atlantic Wire/HarryReid.com/Huffington Post]