Here's Why You'll Never Have The Full Nevada Caucus Results! Tabs, Monday, Feb. 24, 2020
News
February 24, 2020 08:19 AM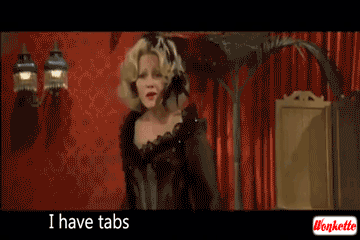 Hey, look at me, doing Tabs like a very common Rebecca! It's Yr. Editrix's birthday week, and we wish her fun and relaxation away from all of us.
The Nevada caucuses took place Saturday, and we should have the full results by next Saturday. Fortunately, Bernie Sanders beat everyone's asses so severely, the networks were able to call a projected winner on the actual day, month, and year of the caucus. That's what Iowa gets for having a much closer race, which still has no official winner. (New York Times)
The caucuses have been a mess this time around because of a complicated new reporting system with first alignments and final alignments. It's like a hobbit's breakfast over there. (NBC News)
Harry Reid, former Nevada senator and majority leader, thinks caucuses are stupid pants and we should have primaries like civilized people (I'm paraphrasing). (New York Times)
Only 75 percent of caucuses results were in by 8 p.m. ET Sunday, but it looked like Joe Biden had finished a very distant second place. He had consistently led polling in the state until Sanders started to break away this month. Nevertheless, Biden persists in framing this as a comeback. He's now looking ahead to South Carolina, where an actual win might help his "electability" case, but his lead has dropped 19 percent and Sanders is nipping at his heels. Biden thinks Tom Steyer's billions are to blame. (Slate).
Good news for Biden is that is that House Majority Whip James Clyburn of South Carolina is set to endorse him. (Politico)
Bad news for Sanders is that a random crystal-gazing kook turned up at his Texas rally and endorsed him. Worse, it was Marianne Williamson. Can this campaign be saved? (Newsweek)
Donald Trump continues stacking courts with more right-wing zealots. (LA Times)
Parker Malloy wrote a great piece about why nobody should give a single fuck what "Never Trump" Republicans think about the Democratic primary. (Media Matters)
Style expert and one of America's first top black models, Barbara Smith, died Saturday after a seven-year battle with Alzheimer's. She was 70. (Chicago Sun-Times)
The late Jean Vanier, who founded an organization that supported adults with intellectual disabilities, was considered a moral giant and potential saint in the Catholic Church. In what is probably not much of a surprise post-#MeToo, it's been revealed that Vanier had "coercive sexual relationships" (or "rape") with at least six women. (Washington Post)
National treasure RuPaul is teaching an online MasterClass on how to be fabulous. (Variety)
Congratulations to Quentin Tarantino, whose wife, Daniella Pick, just gave birth to their first bad motherfucker. (Vulture)
Oregon might make daylight savings time permanent. Those of us who rise early because we work on an east coast schedule are not looking forward to never-ending "time to make the doughnuts." (Oregonian)
The Robinson family suffered a culinary loss this weekend. Our beloved Peruvian restaurant, Las Primas, closed. We'll need time to adjust. (Eater)

Follow Stephen Robinson on Twitter.

Yr Wonkette is supported by reader donations. Please send us money to keep the writers paid and the servers humming. Thank you, we love you.
Stephen Robinson
Stephen Robinson is a writer and social kibbitzer based in Portland, Oregon. He writes make believe for Cafe Nordo, an immersive theatre space in Seattle. Once, he wrote a novel called "Mahogany Slade," which you should read or at least buy. He's also on the board of the Portland Playhouse theatre. His son describes him as a "play typer guy."